Find out if 7Sage is the right choice for you with our 7Sage LSAT review below.
We take a look at the different options they provide as well as the different features you can expect to find.
Summary: Learn more about the 7Sage LSAT course. If you are interested in other options, consider other LSAT prep review.
7Sage LSAT Options
 
7Sage LSAT Monthly
7Sage LSAT 12 Months
Price
$69/month
$99/month
Subscription Length
Monthly (Auto renewal)
12 months (Manual renewal)
Practice Questions
8,440 question explanations
8,440 question explanations
Practice Exams
98 LSAT PrepTests
98 LSAT PrepTests
Video Lessons
50+ hours
50+ hours
Guarantee
None
None
Study Schedule
Personalized
Personalized
LSAT Analytics
Yes
Yes
Learn More
GO!
7Sage offers 2 main options for students looking for LSAT online prep. The 2 options are very similar with the main difference being the amount of time you have a subscription for.
We take a deeper dive into those 2 offerings below. After looking at the 2 options, we review some of the common features found in the courses.
If you want to get a better idea of where you stand before making a purchase, consider using our LSAT sample test to prepare.


7Sage LSAT Monthly
The monthly course is the most flexible practice option, as it allows students to start and stop the course as they please. The course will auto-renew until cancelled. 
The monthly course includes:
8,440 questions with full explanations
98 practice exams
50+ hours of video lessons
A personalized study schedule
Full LSAT analytics
Bottom Line – 7Sage is the one of the few providers offering a monthly subscription, so it is a great option for those who do not wish to commit to the full 12-month package.
7Sage LSAT 12-Month
The 12-month course comes with everything that the monthly course includes, but is the best value for your money if you plan on using the course materials for more than seven months. 
Beware that the 12-month course is not fully refundable. It can be downgraded to a single month within 14 days of the initial purchase, but you will only receive a partial refund of $530 (making your total purchase the same cost as a monthly subscription). 
The 12-month course includes:
8,440 questions with full explanations
98 practice exams
50+ hours of video lessons
A personalized study schedule
Full LSAT analytics
Bottom Line – 7Sage's 12-month course is the best value for the money, and is the best option for those who want long-term access to course materials.
7Sage LSAT Features
Our team reviewed the 7Sage LSAT course so you know exactly what to expect before making a purchase.
Coursework
7Sage uses different study techniques for each section of the LSAT:
For Logical Reasoning: Blind Review method
For Logic Games: Fool Proof method
For Reading Comprehension: Memory method
Each section in the syllabus contains a variety of short lessons, videos, flashcards, and quizzes. Users are also given access to every logic game the LSAT has ever released, so there are seemingly endless questions to practice.
There is also a "Drilling Mode," which is a customizable review with which you can add and remove subjects as you go.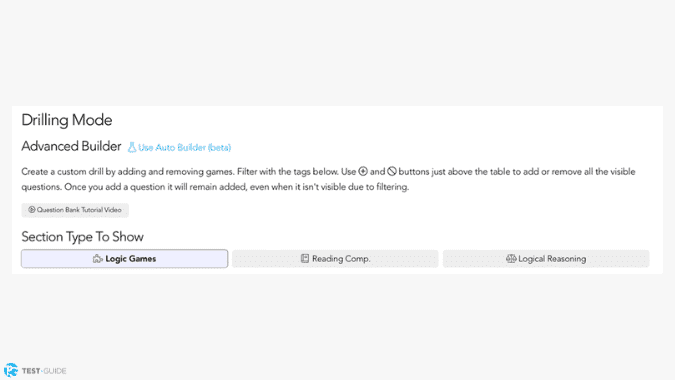 Under the "LSAT Questions" tab, users will find their PrepTests. 7Sage gives users access to ever LSAT ever released, with tests dating from 1991 to 2020. Each test can be taken in modern 3-section or classic 4-section formats, both in a digital and PDF format.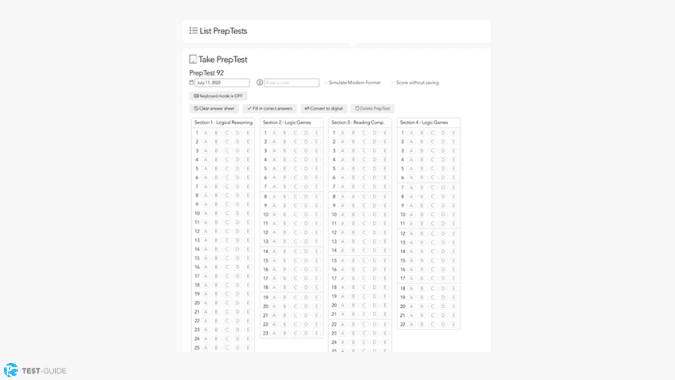 User Interface
Upon entering the dashboard, users are greeted by their progress in the course and an organized syllabus.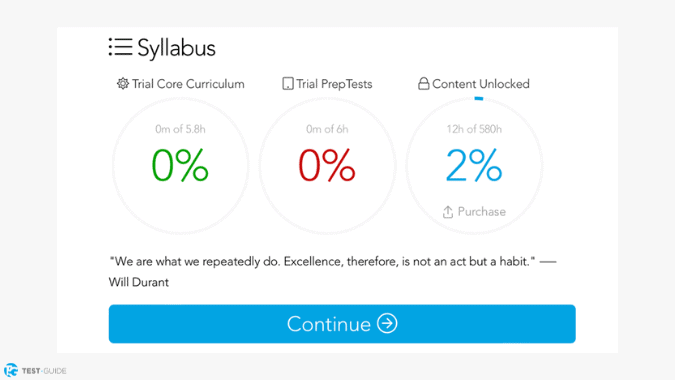 The lessons are also searchable and able to be filtered by subject or other search term. On the dashboard users can also see their progress in the overall curriculum and in the PrepTests.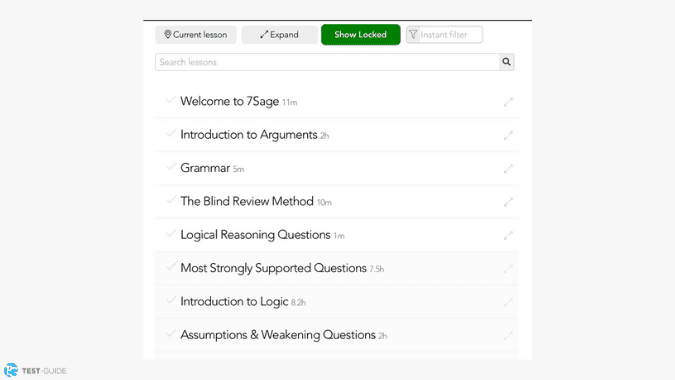 Study Schedules
Under the "Course" tab, users can personalize their study schedule by inputting the dates they would like to start and end studying, or how many hours per week they'd like to work. 
For example, we inputted our start date as Monday, August 15, 2022, and our end date as Saturday, March 16, 2024. In 1.6 years, we will have completed 580 hours of materials, studying just one hour per day.
The schedule builder is user-friendly and able to be changed as you progress through the course, so if you fall behind or get ahead, you can easily adjust your end date.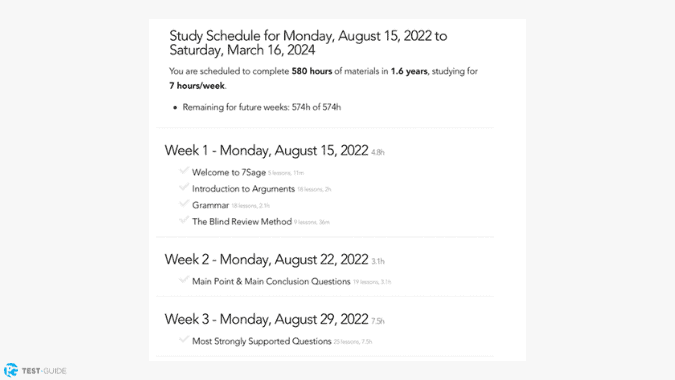 Analytics
Under the "Analytics" tab, users can review their test results and individual question performance. Users are given an overall score, and a score by section. 7Sage's analytics are one of the best things about the site, as there is a variety of score breakdowns, question statistics, and charts, all of which are searchable and customizable.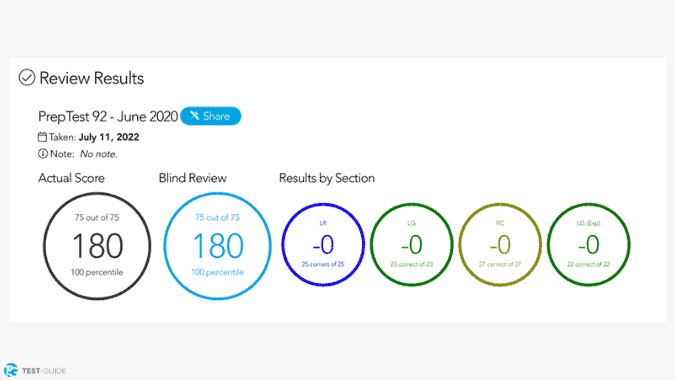 The Question performance chart is a detailed explanation of your performance on each individual question, how its curved, its difficulty, the priority the question holds, and – most importantly – a full explanation of the correct answer (these are hidden in the trial version).
This level of user analytics makes it easy to target problem areas, and feel confident about successful ones.


How effective is 7Sage?
Prepping with 7Sage is a very effective way to boost your LSAT score. On average, students who used 7Sage's curriculum saw an 11-point improvement from their first to their best scores. Your improvement is up to your own commitment to the material.

7Sage made our list of best LSAT prep classes.
How long is 7Sage LSAT course?
7Sage comes in a 12-month package, but can also be purchased on a monthly subscription basis.
Do you need LSAT Prep Plus for 7Sage?
Yes (unless you've already purchased it elsewhere). LSAT Prep Plus is required by LSAC in order to use the course.