Achievable is one of the most affordable GRE prep courses available on the market. We have provided an Achievable GRE review below.
This study course is built around an adaptable learning method, but it doesn't contain videos or live classes. Our job is to help you decide whether this approach is right for you.
Our expert team dives deep into this course to determine if their adaptive learning approach is enough for you and your needs.
Summary: Learn more about Achievable and their GRE course. If you want to review other options, check out our reviews of the best GRE prep courses.
Achievable only offers 1 option for students looking for GRE study materials. You can review some of the offerings from their course in the table below.
Achievable GRE Options
GRE Prep
Achievable
Rating

87
Best For
Best for Practice Questions/Exams
One of Our Picks

T-G Recommended

Pricing

$199

$189

View Discount
Subscription Length
12 months
Free Trial
Yes
Guarantee
Retake course or refund
Practice Questions
9999+
Practice Exams
10
Delivery Options
Online (self-paced)
Videos
No
Study Plan
Yes
Essay Feedback
No
Score Predictor
No
Support Options
Email
Learn More
GO!
Achievable keeps it really simple when it comes to their course – they only offer 1 prep option. We will take more of an in-depth look at that option below.
After doing so, we will review some of the features you will find in the Achievable GRE prep course. We have also included screenshots of the actual course to help you get a better understanding of how the course is structured.
If you want some help before purchasing something, visit our GRE practice test home and take an exam.


Save $10 With Code: TestGuide
We're not going to beat around the bush here. Achievable's low price is its biggest selling point. They have created a simple, affordable approach to studying for the GRE exam. There isn't any upselling here. Achievable offers one tier at one price. Everything this course has to offer is priced at $199 for 12 month access. 
Mega prep courses like Kaplan and Princeton Review have multiple tiers to choose from and cost thousands. So is Achievable able to provide the same value at such a low price point?
This review will answer that question so let's start with the basics. Students who pay $199 for the course will get the following:
Achievable GRE Review's Digital Textbook
Adaptive Learning Technology 
10 full-length practice exams
Adaptive practice questions
Intuitive Dashboard and User Interface Designed by Tech Gurus
Bottom Line: Achievable's adaptive learning technology is its bread and butter. It fully capitalizes on it.
Achievable GRE Features
Our team of experts dove deep into the course to see exactly how its creators are able to offer it at such a low price. Here are the features so you can discover how they hold up against other GRE study courses on the market.
Powerful Adaptive Learning Approach
Achievable is one of the most affordable GRE prep courses on the market so we went into this review full of skepticism. But the moment we dove into the coursework, we discovered that skepticism is unwarranted.
Achievable uses machine learning technology to adjust your study plan automatically. As you advance and answer GRE practice questions, the program will adjust your plan to match your progress. This adaptive approach makes Achievable one of the most efficient courses available.
Of course, Achievable isn't the only course to utilize AI. It seems like all of the major players are using machine learning to improve their course. We discovered that the way Achievable incorporates it definitely works.
As students progress through the course, the AI system reallocates future work so that it targets their weaknesses. This means that old material will be pulled up if you are struggling with a specific topic.
Achievable's AI even grades essays when you finish writing them. This feature surprised us since most of those big brand thousand-dollar prep courses don't even grade essays.
Coursework
Achievable's coursework focuses on every important point found on the GRE exam. While the library wasn't as massive as other thousand-dollar study courses, we found that it isn't needed with this course. Achievable hits every point concisely and consistently delivers the right amount of information to get through each section.
This course also uses memory science as part of its study approach. After each focused study session, students are given a brief series of practice questions to see if they learned it. This approach doesn't require a massive volume of content to deliver results.
Achievable doesn't have any video lessons or live classes as part of its curriculum so if you're a visual learner, then this might not be the course for you. We weren't really surprised to find a lack of video lessons due to the low price point. After all, video production is expensive.
Achievable uses its digital textbook for all coursework, which we'll discuss in greater detail later in the book. Each chapter is short and concise, taking around 10 minutes to read. Each major point's explanation is then described using examples to help students really grasp the concepts.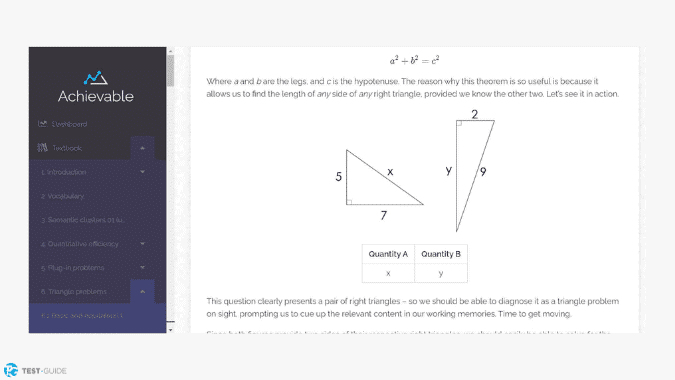 Practice Questions
Achievable comes loaded with some truly amazing practice questions but what really stands out are the text explanations. While they are not quite as good as other more expensive options, they are written pretty darn well.
They are short and concise, capturing the important points that make it clear why your answer was correct or incorrect. It just goes to show that long explanations are not absolutely necessary for practice questions.  
Overall, Achievable's GRE practice questions seem to scale well in terms of difficulty when compared to the real GRE exam.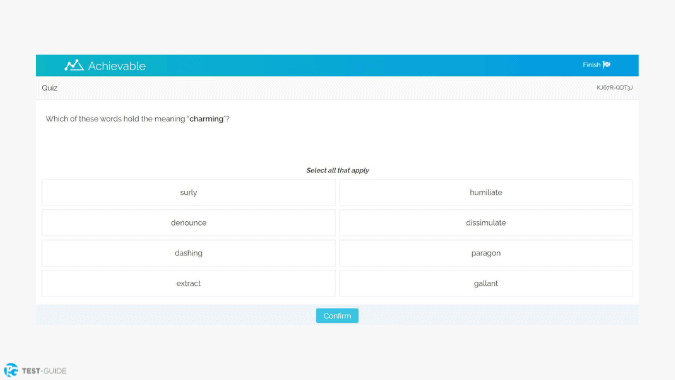 Practice Exams
Students get 10 full-length practice exams to test their study progress. These are designed to be taken under real testing conditions. However, this is where we started to see the lower cost of this course come into play.
Questions from these practice exams are drawn from the practice question bank, which is quite limited. That means if you have already used up all of the practice verbal questions, then you'll see them repeated on the exam. 
Keep in mind that this only applies to verbal questions. Quantitative aptitude questions are generated from an automated algorithm so they are infinite. With the price of this course, you'd expect some areas where costs had to be cut and verbal question limitations is one of those areas.
Dashboard and User Interface
Achievable went all out on their interface, which isn't surprising since its creators are tech geniuses from Silicon Valley. It's clean and intuitive, showing every piece of important information you would expect from a prep course. Plus it's aesthetically pleasing.
But it's slightly difficult to figure out at first but once you learn to navigate this interface, it's flawless.  
It is also quite responsive and does everything it's supposed to without a problem. It's snappy and loads pages as expected.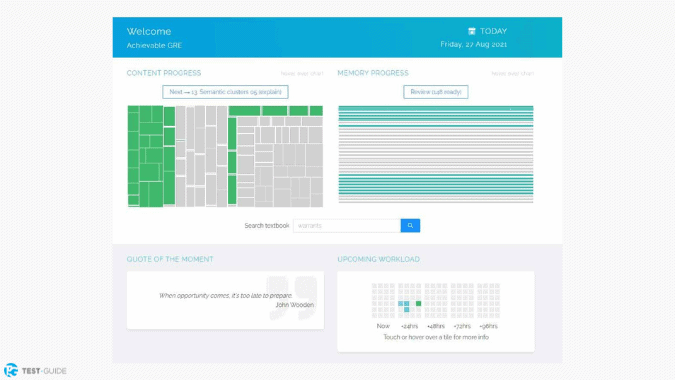 Study Plan
As we stated above, Achievable doesn't include live classes as part of its curriculum. So students who are not self-motivated will struggle to keep up with its study plan. This program is targeted to self-driven students who are able to motivate themselves to pick up the next lesson.
While the system's machine learning technology will guide students to the next section, it's completely self-paced and designed for students who are able to push themselves. 
The overall study plan is adapted as students advance through the course. If a review shows that they lack understanding of a certain topic, the program will swing back to that topic later. 
Textbook
This digital textbook is the foundation of everything structured within Achievable's GRE course. As mentioned earlier, there are no video lessons so everything is found in this textbook.
So the real question is whether or not the digital textbook is enough to help students ace the GRE exam. Let's break it down and find out. 
This digital textbook is comprised of 89 chapters that are used as the course's learning modules. Students read a chapter, answer some practice questions, and then the AI system adapts their study plan. So if the digital textbook is the foundational element of the prep course and it stands alone, then it has to be amazing. 
Well we found that Achievable's digital textbook could be published and sold on its own. So the quality of the textbook itself is not in question. It uses simple terms and conversational language to describe complex topics that might be difficult to understand. This is a great tool for textual learners. 
The only downside of this textbook is that there's no hard copy. Of course, you could print it to create a physical version and the cost of doing so would still be substantially lower than those thousand-dollar prep courses.
Still though, you'd think that Achievable would have an option to pay a small fee for a printed version of their textbook. 
Overall, we're not a huge fan of the textbook-only approach. Videos and live classes are fundamental elements of a GRE prep course. But for textual learners who are on a tight budget, Achievable's GRE course is an amazing option!


Why Choose Achievable GRE
Save $10 With Code: TestGuide
Achievable GRE Review FAQs
Is Achievable good for GRE?
With its low price point, this is a great question. Our team of GRE experts believes that students who follow the study plan laid out by Achievable will see a point increase in their GRE score. Whether it's as much of an increase as thousand dollar courses is debatable though.

Visual learners won't find a lot of value in Achievable's digital textbook approach whereas textual learners might find tremendous value in this course.
Is Achievable legit?
Many people look at the $199 price and instantly think Achievable isn't a legitimate prep course. We were also skeptical too but what we discovered proved that it's legit. It's an insanely great value.

Achievable's adaptive learning approach alone is worth the price of admission. Even though this course is built around a digital textbook that provides all lessons, this textbook is extremely well-written. So yes, Achievable is a legit GRE study course.
Does Achievable have videos?
No. Achievable bases their entire curriculum around its digital textbook, adaptive learning technology, and practice questions. But they do not offer videos, which isn't surprising given the low price.