Kaplan is considered a top brand by experts, and for good reason. We went into the courses and provided you with our Kaplan GMAT review below.
We take a look at all the different options and features offered by Kaplan in our review. See what you can expect if you decide to purchase a Kaplan GMAT prep course.
Summary: Learn more about Kaplan GMAT prep. You can research other providers by checking out our reviews of the best GMAT prep.
Kaplan GMAT Prep Options
 
On-Demand
Live Course
Tutoring
Bootcamp
Price
$999
$1,599
$2,450
$2,599
Subscription Length
6 Months
6 Months
9 Months
6 Months After Class Ends
Practice Questions
5,000+
5,000+
5,000+
5,000+
Practice Exams
6
6
6
6
Video Lessons
35+ Interactive Videos
35+ Interactive Videos
35+ Interactive Videos
35+ Interactive Videos
Live Instruction
No
27 Hours
One-on-One Tutoring
No
Mobile App
Yes
Yes
Yes
Yes
Guarantee
Yes
Yes
Yes
Yes
Learn More
GO!
Kaplan GMAT offers a ton of different options for those looking to prepare for the GMAT exam. We have listed 4 of their most popular options above. We will take a deeper dive into those 4 options below.
After doing so, we will review some of the common features that users will find in their Kaplan GMAT prep courses. We have included screenshots as well to help you get a better feel for the course.


Kaplan On-Demand GMAT Course
Kaplan's flagship tier includes access to all of the study resources on their platform. This is the most popular option and includes the following features:
Access to an extensive video library including more than 35 interactive videos.
6 Full GMAT Practice Tests.
7-Hour Workshop "Foundations of GMAT Math"
Full Comprehensive Strategy Guide
Access to "Foundations of GMAT Math" and "GMAT Verbal Guide"
Access to Kaplan's Navigator features which tracks your progress using practice tests.
Test Simulation Book.
Mobile Study App
Bottom Line: Kaplan's flagship option provides tremendous value and will improve your score.
Kaplan Live GMAT Course
Students who prefer to leave through in-person classrooms will love this package. Kaplan's Live tier includes everything from the "On-Demand" tier and the following bonuses:
Up to 27 Hours of Live Instruction taught by 99th percentile instructors.
Full one-on-one assessments from 99th percentile instructors. This assessment is both pre-exam and post-exam.
Bottom Line: A great option if you like to break up the tediousness of solo studies with live classroom lessons.
Kaplan GMAT Tutoring
Students who need personalized help will love this package. Everything in the "On-Demand" package is included. Additionally, students receive tutoring from an expert instructor. Tutoring hours are based on certain tiers as follows:
10 Hours: $2,450
20 Hours: $4,600
30 Hours: $6,750
Bottom Line: This package is perfect for students who are struggling to learn certain concepts and need one-on-one help from an instructor.
Kaplan GMAT Bootcamp
Students who need to cram for the GMAT in just a few weeks will find this package highly valuable. Although we don't recommend cramming for important exams, Kaplan's Bootcamp package is a great way to prepare in a short amount of time.
Everything is crammed into a comprehensive package that includes access to everything in the "On-Demand" package. To help students prepare quickly, this tier also includes 35 hours of intense "boot camp style" training that is sure to push you to your intellectual limits.
Bottom Line: If you find test day closing in and need to cram studies in under a month, then this package provides everything you need.
Kaplan GMAT Features
Our team took a close look at Kaplan's features to discover why experts consider it one of the top GMAT prep courses on the market.
Coursework
The moment we first dove into the Kaplan course, we could see why it's considered one of the best on the market. It starts off with a study plan that is broken down into four sections and then those sections are further broken down into small, digestible courses.
This platform also provides an easy-to-follow structure that ensures that the content resonates with students. Modules all include three sections that expand studies before and after the course.
That's the structure but what about the learning content? Lessons are built around high quality videos that really stand out. We'll go into more detail on these videos further down in this review.
Finally, each module includes an "After Class" session that is designed to ensure students learn the vital information presented in the class. Students are also given a PDF textbook and directed to the sections that should be read.
Kaplan provides over 140 hours of course work and a ton of video content to help students prepare for the GMAT.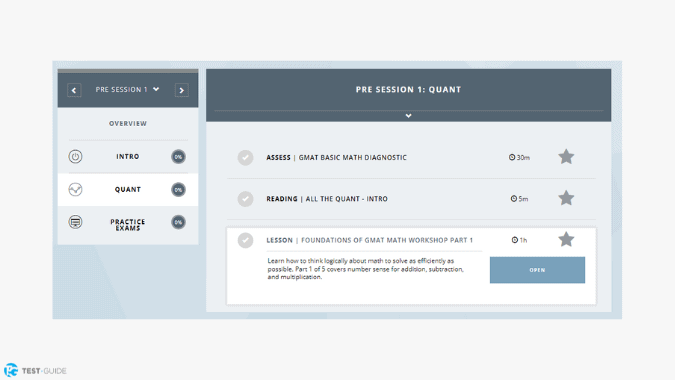 Practice Questions
Kaplan's question bank (Qbank) is the driving force of the overall course. It's a custom tool that provides students the ability to create their own quizzes. Students have the ability to customize topics, question type, and even the difficulty of questions. Over 5,000 questions are stored in Kaplan's massive database.
The biggest advantage of Qbank is that it gives students the opportunity to create practice sessions that target their weaknesses. Strengthening weaknesses is a proven method of increasing a student's GMAT score.
Furthermore, students are able to crank up the pressure by timing these sessions. All of these tools are great for ensuring students are prepared for the actual exam.
Our overall thoughts on the question bank are that it provides an outstanding method of practice. Each question is accompanied by an explanation. Although explanations aren't as strong as other GMAT study courses, they get the point across.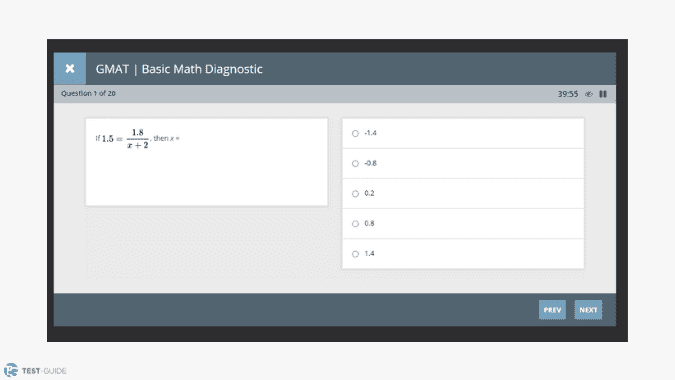 GMAT Navigator Feature
GMAT Navigator is a really cool feature that lets you find specific questions in the official GMAT guide. Students who plan on using the GMAT Official Guide will save a lot of time with this feature.
With that said, it's a great bonus but not necessarily game changing.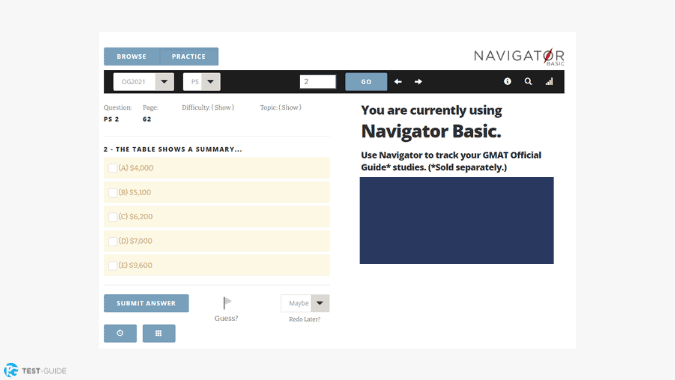 Practice Exams
With 6 full-length practice tests to help study with, Kaplan flexes its strength as one of the top brands. Practice exams are a key learning feature.
Students must be able to test their study progress in a realistic environment using an accurate GMAT practice test. More importantly, these practice tests accurately reflect the real test.
In case you're wondering, Kaplan's navigator feature does take the results of full-length exams into consideration when determining if you need to restudy previous concepts.
Dashboard and User Interface
Given Kaplan's reputation, we expected the dashboard and user interface to be flawless. It took a few minutes to get the hang of navigating it. Once we did, our team wasn't disappointed.
Kaplan's layout is incredibly organized and intuitive. The header is home to all four major features of the course. The rest of the tools are found in easy-to-navigate drop-down menu.
Now we can get into the most annoying feature of this study program. Every single resource found in Kaplan opens into a new browser tab. At first, that seems convenient.
The problem is that there are dozens of tabs open. While this might not be a concern for some students, many will find it tedious and annoying.
Video Lessons
Instructors speak in front of a digital whiteboard that Kaplan uses to ensure information is up-to-date. These videos do a decent job of breaking down difficult concepts so students are able to understand complex concepts.
Content delivery is spot-on through most videos, although they do struggle from time-to-time. That is to be expected with a massive video library like this one.
The material itself is also outstanding. Kaplan hits every topic found on the GMAT.
Students will have access to more than 35 fully interactive videos.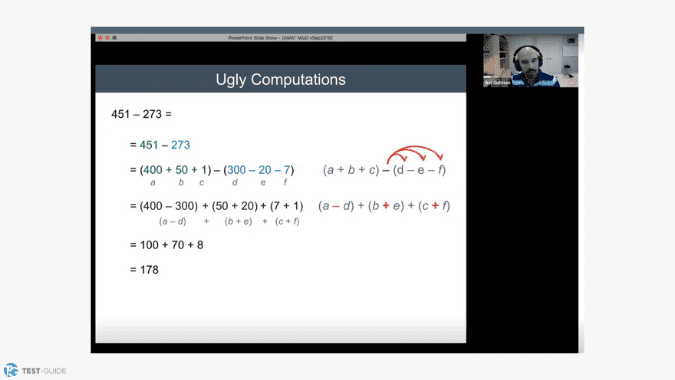 Score Reports
When students take the GMAT practice exams through Kaplan, the system generates a detailed score report. This report is far more advanced than just a score. It provides a detailed look at performance that's categorized by the different types of questions.
Kaplan's score reports provide a breakdown of the types of questions that the student answered incorrectly along with a detailed explanation.
This is a powerful tool for identifying weaknesses and ensuring that studies are focused.
Kaplan Hard Copy Prep Books
After subscribing to one of Kaplan's tier packages, they will ship you hard copies of certain prep books. Kaplan's prep books are designed to supplement the course and do a wonderful job of it.
Students will find high quality content matched with study strategies and practice problems.
Kaplan's hard copy prep books are written as well as expected and are an amazing add-on. But they are not a replacement for the wealth of content found through Kaplan's digital library.
Ebooks Included in the Course
Kaplan includes its amazing eBooks as part of its course. These books are great standalone study resources that countless students use to ace the GMAT. So getting them as part of the study course is a great value.
With that said, the biggest selling point of these eBooks is its practice questions. Since Kaplan utilizes the Qbank to provide access to countless practice questions, the eBooks are not really necessary.
The benefit of having access to these eBooks is that they are written in the same style as the study course. It gives students an additional way to access information, which is never a bad thing.
Official Test Day Experience
Kaplan gives students access to some pretty cool add-ons that work well with their program. We feel that the best one is their "official test day experience."
Students are given the opportunity to take one of their practice tests at an official Pearson VUE testing center. It's the most authentic practice test experience you'll find.
Given the importance of simulating a real testing environment when taking a practice test, this is a nice add-on.
According to Kaplan, students who take advantage of this practice test two weeks before the real test will experience the best results.


Is Kaplan a good option when studying for the GMAT?
Kaplan was our choice for best for practice questions.

Kaplan includes 140 hours of content, 5,000 practice questions, and tons of bonus content.

Kaplan is also backed by a score increase guarantee.
Is Kaplan or Princeton Review better?
Kaplan and Princeton Review are quite similar in their approach to the GMAT. So the answer to this question depends on the student's preferred learning method.
Kaplan's expertly produced video lessons and detail-oriented practice exams are what set it apart. As a result, visual learners will think Kaplan is the better option.
On the other hand, students who excel at live classes will prefer Princeton Review.
You can read more about GMAT prep with our complete guide.
Which is better Magoosh or Kaplan?
Kaplan is preferable for students who like to learn from practice questions. More importantly, it guides students from one lesson to the next. Magoosh doesn't use a guided approach.
With that said, Magoosh provides all of the resources that students need to increase their GMAT score (at half the cost). Learn more about the different GMAT prep courses.