Our team reviewed Kaplan vs. Blueprint LSAT to help you make an informed decision before investing your hard-earned money.
You can use the information in this review to compare the two prep courses and find the one that best fits your needs.
Summary: Compare Kaplan vs. Blueprint LSAT. If either of these options does not work for you, you can read about other self-paced LSAT prep.
Kaplan LSAT vs. Blueprint LSAT Options
 
Blueprint Self-Paced LSAT Course
Kaplan LSAT On-Demand
Blueprint Live Online Course
Kaplan LSAT Live Online
Price
$799
$799
$1,199
$1,199
Subscription Length
3 Months
5 Months
5 Months
5 Months
Videos
90+ Lessons
180+ Hours
90+ Lessons
180+ Hours
Live Online Hours
No – But Live Office Hours Offered
None
37+ Hours Live Instruction
100+ Hours Live Review Sessions
32 Hours
Practice Questions
8500+
2,000+
8500+
2,000+
Practice Tests
85+
60
85+
60
Books Included
No
Yes
No
Yes
Study Plan
Yes
Yes
Yes
Yes
Guarantee
Yes – Not on Monthly or 3-Month Course
Yes
Yes
Yes
Learn More
GO!
GO!
GO!
GO!
Kaplan and Blueprint have some similar offerings. With that being said, we did not list all of Kaplan's offerings as we wanted to try to compare apples to apples.
The table above outlines some of the differences and similarities between the two providers. We will be taking a deeper dive into those similarities and differences below. Use the screenshots below to get a better idea of what to expect.
If you are looking for an individual review of either of these providers, click the following links:


Kaplan vs. Blueprint LSAT Features
Our team reviewed the features of both prep courses to help you decide on a provider. We dissected each feature so that you can make an informed decision.
Coursework
Blueprint emphasizes its video library in its course. Every lesson is attached to these videos and they provide the foundation for its approach. We'll discuss videos in more detail momentarily.
Text-based lessons and practice materials supplement these videos but they remain the central focus of Blueprint's approach.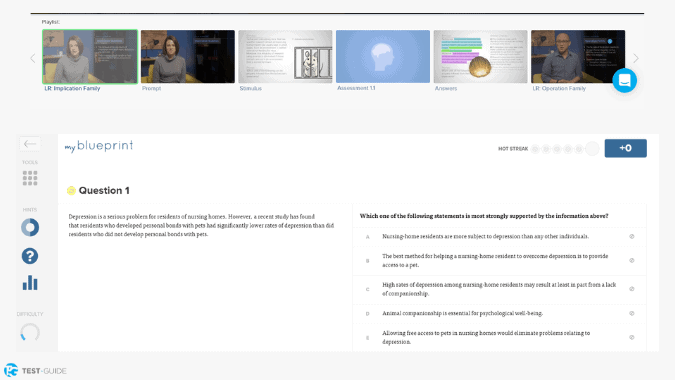 An example of the Blueprint coursework
On the other hand, Kaplan relies on a combination of book materials, lesson plans, and assignments to guide you through its comprehensive course. Even though Blueprint also uses these same kinds of tools to teach students, Kaplan really lean heavily on their videos and interactive study guide.
Kaplan also offers recorded lectures and live sessions with LSAT instructors. Using their LSAT Channel, you can ask questions, learn specific strategies, and get help with practice materials. It's very comprehensive.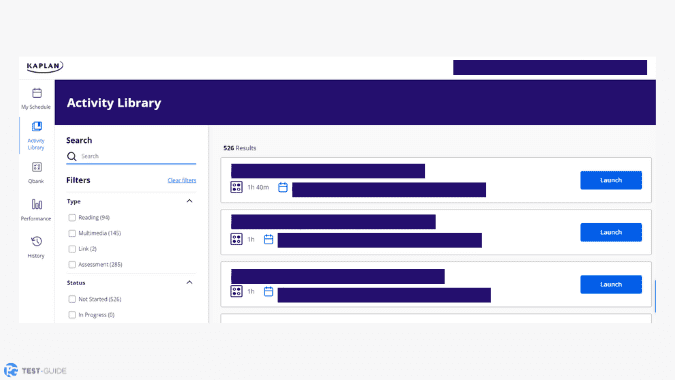 An example of the Kaplan activity library
This all makes it seem like Kaplan wins the coursework category but that's surprisingly not the case. Blueprint gets the edge.
Let's move onto the video section of our review of Kaplan vs. Blueprint LSAT to explain why.
Video Lessons
Blueprint's videos offer the most engaging experience on the market.
Their videos are entertaining and have high production quality. They use diagrams, dynamic notes, and go through content quickly in order to engage students. Blueprint even includes gaming features, making them highly engaging.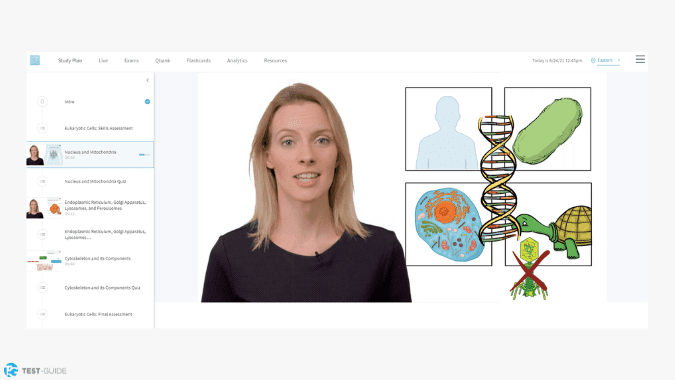 An example of a Blueprint video lesson
We're not saying that Kaplan's videos are not high quality. They are great but the production is relatively dry. Instructors appear at the bottom of the screen to give each lesson, using a digital whiteboard to draw on the screen. This is pretty amazing in its own right but in comparison to Blueprint, they are less engaging and not nearly as fun.
Videos are one of the major factors that give Blueprint an edge over the rest of its competitors, including Kaplan.
Practice Questions (Custom Practice Sessions)
When it comes to both providers, both have excellent practice questions. Both platforms offer a ton of practice questions. Blueprint offers 8,500+ questions while Kaplan offers 2,000+ questions.
Both platforms allow users to create quizzes and work on things they want to work on. With Blueprint, students will be taken to a custom area of the course where the can create quizzes based on question types, difficulty, concepts, and more.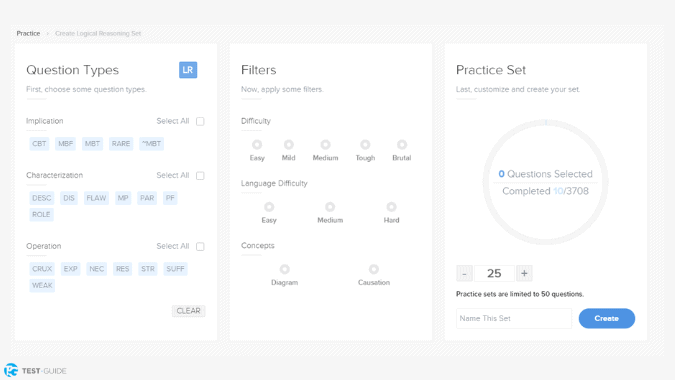 An example of the question filters available on Blueprint
Just like Blueprint, Kaplan offers similar functionality within their course. Students can pick and choose what they want to be quizzed on within the course. There are multiple filters to choose from.
This feature is very helpful for students who want to focus on a specific topic or concept.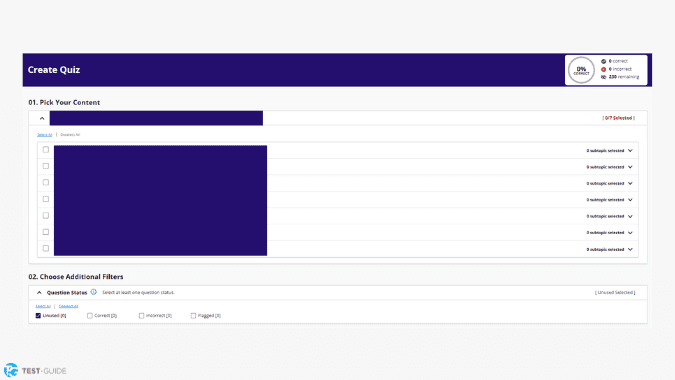 An example of the question filters available on Kaplan
Answer Explanations
Practice questions on each prep course are followed by a detailed, written explanation. These explanations are shown every time you answer a question to give you an opportunity to review the context of what was asked.
Both platforms do a great job of offering detailed answer explanations. These answer explanations can prove very valuable to students as they help you figure out why an answer was correct or incorrect.
Practice Exams
Next on our in-depth look at Kaplan LSAT Review vs. Blueprint, both platforms offer access to LSAT practice tests (previous versions) through a separate subscription package.
These two banks have the same practice tests so there's no advantage between prep courses (although Blueprint does offer more tests overall). The presentation of tests is what separates the two competitors.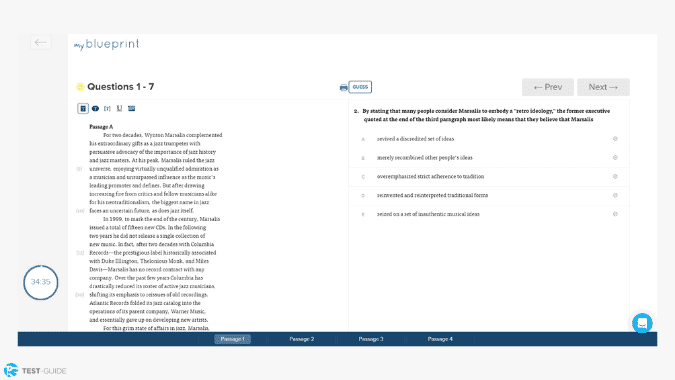 An example of a practice test on Blueprint
Kaplan uses three practice tests as part of its curriculum in order to gauge your progress through the course. These tests are used to generate highly detailed score reports that are used to evaluate your strengths and weaknesses.
Since Kaplan utilizes a guided study approach, these practice tests will also let the system automatically update your study schedule.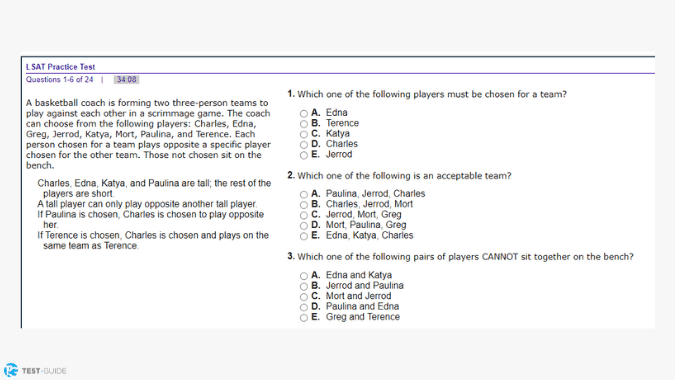 An example of a practice test on Kaplan
Blueprint gets a slight edge though. Their core curriculum requires six practice tests to complete, which provides a more focused study approach since the system is able to evaluate your progress more often.
Of course, some students might find that six practice tests are too much. This is a personal preference.
LSAT Channel
Kaplan has an LSAT channel built into its diverse prep course so we decided that it was worth mentioning. The on-demand video channel is the best feature here since these videos answer common questions from students about difficult concepts found on the LSAT.
That's the positive. However, we feel like a lot of this channel's content should have been used as part of Kaplan's core curriculum. We found ourselves having to move between the main course and this channel so often that it led to a clunky learning experience.
In other words, when finishing a study unit found in the core curriculum, you will find yourself searching the LSAT channel for videos detailing certain complex concepts.
The overall organization of Blueprint's course is one of the main reasons it's a slightly better overall prep course than Kaplan.
Dashboard & User Interface
Both platforms are top-tier so we expected each of them to provide high quality interaction between its interface and course materials. Let's start with Kaplan.
Everything is designed cleanly and puts all essentials right at your fingertips. Its navigation is intuitive and connects you to everything in its course with relative ease.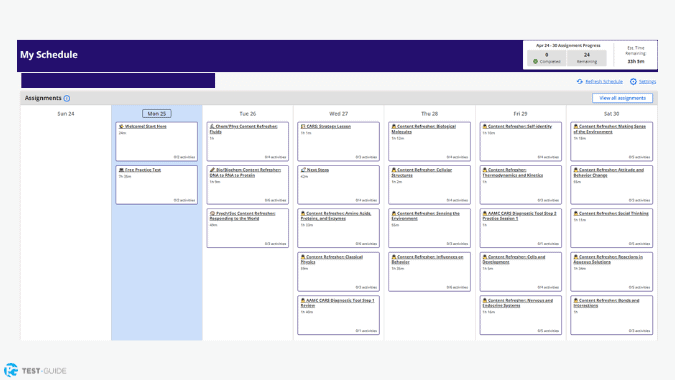 An example of a schedule you will find on the dashboard within Kaplan
Blueprint's advanced dashboard gives them a slight advantage. It's simple, yet highly interactive and connects you with every part of its course.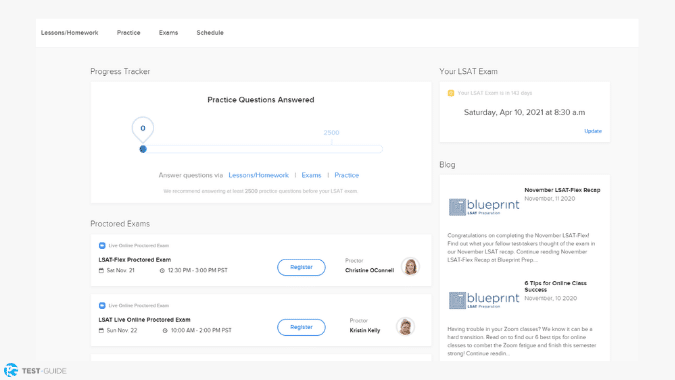 An example of the Blueprint dashboard
Both dashboards provide a score report and shows guides you to the next section of the LSAT study materials. It's just that Blueprint is a bit more user-friendly than Kaplan. Navigation is super easy and clean.
Score Reports
Both Kaplan and Blueprint give you a score report after completing a practice test. These reports are designed to give you the feedback needed guide your studies. In short, they show you where you are weakest, thereby helping you set up future study sessions.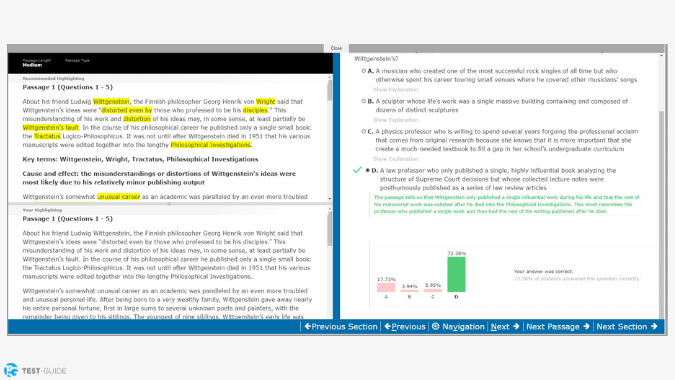 An example within the score report of Blueprint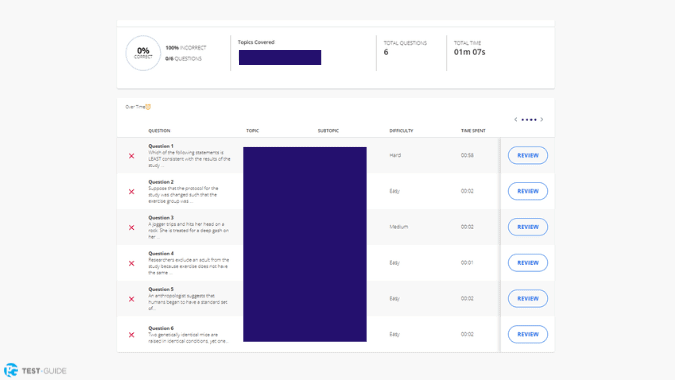 An example within the score report of Kaplan
Kaplan and Blueprint's reports are accurate and do their job effectively. We can't really say that either side gets an advantage here since both reports show the same information. However, the way Blueprint integrates these reports with the rest of its study tools deserves a mention.
Score Predictor
You'll find a score predictor on your dashboard. This is a prediction of your score if you were to take the LSAT right then. This score is constantly updated as you go through the prep course.
Kaplan and Blueprint score predictions are accurate enough to guide your studies, but take them with a grain of salt. Don't assume that you'll get that exact score.
With that said, both prep courses are rated the same for this score prediction. They each seem to accurately reflect a student's progress through the prep course.
Live Classrooms
As you would expect from the two leading courses, both Kaplan and Blueprint offer live classes. They are top-of-the-line with LSAT instructors who scored in the top percentile.
With that said, Blueprint's instructors are more engaging and make their classes fun. This same energy is found in their videos. Blueprint seems to invest heavily in creating a fun and engaging learning experience.
We're not saying that Kaplan's instructors are unqualified. On the contrary, they are all great instructors and have a deep understanding of the LSAT. Blueprint just promotes a more fun learning experience.
Kaplan does get a nod for its live video lectures though. They host lectures on their LSAT Channel based on student demand.
Extra Resources
The majority of Kaplan's extra resources are found in its LSAT Channel, which we just reviewed. So what does Blueprint offer in terms of extra resources?
For starters, Blueprint has a daily live online review session. This is a two-hour review where an instructor focuses on a single concept. These are hit-or-miss depending on if you're having trouble with that specific concept.
Blueprint's personalized study plan is top-notch. It gives you a calendar that shows you suggested study topics based on your performance on practice tests. This approach is much more organized than Kaplan.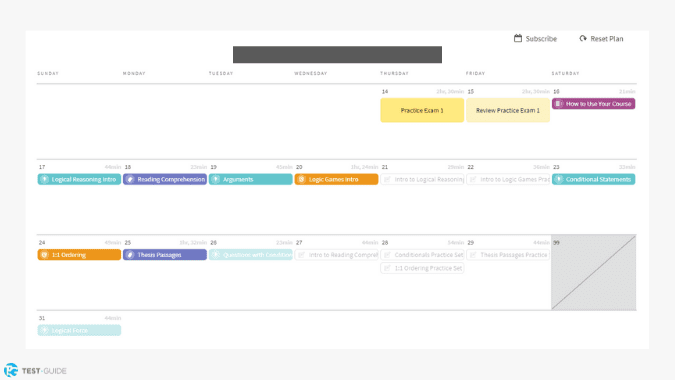 An example of the Blueprint study plan that is personalized for you
Is Blueprint or Kaplan LSAT Better?
Blueprint gets the edge. Blueprint has some better overall offerings, is cheaper, and offers more practice questions and exams.
With that being said, Kaplan is no slouch. Kaplan offers a solid course – if there is a feature or something you really like about Kaplan, go for it!


Why Choose Blueprint LSAT
Kaplan vs. Blueprint LSAT FAQs
What is the biggest difference between Kaplan and Blueprint LSAT?
There are actually two different features that must be mentioned here since they provide an advantage to each platform.

Blueprint stands out because of its masterfully integrated user interface and dashboard.

Kaplan places an emphasis on their LSAT channel which is proprietary and offers tons of additional video content for users.
Which option is more affordable, Kaplan or Blueprint LSAT?
Although Blueprint and Kaplan are highly competitive at just about every tier, Blueprint is slightly more expensive. But when comparing Blueprint vs. Kaplan LSAT, you get slightly more content for the extra cost with Blueprint.

If you want to look at our best value option, go check out our online LSAT prep course reviews.
Should I use Kaplan or Blueprint LSAT?
Blueprint has a slight edge over Kaplan due to its incredible interactivity and top-quality video library.