Magoosh offers unparalleled low prices that you will love. We conducted a Magoosh GMAT review to help you learn more about their offerings.
A big question students have about Magoosh is how their course is since the price is so low. Our team dove into the Magoosh GMAT course to find out how it compares to some of the other big players in the industry.
Summary: Learn more about Magoosh and their GMAT prep. If you are interested in other options, consider other GMAT prep courses.
Magoosh GMAT Options
 
Math + IR
Premium
Live + Premium
Price
$197
$224
$539
Subscription Length
1 Year
1 Year
1 Year
Practice Questions
720
1300+
1300+
Practice Exams
6
8
8
Video Lessons
175
340
340
Live Instruction Hours
No
N0
16 Hours
Covers All Sections
No
Yes
Yes
Score Predictor
No
Yes
Yes
99th Percentile Instructors
No
No
Yes
Customized Homework
No
No
Yes
Score Guarantee
+3 Math Score
+50 Total Score
+50 Total Score
Learn More
GO!
Magoosh GMAT offers 3 main options for students looking to prepare for their exam. We will take a more in-depth look at those 3 options below.
After doing so, we will review the features you will find in your Magoosh GMAT course. We have also included screenshots from the prep course to help you better understand how the course is setup.
If you want to practice before making a purchase, use our free GMAT practice test.

Save 10% With Code: TESTGUIDE1
Magoosh Math + IR GMAT Course
This is the lowest tier package and to be perfectly honest, it's not worth the price when you consider that it's only $30 cheaper than Premium.
Here's what this tier offers:
Access to Math and IR Content Only
6 Practice Exams 
175+ Video Lessons
720+ Practice Questions
Study Schedule
Access to Online Whiteboard
Bottom Line: Not worth the price since it's only $30 less than Premium, which gives full access. 
Magoosh Live + Premium GMAT Course
This is Magoosh's comprehensive course and comes in at just $224.
It includes all of the following features:
Full Access to All Sections including Math, IR, AWA, and Verbal.
8 Practice Tests
340+ Video Lessons
1,300+ Practice Questions
Study Schedule
Access to Online Whiteboard
"Ask an Expert" Feature
Score Predictor and Analysis
Bottom Line: This is a tremendous value for live classroom learning. Not sure if you can find this good of a deal from any other provider.
Magoosh GMAT Features
Our team took a hard look at the features offered by this budget-friendly prep course to help you decide whether or not it's right for you.
You can review other GMAT prep options if you want to investigate other brands.
Coursework
The first thing that you are sure to notice with the Magoosh prep courses is that it follows a much different approach than other GMAT prep courses. This platform doesn't follow a linear path. For better or worse, students are able to choose their learning approach.
Videos are organized into sections that cover specific topics and placed on a menu. Magoosh does not tell students what path to choose next. This prep course puts you in the driver's seat.
With that said, the video library is organized nicely so it's not hard to find the video you need.
Students who require a structured approach will struggle with Magoosh's approach though. Our team didn't have trouble navigating the system but we're also experienced working our way through prep courses.
Some students will need to be guided through a course to get the most from it – and there is nothing wrong with that.
Overall, the course contains 340 video lessons, over 1,300 practice questions, and 8 practice exams. While this unstructured approach is certainly unique, this course contains all of the content required to increase your GMAT score.
Video Lessons
The videos follow an older, yet time-tested way of presenting information. Instructors never appear on screen. Instead, their voice is accompanied by a PowerPoint presentation that provides a visual reference.
Videos are anywhere from 2 minutes to 20 minutes long. It depends on the complexity of the topic being discussed.
One feature that stands out is the transcription that immediately follows the instructor's words. It gives students a way to glance back if they miss a sentence or explanation. It's not groundbreaking by any means – but it is convenient.
Magoosh's videos do tend to struggle in their delivery when compared to other popular GMAT study courses. While they provide all of the content required for students to ace the GMAT, these videos don't have the extra production value to make them memorable.
An instructor does write on the screen though so there's a bit of an interactive element.
Again, these videos do provide the required content and there are over 340 of them in the video library. There's not a single topic we felt they skipped over.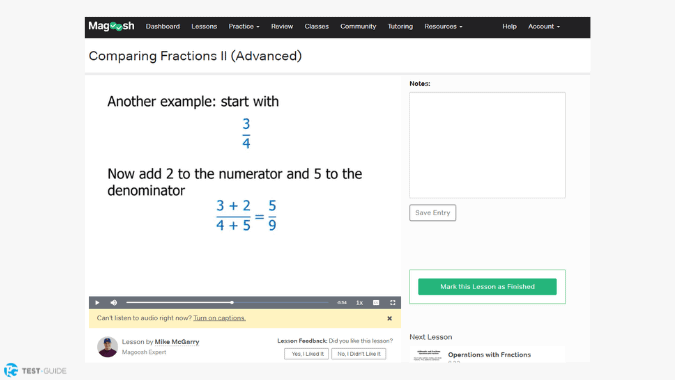 Practice Questions (Custom Practice Sessions)
The Magoosh GMAT course has a library of over 1,300 practice questions that compliment the video lessons. These questions are accessed through the quick practice feature found on the dashboard.
However, what really sets Magoosh apart is its custom practice sessions.
This custom practice tool gives students power over their practice questions. They can filter questions based on type, difficulty, timing, and many other categories.
This is one of our favorite features and it functions just as efficiently as other top players in the industry.
Practice Exams
Magoosh does things much differently than other courses – practice exams are no exception to this rule. The system creates practice exams by drawing questions from the pool of practice questions.
This puts a limit on how much practice students can get with this course. In fact, Magoosh recommends that students only take two practice tests so they have enough questions to gauge their progress through the course.
We found this to significantly limit the effectiveness of the overall course since practice tests are so important. The industry average is five practice tests so this recommendation is three below that limit.
With that said, the quality of questions is good, it's just the limitation that is a cause for concern.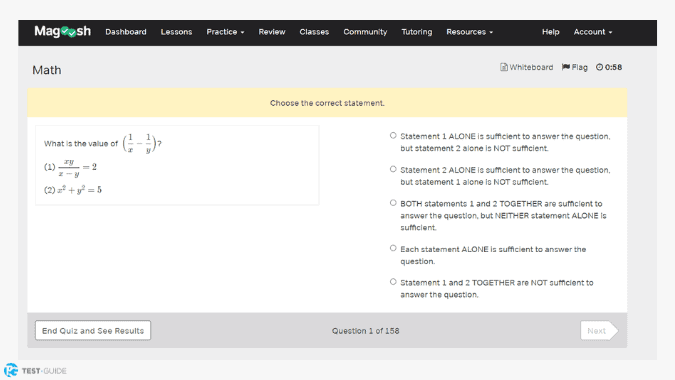 Dashboard
Magoosh's dashboard is intuitive and adapts to each student as they work through the course. It tracks progress based on practice questions and video lessons.
Combining this with its score prediction technology, Magoosh calculates everything and even provides recommended study videos to students. It's all conveniently shown on the dashboard.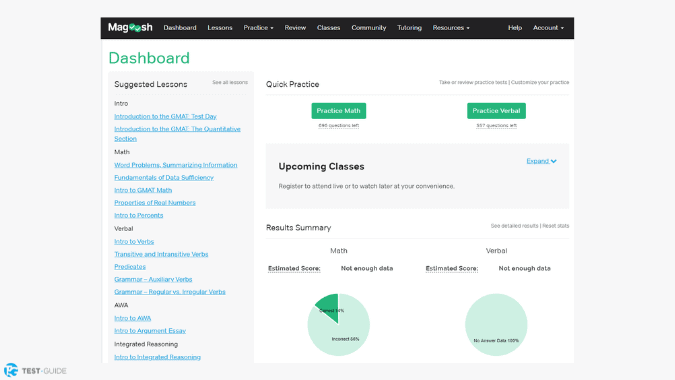 User Interface
Magoosh doesn't disappoint with their interface. We found it to be clean and easy-to-use once we worked with it for a few minutes. Navigation is made simple by utilizing header menus that lay out everything students need to access essential information.
Lessons, practice sessions, reviews, and score reports are all easily accessible through the interface.
Not only is it visually appealing, but the interface responds quickly and everything loads as it should. We have no complaints about it.
Score Reports
As mentioned above, Magoosh factors a student's progress through the course and shows them a detailed score report. This report shows progress based on each category, giving students the metrics they need to direct their studies.
It's a really intuitive feature that ensures that your studies are focused in the right areas.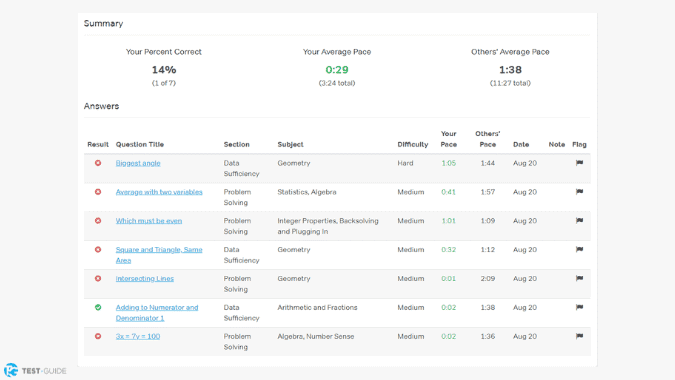 Practice Answer Explanations
Although we've discussed the limitations set on practice questions, we can't skip over how effective they are. Magoosh designers seemed to understand that they needed to create something to stand out and this is how they chose to make it happen.
Each practice question comes with a detailed explanation that serves as the greatest strength of this course. Magoosh built in a video and text explanation into every practice question.
While the practice exams struggle to keep up with other popular study courses, rest assured that the practice questions go above and beyond. These explanations add a ton of value to this course.
Each explanation includes a feature that allows students to flag specific topics for later review. These notes are added to the dashboard for quick reference. If that's not enough, there are even links to suggested videos with each explanation.
After navigating several practice questions, we quickly discovered that Magoosh placed a lot of emphasis in providing value through their practice questions.
Score Predictor
The Magoosh course has another cool feature – it predicts a student's score based on their progress through the course. It's measured by answering practice questions. This score prediction is used to give students a metric they can use to guide their studies.
While there's no way to gauge the accuracy of the score predictor, we've browsed online reviews that swear by it. Additionally, Magoosh claims to use metrics from over 200,000 previous test-takers to hone their formula.
Regardless of whether it reflects your actual score, it does serve as a great tool for guiding your studies.

Save 10% With Code: TESTGUIDE1
Is Magoosh a good prep option for the GMAT?
Yes. The low price point makes it a great option for students on a tight budget. The overall course materials do not lack in quality. Even though we feel their videos are a bit dry, they are thorough and cover every topic found on the GMAT.

The answer explanations to the practice questions are a fantastic feature and make this course a great option.
Is Magoosh the best option for GMAT prep?
Magoosh was our choice for best value. Students can expect all of the tools they need to ace the GMAT at a budget-friendly price.

There are other great options out there but this option is the best for students looking for a value option.
Is Magoosh an effective option?
The practice questions are all high quality and provide detailed explanations. The restriction with practice tests really holds back this prep course from its fullest potential.

With that being said, the course includes coverage of all GMAT topics and will help you learn complex concepts. If you are shopping on a budget, this is a great option for you.