Will you earn a top score by using a Princeton Review ACT prep course? Our team has broken down every feature in this course to answer that question.
If you want to get into a top college, then scoring high on the ACT is a requirement.
This review will look closely at the features, packages, and other essential elements included in Princeton Review's ACT prep.
Summary: Learn more about the Princeton Review's ACT prep courses. If you are interested in different providers, consider other ACT prep courses.
Princeton Review ACT Options
 
ACT & SAT Self-Paced Bundle
Essentials Course
31+ Course
34+ Tutoring Course
Price
$499
$749
$1,899
$400/hr
Subscription Length
1 Year
1 Year
1 Year
Hourly
Practice Questions
3,200
3,200
3,200
3,200
Practice Exams
15 (SAT) 10 (ACT)
11
11
11
Video Lessons
140
140
140
140
Live Instruction Hours
None
18
36
36
Guarantee
Yes
Yes
Yes
Yes
Study Plan
Yes
Yes
Yes
Yes
Homework Assignments
No
Yes
Yes
Yes
99th Percentile SAT Instructor
No
No
Yes
Yes
Learn More
GO!
Princeton Review offers 4 main options for students looking to prepare for the ACT. The ACT & SAT bundle is a great choice for students who may be considering taking both the ACT and SAT.
We will be taking a look at these 4 options below. After looking at these 4 options, we will review the common features found in Princeton Review ACT prep courses.
We have also included detailed screenshots from inside the ACT Princeton Review course to help you get a better idea of what to expect. If you are looking for some free prep before purchasing a course, consider our ACT practice tests.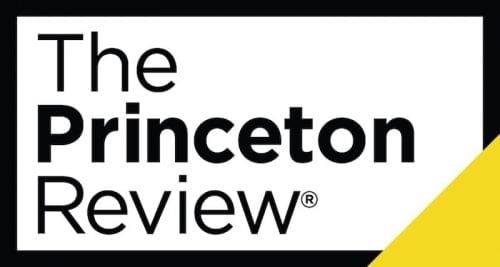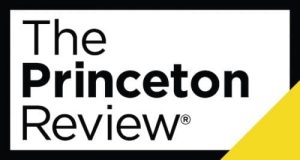 Princeton Review Self-Paced ACT & SAT Bundle
The entry-level tier of Princeton Review's ACT prep courses clocks in at $499. It includes all of the basics like video lessons, practice materials, and simulated tests. This is a great choice for students who want to score high on the ACT but are working with a limited budget.
The features included in this tier are as follows: 
Access to over 3,000 practice questions with text explanations.
Access to both SAT and ACT practice exams.
377 practice drills to test your understanding of essential concepts.
10 hours of one-on-one tutoring for an extra $200 fee.
Personalized study plan.
Bottom Line: Affordable option that provides access to engaging video lessons and a personalized study plan. 
Princeton Review Essentials ACT Course
This package is the most popular option that Princeton Review ACT offers. It clocks in at $749 and includes all of the features listed in the self-paced section. Additionally, this tier gives students access to live classes, printed textbooks, and more practice materials. 
18 Hours of live classroom time and live online sessions.
11 total practice exams
Personalized homework assignments.
Bottom Line: ACT Princeton Review flagship tier that adds live classrooms and includes full access to a massive library of study content. 
Princeton Review 31+ Course
This package is designed for students who are looking to enhance their college application. It guarantees a score of 31 or higher. In addition to all of the features from previous tiers, Princeton's 31+ also includes:
Live instruction from instructors who scored in the top percentile.
AI driven practice drills designed to push you even further than previous tiers.
Access to on-demand tutoring.
Bottom Line: Live instruction and on-demand tutoring make this a great option for students looking to get into a top college. 
Princeton Review 34+ Tutoring Course
Princeton Review's top tier package that guarantees a score of 34 or higher. This is for students looking to get into an Ivy League school. Naturally, this tier includes access to features of all previous tiers and much more!
Top-percentile instructors for live classrooms.
Top-percentile private tutors who are available 24/7.
Please check out Princeton Review's website to learn more about the 31+ and 34+ guarantees. 
Bottom Line: This expensive package is only needed for students looking to get into an Ivy League school. 
Screenshots from the Princeton Review ACT Course
Choosing the right ACT prep course is an important decision. We've made it easier by reviewing all of the key features of the Princeton Review ACT prep course. That way, you can ensure that you make the right choice.
Coursework
Princeton Review offers a library containing a lot of high quality prep materials. From the time you log on, you can expect to be met with a ton of work to complete. The overall course is built on 40 study units, each one covering different groupings of ACT subjects.
All Princeton prep courses we've covered follow a similar format. Students start a study unit by going through a variety of study materials that are usually centered on videos. Once you have completed the learning side of the lesson unit, you'll be presented with materials so you can put everything you learned into practice. It's a nice linear approach that helps keep studies simple and effective.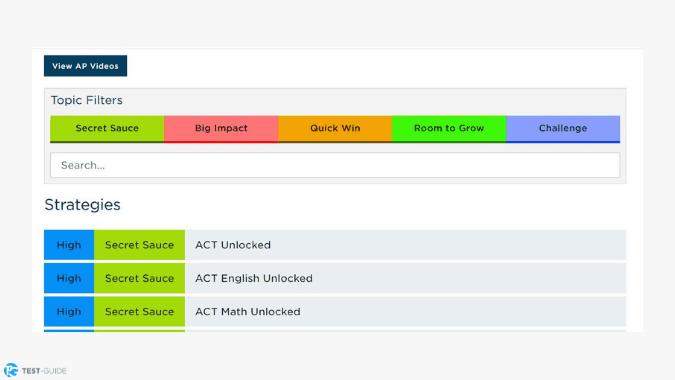 Practice Questions (Custom Practice Sessions)
Once you've gone through the learning portion of a study unit, you'll be presented with a series of practice questions. Each practice session consists of around 15 questions, sometimes more or less depending on the complexity of the topic.
The quality of practice questions is top notch but that isn't a surprised since they are all developed by a team of ACT experts. All practice questions found on Princeton Review ACT mimic the real test.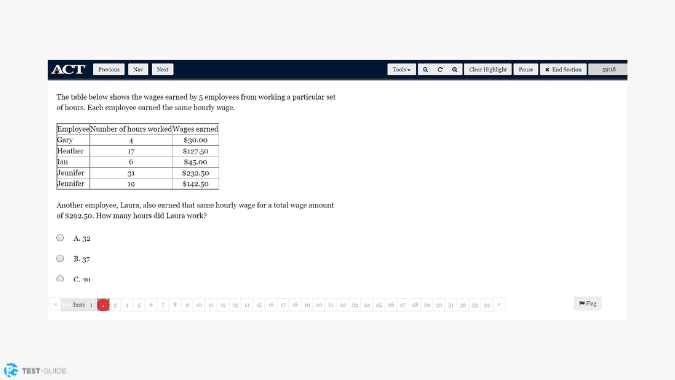 Practice Exams
We instantly noticed that the testing interface is almost exactly the same as that used by the real ACT. This is a huge advantage and ensures that you are 100% prepared for the real test. The questions themselves are indistinguishable from the real ACT exam. Combine the two and you get a fully authentic experience.
This course comes equipped with about 10 practice exams, depending on the tier you purchase. However, some of the higher tiers have proctored tests where practice exams are administered under real testing conditions. These proctored tests guarantee that you're ready for the real test.
User Interface
The user interface and dashboard really make this course stand out from its competition. All lesson units are easy to navigate and everything looks crisp. We glided through each study course with ease.
A clearly labeled navigation bar ensures that you are taken to the next lesson without having to stop and think about where to click next. So you won't lose momentum during a study session.
A concise design makes this course comfortable. More importantly, it doesn't distract students from their studies.
Dashboard
The dashboard is pretty straight-forward. It gives you access to everything you need to access lessons, see your progress, provides essential notifications, and shows the study planner. All of your goals are laid out in a nice, neat format.
We found this dashboard to be in line with other top prep courses. It doesn't really stand out but it provides easy navigation and details essential information.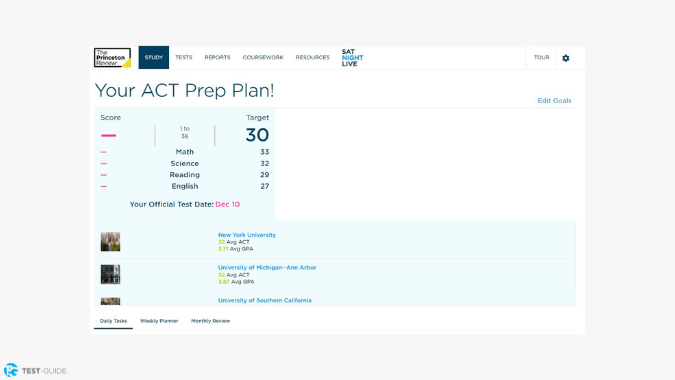 Video Lessons
We found the video production of lessons to be superb! They are right up there with the best in the business. Princeton truly understands how to capture the attention of their target audience. Teenagers won't stay focused when watching a boring 90-minute lecture so they made their library engaging. 
First of all, the videos are short and concise, covering a single topic. This approach is proven to be successful with online courses. Furthermore, instructors are on the screen as they talk about each topic. They even pull out a market and write on the screen to provide a cool visual of whatever they are teaching in that moment. 
High production quality makes these videos highly engaging and some of the best in the industry. 
Video lessons are then followed by a cool module that lets students put their newfound information to practical use with a series of drills. This varied approach ensures that students get the most from every course.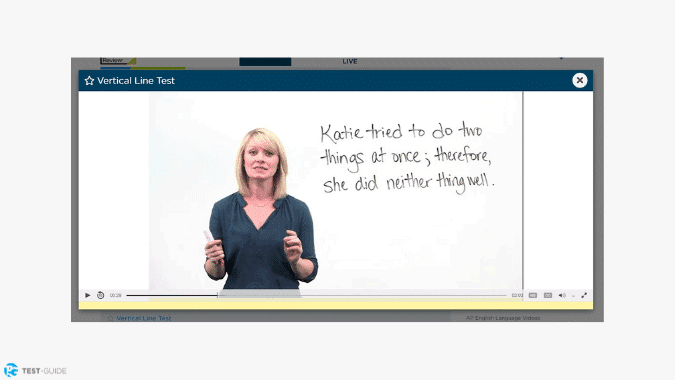 Score Reports
Princeton's score report helps students identify weaknesses and guides their studies. After taking a practice test, you get a detailed look at your performance by category. This makes it easy to optimize your study plan so you can work on areas that need improvement.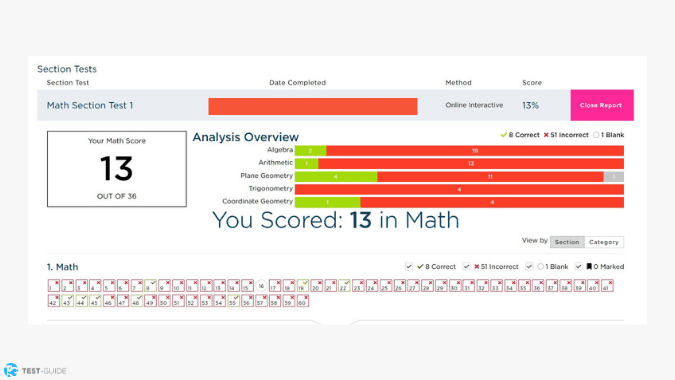 Answer Explanations
Like other prep courses, Princeton Review's practice questions are all followed by an explanation. This text explanation comes with a concise description that show why each answer is either correct or incorrect. Even though all of these are in text format, we were surprised at how good they are. 
Even though they doesn't include video explanations like other prep courses, they still hold their own in terms of the results. We found it to be adequate to the task at hand. 
Score Predictor
As you progress through your studies, their system will give you a score prediction. This prediction pulls from all previous interactions and estimates your ACT score if you were to take the test right then. 
This feature is best used as a guideline for adapting your study plan though. Don't take this score too seriously. Princeton Review is notorious for being more difficult than the actual ACT exam. Use the score prediction as a tool to help guide your studies. 
Princeton Review Textbooks
Princeton goes above and beyond by providing students with textbooks to complement their online studies. Students who are used to holding a textbook in their hands will love this great addition. The workbook works alongside the course material and even comes with 1,500 practice questions. 
It's safe to assume that this textbook will play a larger role with students who are attending Princeton's live classes. But even if you don't plan on going to live classes, this textbook is a nice resource.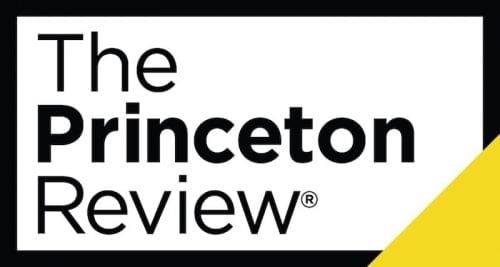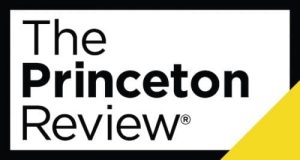 Why Choose Princeton Review ACT
Princeton Review ACT FAQs
Is Princeton Review good for ACT?
Yes. Princeton Review is one of the top ACT prep courses that our team reviewed.

Its comprehensive video lessons are coupled with advanced AI technology to ensure that students are learning the right information at the right times.
Is Kaplan better than Princeton Review for ACT?
No. Although the two prep courses are quite similar in terms of quality, Princeton Review gets a slight edge. Their video lessons go above and beyond in teaching vital information.

Check out our complete review of the best ACT prep courses to see why.
Is Princeton Review harder than the ACT?
The general consensus is yes, Princeton Review practice tests are more difficult than the real exam. This is beneficial since it prepares you for the most difficult questions found on the real ACT.