Princeton Review offers a couple of different options for students looking for GMAT help. They offer a self-paced course, a fundamentals course, their GMAT 700+ course, and a private tutoring option.
Our Princeton Review GMAT review will give you a better idea of the prep courses offered and allow you to get a feel for the course before purchasing it.
Summary: Review our findings on Princeton Review's GMAT course. Read reviews of other best GMAT prep course options for other options.
Princeton Review GMAT Options
 
Self-Paced
Fundamentals
GMAT 700+
Tutoring
Price
$679
$1299
$1699
$167/hour
Subscription Length
4 Months
6 Weeks
1 Year
Depends
Practice Questions
3000+
3000+
4480+
Yes
Practice Exams
10
10
10
Yes
Video Lessons
Yes
Yes
Yes
Yes
Live Instruction Hours
No
Yes – 27 Hours
Yes – 47 Hours
Yes
Covers All Sections
Yes
Yes
Yes
Yes
DrillBuilder
Yes
Yes
Yes
Yes
Score Guarantee
Score Higher Guarantee
Score Higher Guarantee
Score Higher Guarantee
Score Higher Guarantee
Learn More
GO!
Princeton Review offers 4 main options for students to choose from. We will take a more in-depth look at each of those options below.
We will then review the features you can expect to find within these 4 options. We have included screenshots for you to use to help you get a better idea of what to expect if you were to purchase a course from Princeton Review.
If you want to see how you do on a practice test before making a purchase, use our free GMAT practice test.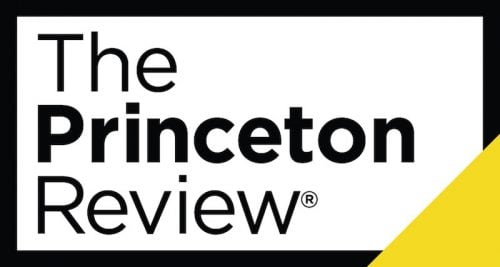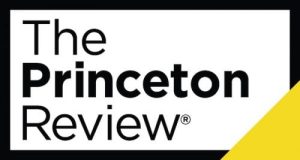 Save 15% With Code: DEVGMAT15
Princeton Review Self-Paced GMAT Course
This is the entry level option offered by Princeton Review. This package will provide you with everything you need to self-study.
This package is self-paced and includes 4 months of access. You will get access to the following:
Video based lessons
Practice questions
Full-length exams
Adaptive drills
Princeton Review DrillBuilder
Bottom Line: This is a great prep course for anyone who does not need live instruction or for someone to walk them through their studies. You will have everything you need with this course option.
Princeton Review GMAT Fundamentals Course
This option is their second tier package. The main difference between this package and the self-paced option is the LiveOnline hours you will have access to.
You will have access to everything in the self-paced course as well as 27 hours of live lessons from expert instructors.
When signing up for this option, you will be given a list of options to choose from. Some examples of current online class times include:
January 21 to March 2: Every Tuesday and Thursday from 8pm – 11pm.
February 4 to March 22: Every Monday and Wednesday from 7pm – 10pm.
March 4 to April 22: Every Sunday and Wednesday from 7pm – 10pm.
They offer these classes year-round, the above are just examples of some dates and times they currently offer.
Bottom Line: If you want everything included in the self-paced course as well as some additional LiveOnline instruction, then this is the course for you. You can also watch the lesson recordings at anytime after the fact.
Princeton Review GMAT 700+ Course
This is Princeton Review's third tier package. This is their most comprehensive course. This course includes everything in the other two options as well as the following:
47+ total hours of LiveOnline instruction
4400+ practice questions
GMAT official guide book bundle
1+ year of access
Just like the fundamentals course, you will have a list of dates and times to choose from when registering. If you miss an online lecture, you can always watch the recording.
You will also get access to the course for 1+ year with this option. You will be able to use the online course from the time you register to 365 days after your last LiveOnline class.
Bottom Line: If you want the best bang for your buck, this is a great option. The 47 hours of LiveOnline instruction is great value. Pair that with 1+ year of access to all the prep materials Princeton Review offers and you have a great prep bundle.
Princeton Review GMAT Features
You can check out some of the features found within the Princeton Review courses. Our team went into these prep courses and played around with the different features. If you want to consider different options, read our best GMAT prep courses article.
Goal Setting
The first thing students will do when entering this course is enter in their target goals. Students will be asked to enter their target scores for each section of the GMAT – quantitative reasoning, verbal reasoning, integrated reasoning, and analytical writing.
Students can use their target scores as a benchmark to see how they are improving while taking the course.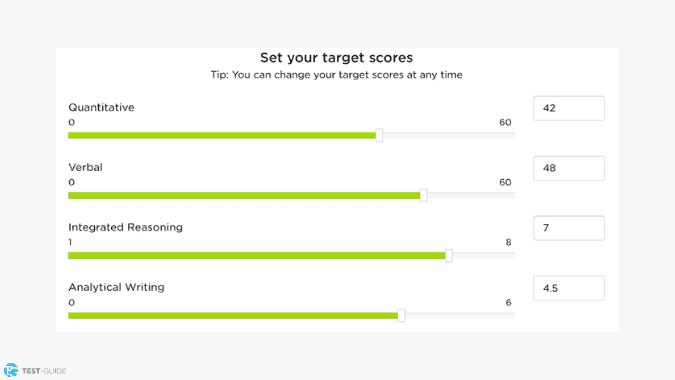 Coursework
Students will be doing all of their studying in the coursework tab. This area of the course includes all lectures, lessons, and drills. The coursework tab is broken into 4 different categories:
Strategies
Integrated reasoning
Quantitative reasoning
Verbal reasoning
Each of the above categories is broken down into specific sections. For example, the verbal reasoning sections is broken down into 3 categories – critical reasoning, reading comprehension, and sentence correction.
Having the categories broken down is a nice feature and makes it easy for students to work on subjects they really want to work on for the GMAT.
Live Online Sessions
Students participating in the self-paced GMAT course will have the option to attend live online sessions. There are various classes taught by different instructors.
Students can choose to attend the classes if they want additional help on subjects they may not understand.
All of the class sessions are taught at night and on different days of the week in an attempt to make them as accessible as possible.
Some examples of topics covered in these live courses include reading comprehension, sentence correction, problem solving, and data sufficiency approaches.
If you are asking yourself "how hard is the GMAT," we recommend you consider signing up for a course that offers the LiveOnline option.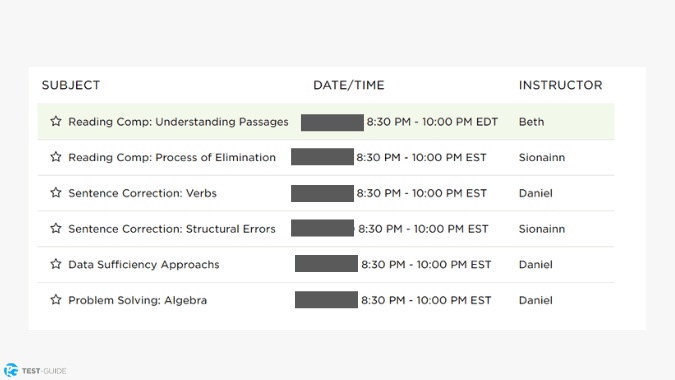 Practice Tests
Students will find the GMAT practice exams to be very similar to the actual exam. Princeton Review uses software that simulates the actual GMAT exam and gives students a great idea of what to expect.
Students will be given the option to take the practice exams either timed or untimed – it is recommended students take the exams timed so they are comfortable when they take the actual GMAT exam.
Princeton Review offers 10 full-length practice tests. On top of the 10 practice tests, students will also have access to adaptive practice drills and practice questions.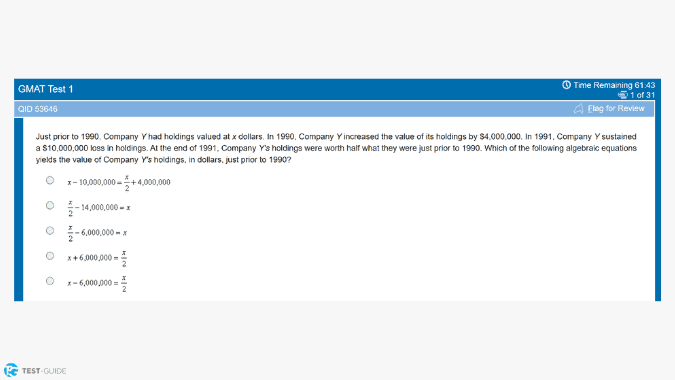 Reports
Students will be able to see score reports for the GMAT practice tests they took. These score reports are very in-depth and will give students some useful insights into what they need to work on.
Students will be able to see which questions they got right and wrong based on various GMAT topics.
For example, if a student sees that they missed 4 questions about verbal reasoning, they can go back and complete the lesson on verbal reasoning to improve their score.
Students can also see various insights about how long they took to answer each kind of question, which question format they struggled the most on (multiple choice, all that apply, etc), and breakdowns on how they did on each part of the practice test.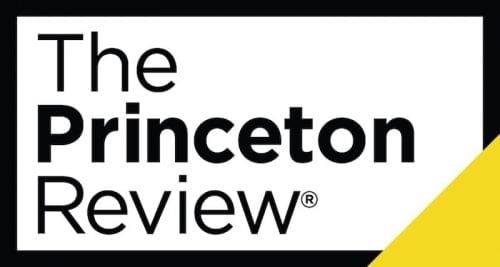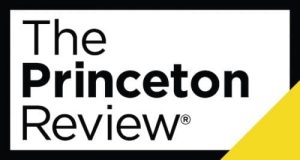 Why Choose Princeton Review GMAT
Save 15% With Code: DEVGMAT15
Princeton Review GMAT FAQs
Which Princeton Review option is best?
This depends on what you are looking for.

If you are someone who just wants access to all the resources and can self-study, then the self-paced course will be your best option.

If you want access to the LiveOnline lectures and resources, then the fundamentals or 700+ course will be your best option.
Are the practice exams from Princeton Review good?
Yes, they are very good. They do a great job of simulating the actual exam.

The answer explanations are another great feature as well as the detailed score reports.
Does Princeton Review offer any discounts?
Yes, we have an exclusive offer for all of our users. If you use the code DEVGMAT15, you will get 15% off all of your courses.