Princeton Review offers a plethora of options. All Princeton Review MCAT options are great resources, and they offer something for everyone.
Our team takes an in-depth look at the different options offered by Princeton Review and how they differ. Find an option that works for you and what you are looking for.
Summary: Use our Princeton Review MCAT review below. For information on other providers, read our best MCAT test prep article.
Princeton Review MCAT Options
 
Self-Paced Course
LiveOnline Course
513+ Course
515+ Immersion Course
Price

$1,999

$1,699


View Discount

$2,799

$2,399


View Discount

$3,499

$3,199


View Discount

$7,349

$6,449


View Discount
Subscription Length
12 Months
12 Months
12 Months
12 Months
Videos
500+
500+
500+
500+
Live Class Hours
0
90
123
195
Practice Questions
2500+
2500+
2500+
2500+
Practice Tests
16
16
16
16
Books Included
Yes
Yes
Yes
Yes
Tutoring Included
No
No
No
Yes
Guarantee
Yes
Yes
Yes
Yes
Learn More
GO!
As you can see in the comparison table above, Princeton Review offers a ton of different options. We will dive a little deeper into those options below.
After digging deeper into the options, we review the different features you will find in these courses, so keep on reading for screenshots and more information!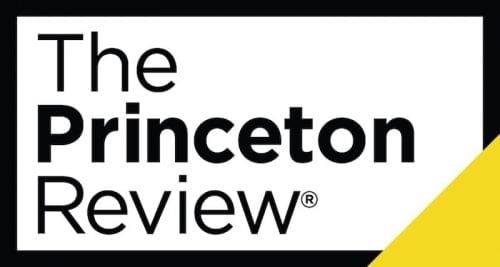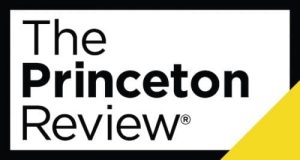 Save 15% With Code: DEVMCAT15
Princeton Review Self-Paced Course
The self-paced course is their standard option. This is the most affordable option of the bunch and is their base package. With that being said, it is a really great course.
Students will be able to complete the course at their own pace and study when they want. The course includes 500+ videos to learn the material, 2500+ practice questions, and 16 full-length exams.
Students will receive 10 books as well to supplement their learning from the content they will find within the course. This course includes a higher score guarantee.
Bottom Line – Very comprehensive course. Great for someone who has the discipline to self-study at their own pace.
Princeton Review LiveOnline Course
The LiveOnline course is a step-up from the self-paced course. This package includes everything that is included in the self-paced course, along with some other great features like:
90 hours of live MCAT sessions from experts
Unlimited 1-hour office hour sessions
6 sessions every week on different MCAT subjects
This TPR MCAT option is great for students who learn best in a classroom setting. The live instruction makes it feel like you are learning in a classroom. The best part about this option is that the live sessions help keep you on track and following a schedule.
With that being said, if you do miss a session, you can watch the recorded session at any time for as long as your package is eligible (12 months). This flexibility is nice and gives users peace of mind while taking the course.
The unlimited office hour sessions are a great feature because you can ask questions specific to your struggles and get answers from a MCAT expert. This course includes a higher score guarantee.
Bottom Line – Excellent option for students who are looking for some additional features and learning material than the self-paced course.
Princeton Review 513+ Course
The Princeton MCAT 513+ course is where we start to get into the "heavy-hitting" options. This course is called the 513+ course because they guarantee a 10+ point score increase or a 513+ score. Princeton Review boasts that this course has a refund rate of less than 2%.
The MCAT 513+ course includes everything from the self-paced course along with the following:
123 hours of live instruction
Work one-on-one with your expert advisor
Access to official AAMC materials
Access to subject-matter experts
The 513+ course includes live online instruction, just like the LiveOnline option we reviewed above. However, with this course, you will have 123 hours versus 90 hours.
Included with this option are expert study advisors. These study advisors are here to ensure that you are studying and using your time in the most efficient way as possible. These advisors will help to keep you on track and ensure you meet your goals.
The 513+ course is unique in that it offers 4-6 subject-matter experts. These experts are trained and specialized in specific MCAT topics – they have done this before and know the best methods, tips, and strategies to use.
Students will also be given access to all official AAMC materials which includes the new practice test 4 and their online flashcards.
When you signup for this course, you will be able to pick a block of dates that best fit your needs. These dates usually run about 2.5 months.
Bottom Line – If you are looking for a top score and something to ensure that you stay on top of your studies, the 513+ course is a great option. The course guarantee paired with the expert advisor are nice features to have.
Princeton Review 515+ Immersion Course
The 515+ Immersion course is the most extensive option that Princeton Review offers. This course is called 515+ because a score of 515 or greater is guaranteed.
This course includes everything that is included in the other 3 options as well as the following:
860+ hours of instruction
195 hours of live online instruction
Unlimited 24/7 tutoring
As we stated above, this course has it all. Every single feature that you find in the other 3 courses are included in this course. You will find the most hours of instruction in this course as well as the most live online instruction hours (195).
In addition to having a ton of instruction hours, you also have unlimited tutoring access. This is something that 100% should be taken advantage of if you enroll in this course. The tutoring hours are one of the best features of this course.
Just like the 513+ course, when you signup for this course you will select a time period in which you want to enroll. Most of these timeframes are 3.5 months long.
Bottom Line – The most extensive Princeton MCAT prep option offered. The guarantee and course features cannot be beat. The course is expensive but can be looked at as an investment in your future.
Princeton Review MCAT Features
Since most of these courses include cross over between features, we will review all of those features and what they look like below.
Coursework
Princeton Review offers very comprehensive coursework. All of the courses above contain 500+ detailed video lessons, 2500+ practice questions, and 16+ practice exams.
The "coursework" tab is where all of your learning will take place. The course is divided into 6 sections. Each of those 6 sections is further broken down into specific topics. The course follows a great flow.
Each of those specific topics has the following:
Before Class – Prepare for the class/lesson. This usually includes instructions on which chapters to read, some primer questions, and more.
Class – This includes the actual class and online videos.
After Class – This includes practice questions and quizzes to reinforce the concepts taught.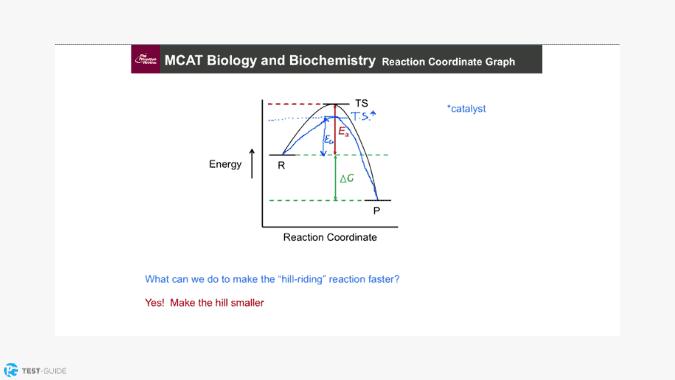 The on-demand video lessons are usually shorter in duration – lasting between 5 and 20 minutes. The instructor uses a digital whiteboard to make notes and annotations. Users will find these lessons are straight and to the point. They are relatively un-engaging and can be dry at times.
With that being said, the lessons get the job done and teach the concepts. These videos lessons are strictly business.
The before class aspect is unique and helpful. The primer questions, diagnostic questions, and sample passages help you develop a base of knowledge that will help you better follow along during the actual lesson.
The after-class portion is also a nice feature. The material in this portion includes drills, passages, and questions to ensure that you grasped the material that was taught.
Overall, the way Princeton Review organizes their content is very helpful and makes logical sense. Having a before-class, class, and after-class section for every topic is really great. The videos are a little dry and boring, but you will learn what you need to learn from them.
Practice Tests
Every option Princeton Review offers includes 16 full-length practice exams. Princeton Review values their practice exams, which is why they include 16.
Princeton Review matches the feel of the actual exam with their practice tests. The exams match the questions, format, structure, and feel of the actual exam. It is a very underrated feature that the format and structure matches the actual exam.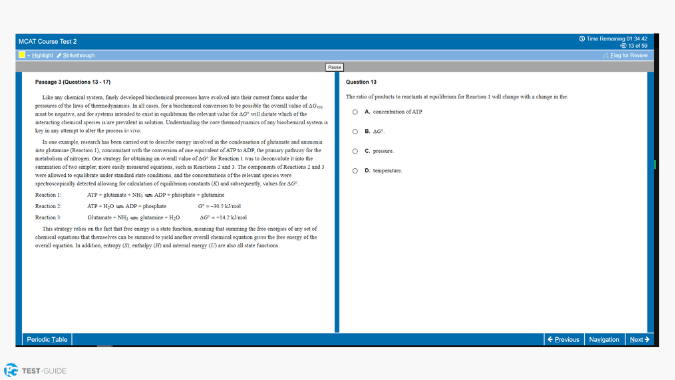 After each practice test, you will be given a detailed score report. These reports break down each section and each question. The report is super detailed and allows you to review every single question which includes an answer explanation and the concept that it is testing (so you can review if you want).
The score reports are well-designed and should be utilized by everyone who takes these practice exams. You can learn more by reviewing the questions and why they are wrong than by taking the actual practice exams.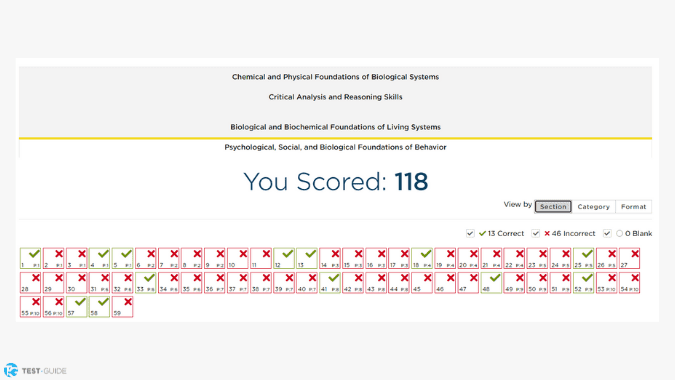 LiveOnline Classes
The LiveOnline classes are included in every option besides the self-paced course. Students will receive 90 hours in the LiveOnline course, 123 hours in the 513+ course, and 195 hours in the 515+ course.
These LiveOnline classes really give you a sense of being in a classroom. The classes are taught by subject matter experts, not one specific instructor. This is an underrated feature as you are being taught by someone who strictly focuses on that specific MCAT topic.
There are typically 4-6 subject matter experts at any given time. TPR MCAT does a great job of finding and training these subject matter experts. You can rest assured that you are getting the best of the best with these subject matter experts.
The instructors we had when we took the course seemed very engaged and like they actually cared about the other students in the course. They took time to explain complex concepts and ensured that everyone understood the material.
Students were asking questions in the comments and sidebar conversations were had. The instructor would answer any questions that arose during the lessons. Finally, personalized homework was assigned after the lesson which included readings, passages, and questions.
User Interface
The Princeton Review user interface is easy to navigate and very simple. To be honest, we like the simplicity of it, but it is not the most modern interface we have seen. You can easily navigate everywhere you need to be and find what you are looking for.
The navigation bar at the top is broken down into the main portions of the course, so you can easily navigate to different parts of the course. The organization of the course content makes sense and it is easy to see what you have completed.
The dashboard gives you a summary of your current test scores and what your goal scores are. You can edit your goals from the dashboard as well. The dashboard is very simple and does not have as many features as some of the other dashboards we have seen from other MCAT prep classes.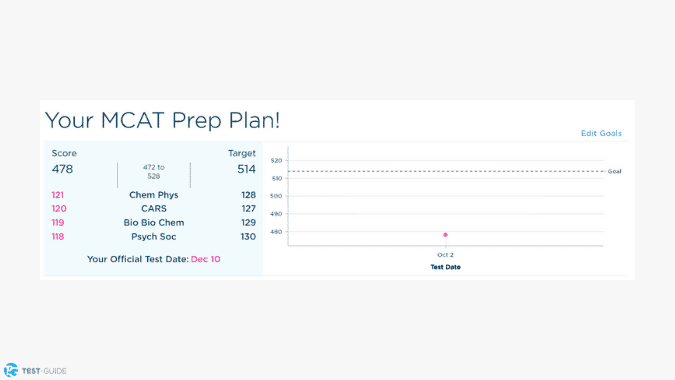 The only issue we have with the user experience of these courses is the quality of the videos. The videos are a little outdated and not the highest quality. However, they present useful information and help you learn the material, so we give them a pass on this.
Books
Every course includes physical textbooks that are shipped to you when you purchase a Princeton MCAT prep product. The books are made and published by Princeton Review. You will be given chapters to read throughout your courses.
Once you read the chapters, you can mark them as "in-progress" or "completed" within your prep course so you can keep track of your progress. The textbooks are classic textbooks and are very in-depth.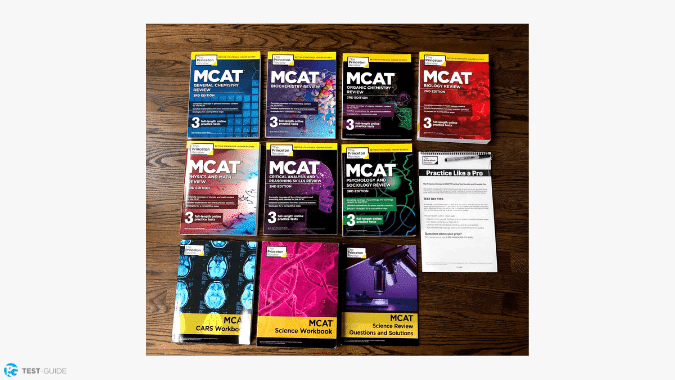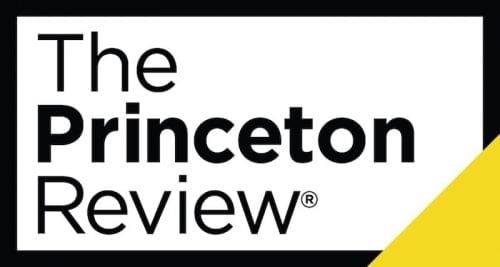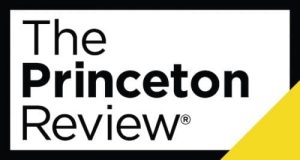 Why Choose Princeton Review MCAT
Save 15% With Code: DEVMCAT15
Princeton Review MCAT FAQs
Is Princeton Review good for MCAT?
Yes, Princeton Review is a great option for individuals looking to prepare for the MCAT. They offer 4 main options, with each option offering something different. The amount of video lessons, practice questions, and practice exams make it a hard course to beat.
Is Princeton MCAT review worth it?
Princeton Review's courses can be expensive. However, this is pretty standard in the MCAT industry. The MCAT is a high stakes exam with a lot riding on it. Unfortunately, these companies know that and know that people need their prep materials.

With that being said, Princeton Review's courses are very in-depth and include everything you will need. A purchase of a prep course should be looked at as an investment in your future.
Final Thoughts
Princeton Review offers great options for the MCAT. We pegged them as one of our recommended providers in our MCAT prep course reviews. The amount of content, number of different options, and features offered are hard to beat.
Princeton Review has been helping students with test prep for a very long time. They are an established player in the test prep industry. If you want to invest in a course with little risk, Princeton Review should be your top choice.
If you are ready to start studying, choose a MCAT test date and get your studies started.