Students who are bound for college need to score high on the SAT in order to qualify for top colleges. We have provided a Princeton Review SAT review below to help you learn about the course they offer.
Our team of experts thoroughly reviewed all the features included in the course to give you all of the information you need to make the right decision.
This article examines the packages, prices, features, and content offered within the course.
Summary: Learn more about the Princeton SAT course. If you are interested in other options, consider other top rated SAT prep courses.
Princeton Review SAT Options
 
SAT & ACT Self-Paced Bundle
Essentials
SAT 1400+
SAT 1500+ Tutoring
Price
$499
$749
$1,549
$261/hr
Subscription Length
1 Year
1 Year
1 Year
Hourly
Practice Questions
3,200
3,200
3,200
3,200
Practice Exams
15 (SAT) 10 (ACT)
19
19
19
Proctored Exams
0
3
4
4
Video Lessons
280
280
280
280
Live Instruction Hours
None
18
36
36
Live Tutoring
Additional Fee
No
Yes
Yes
Guarantee
Yes
Yes
Yes
Yes
Study Plan
Yes
Yes
Yes
Yes
99th Percentile SAT Instructor
No
No
Yes
Yes
Learn More
Visit Princeton Review
Princeton SAT offers 4 main options for students looking to prepare for the SAT. The SAT & ACT bundle is a great choice for students shopping on a budget and for those students who may be taking both exams.
We will be taking a look at these 4 options below. After looking at these 4 options, we will review the common features found in Princeton Review courses. We have also included detailed screenshots from inside the course to help you know what to expect.
If you are looking for some free prep before purchasing something, consider our SAT practice tests.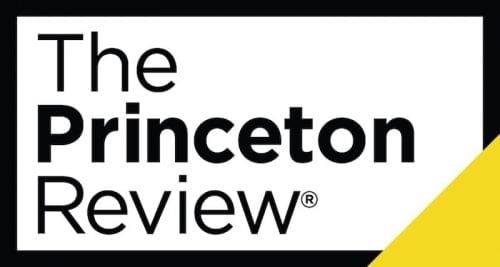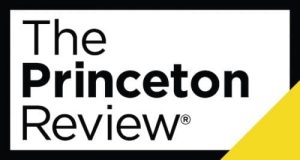 Self-Paced SAT & ACT Bundle
Princeton SAT course has several tiers, starting with its self-paced course. All study materials for this tier are accessed via Princeton's online platform. This tier doesn't offer live classes or tutoring. It provides access to the foundational study resources that this course is built on. Here are the features you can expect.
Over 3,000 practice questions with text explanations.
SAT and ACT practice tests.
377 Online drills to put your knowledge to the ultimate test.
Pay $200 for 10 hours of personal one-on-one tutoring.
Unique study plan personalized to a student's performance and current level of knowledge.
Bottom Line: This package is perfect for students who only need the study materials from the course and want to save money.
Essentials SAT Course
This is the most popular tier that Princeton Review SAT offers. Most people refer to this as their standard course. It includes access to all of the materials in their self-paced course.
Additionally, the Essentials tier includes more practice tests, live instruction, and hardcopy textbooks. Since live courses are offered, students will also gain access to proctored practice tests, which are designed to perfectly mimic real test-taking conditions.
18 Hours of Live Classroom learning.
Full access to SAT Live Online learning sessions.
Over 135 high quality study videos.
3 scheduled and proctored practice tests.
19 practice tests.
Personalized homework assignments.
Interactive goal setting catered to each student's individual needs.
Bottom Line: Students who are willing to invest more money will find that the additional resources provided in this package are worth the added cost.
1400+ Course
The next two tiers are designed for students applying to top colleges. The SAT 1400+ tier guarantees that you will achieve a score of 1400 or higher on the SAT. If you score lower, you'll be eligible for a refund.
Following the course outlined in this tier will place you in the top 5% of test takers. In addition to the resources listed in previous tiers, members of the 1400+ course will get the following benefits:
Instructors who scored in the top percentile on the SAT.
Proven strategies that are guaranteed to increase a student's score to 1400 or higher.
36 hours of in-person live classroom instruction.
Customized homework plan.
One-on-one tutoring that goes above and beyond that provided in previous tiers.
Practice drills that are AI driven to meet each student's individual needs.
Important Note: Princeton Review's website has an important disclaimer that you should read. It states that a student's starting score must be at least 1250 to qualify for the 1400+ guarantee.
Bottom Line: The live instruction is superb and compliments their online study resources.
1500+ Tutoring Course
Princeton's highest tier is for students who want to reach the top 1% of test-takers. This high score is required to get into Ivy League schools so if that's your goal, this is a great tier to ensure you achieve it. Here's everything you get in this top-tier package:
Top-percentile scoring tutoring that are matched to your specific needs.
Dedicated tutor manager who serves as your guide.
More hours of live classroom training than the 1400+ tier.
Important Note: Princeton Review's website has an important disclaimer that you should read. It states that students are guaranteed a score of 1500+ OR a 200 point increase. That means you have to have a starting score of 1300 or higher to get the full 1500+ guarantee.
Bottom Line: One-on-one tutoring added to an already impressive study library and live classroom learning justify the high cost.
Princeton Review SAT Features
We dove into the Princeton Review SAT prep course and paid close attention to every detail. Our goal is to help you make the right decision.
Coursework
Princeton SAT Review creates a unique study plan for each student based on their needs. The coursework guides students through their customized study plan and makes sure they study the right topics. This guided approach really makes this prep course shine.
The study material itself is quite good too. A study unit takes approximately 30 minutes to finish and the course takes this time into account when creating a study schedule. Each unit consists of three parts. You start out with a brief recap of previous lessons to make sure you understand the concepts required in the new unit. You can skip these videos if you don't need the refresher.
Then you move onto the learning phase by watching a video, viewing slides, and reading your textbook. Finally, you put everything learned into context by practicing.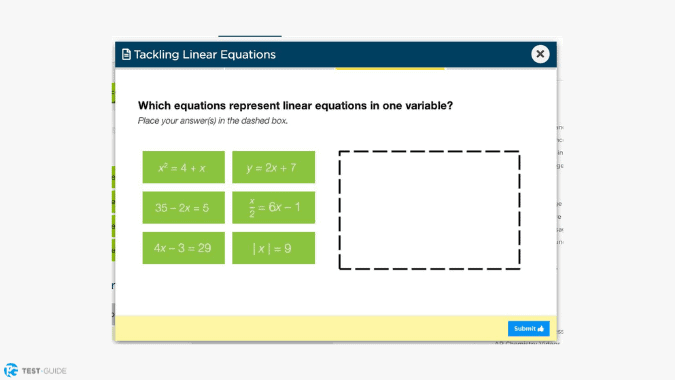 Practice Questions (Custom Practice Sessions)
Practicing follows each learning session and is quite straightforward. Expect around 10 practice questions with each practice session, give or take. However, more complex topics have multiple practice sets assigned to them. We loved this feature because it makes sure that these more complicated topics are fully engrained in your mind before continuing.
The quality of practice questions does a great job of simulating the real SAT. Some former students claim that they are actually more difficult than the real test.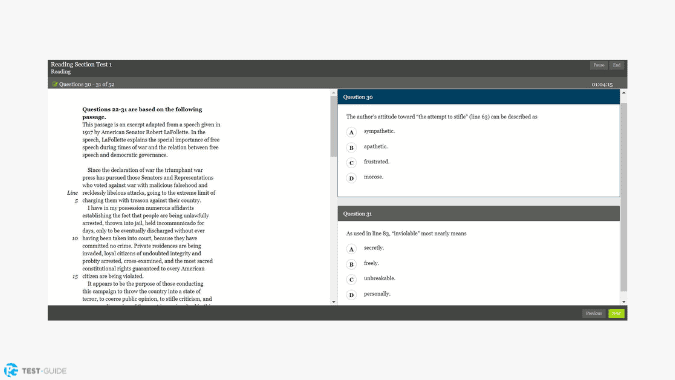 Answer Explanations
Princeton Review SAT prep includes detailed text explanations with all practice questions. These explanations break down the logic behind each answer to describe why it's either correct or incorrect. These text explanations are impressive and provide students with the information they need to learn from the experience.
Practice Exams
We were impressed with the sheer number of practice exams that Princeton SAT Review provides. With 25 SAT practice tests clocking in at around 3 hours each, there's no way students will ever run out of them. If that's not impressive enough, this course comes with up to four proctored exams. These allow students to take the test under realistic conditions.
In addition to full practice tests, the Princeton SAT Review course also gives you access to tests that are comprised of a single subject. This lets you focus on a single area if it needs work.
User Interface and Dashboard
Given the fact that Princeton is considered a top brand, we expected nothing less than a perfect dashboard. We weren't disappointed. It's everything we expected – clean and easy to navigate.
The dashboard itself provides access to a student's overall goals, daily assignments, a planner, and monthly review of their progress. Unfortunately, the designers felt it necessary to separate daily, weekly, and monthly information into tabs. This feels odd given the design of the overall course.
Everything else is wonderful though. Navigation is a breeze once you've learned where everything is location and messed around with it. It only took us a few minutes to learn enough to masterfully navigate through the entire course from the dashboard.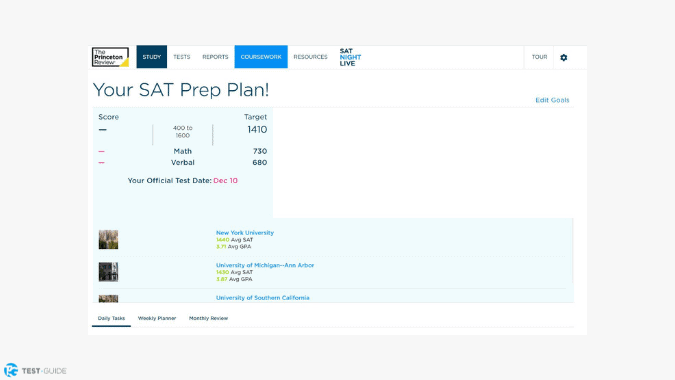 Video Lessons
Video lessons are the highlight of Princeton Review SAT prep. It's clear right away that a lot of care was put into their development. Videos are engaging, short, and focused to make studying a breeze. They deliver everything you need to learn the information with no fluff.
The developers at Princeton know their target audience and produced these videos to meet their requirements.
An instructor appears on screen and engages the viewer. The instructor actually writes on the screen as they speak to emphasize essential points. This creates a highly engaging experience. It's quite clear that Princeton invested heavily in video production.
Score Reports and Predictor
After taking practice exams, you'll be presented with a detailed report that shows how you performed in every category. This is a great tool for determining where you need to dedicate future studies. There are two important metrics that are shown in this detailed report:
Nationally Representative Sample Percentile: Compares your score against all students in the United States.
SAT User Percentile: Compares your score against other SAT-takers.
After taking a practice test, Princeton's system also provides you with an SAT score prediction. This is an estimate of your score if you were to take the SAT right then. We're not sure how accurate this score prediction really is, but it's a great tool for guiding future studies.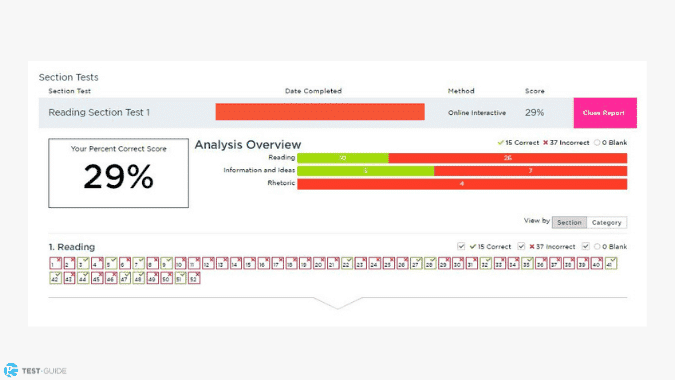 Supplemental Study Resources
Princeton provides a ton of additional resources but we feel like the Advantage sessions are what really stand out. If you're struggling with a specific topic, then this is a great way to strengthen it.
Instructors dive deep into topics to help students gain more insight into them. Sometimes, this extra nudge is all that's needed.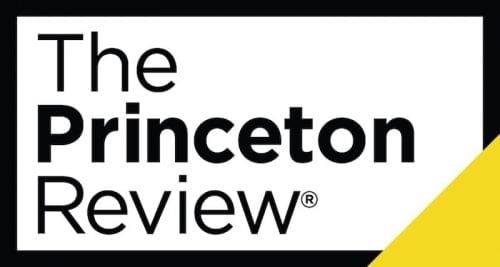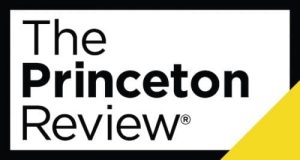 Why Choose Princeton Review SAT
Princeton Review SAT FAQs
Is Princeton Review or Kaplan better for SAT?
Princeton Review and Kaplan are both outstanding options for students looking to ace the SAT. But Princeton gets a slight edge with its game-changing videos and live classroom options.

Read our article on the best SAT prep courses to see learn more about both of these options.
How much does Princeton Review SAT cost?
Princeton Review starts at around $300 for its introductory package and reaches as high as $4,500 for its top tier course.
Is the Princeton Review credible?
Yes. Princeton Review is one of the top brands in the SAT prep world and has built its reputation around producing high quality videos and outstanding practice materials.

This SAT prep course guarantees a score increase. Finally, instructors at Princeton Review are all top-percentile scorers so they are qualified to teach the material.