Surgent CPA Review is right up there with the best CPA prep courses. It offers three different packages so we're going to review them in detail.
Choosing the right course can be the difference between passing your CPA exam the first time, or having to retake it. We provide you with in-depth insights about Surgent below. Keep reading to learn more about CPA Surgent.
Summary: Learn more about Surgent below. If you want to consider other options, we reviewed the other best CPA prep courses.
Surgent CPA Options
 
Essentials
Premier
Ultimate
Price
$1,599

$2,399

$1,499
View Discount
$2,999
Subscription Length
Until You Pass
Until You Pass
Until You Pass
Practice Questions
7,700+
7,700+
8,700+
Task-Based Simulations
400+
400+
400+
Practice Exams
Yes
Yes
Yes
Videos
350+ Videos
350+ Videos
350+ Videos
eBook
Yes
Yes
Yes
Printed Textbook
No
Yes
Yes
Flashcards
No
Yes
Yes
1:1 Coaching
No
Yes
Yes
Audio Lectures
No
No
Yes
Ultimate Customer Support
No
No
Yes
Excel Certificate
No
No
Yes
Learn More
GO!
Surgent offers 3 main options for students looking for prep materials. We have listed those 3 options above. We will go into those options in more depth below.
After looking at those 3 options, we will breakdown the features and some things you may find in your Surgent CPA course. We have included actual screenshots from the course as well.

Save $900 Off Premier Pass With Code: TGUIDE900
Surgent Essentials CPA Course
This is Surgent's starter tier and priced for those on a tight budget. It provides all of the essentials needed to pass the CPA exam. This includes the brilliant ASAP technology! The essentials package includes:
ASAP technology that matches your study plan to your unique needs.
Database with over 7,000 practice questions, 400 task-based simulations, and 350 videos.
Digital study books with tools to take notes.
Bottom Line: This is a killer starter package since you gain access to Surgent's game-changing ASAP technology.
Surgent Premier CPA Course
This package is for students who need a little more than the essentials package offers. Premier ups the game by offering physical study books, flashcards, and one-on-one coaching. The Premiere package includes:
Physical textbooks and flashcards mailed to you.
One-on-one coaching.
Everything listed in the Essentials Package.
Bottom Line: Best deal since you get 1-on-1 coaching and physical textbooks. Use our code of TGUIDE900 to save an additional $900.
Surgent Ultimate CPA Course
Students who want every possible advantage to help them pass the CPA will be keen with the Ultimate package. This tier includes everything that Surgent has to offer including extra practice resources, audio lectures, and full customer support. The Ultimate package includes:
1,000 extra practice questions and explanations.
Comprehensive library of audio lectures.
More customer support options than other packages.
Everything in both the Essentials and Premier packages!
Bottom Line: A bit expensive for just 1,000 more questions and audio lectures. You can find better CPA review out there then this specific package.
Surgent CPA Review
Since the options listed above share similar features, we will be going over those specific features below. We have included some Surgent CPA screenshots as well to help give you a better feel for the course and how it is designed.
User Interface
Surgent CPA Review is designed heavily around its utilization of tracking software so we expected it to have a superb interface to capitalize on this. We were not disappointed. The user interface is everything we expected and more. Its smart technology shines in every aspect of the dashboard.
By using a clean, yet sophisticated layout, the dashboard provides users with a way to quickly access the program's most important features. Users are able to see their progress and jump right to their daily tasks through the dashboard.
When we moved beyond the dashboard, we found that other sections were just as superb. The way explanations pop up during practice questions is clean and doesn't feel intrusive. It's also easy to navigate to any section of the study program.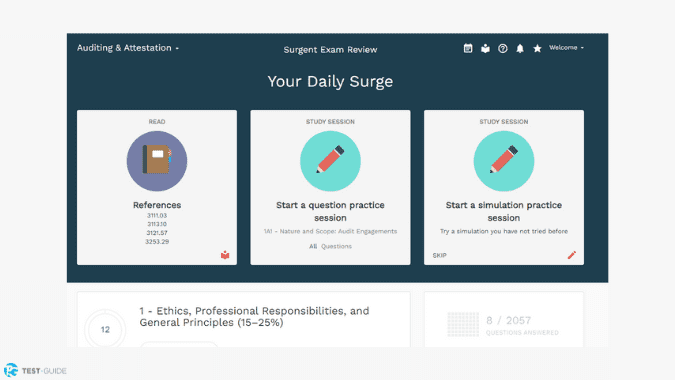 A.S.A.P Technology
This is where the Surgent CPA course really sets itself apart from its competition. Surgent's entire approach is centered on using the latest technology to adapt itself to each student. Instead of utilizing a specific study plan for every student, Surgent has built-in technology that will cater a unique study plan that is focused on each student's need. This ASAP system is highly accurate too.
ASAP technology identifies a student's weakest areas and will create a study plan that targets those weaknesses. Other platforms tend to deliver lessons evenly through each different category whereas Surgent focuses on the easiest way to raise your score.
Coursework
All daily assignments are chosen carefully using the ASAP technology, which is a pivotal part of following the Surgent CPA course. Before you start studying, the program will guide you through an assessment. If you want to get the most of this study tool, treat this assessment as a high priority. It's quite comprehensive.
Think of it like taking a practice test before laying out a study plan in order to identify weaknesses.
The course then moves onto the material. Video lectures, study guides, and thousands of practice questions are all used to ensure that students' scores increase. As you progress through the course, the ASAP technology plays yet another role. It will predict your score based on your progress through the course, giving you a guideline that shows how prepared you are.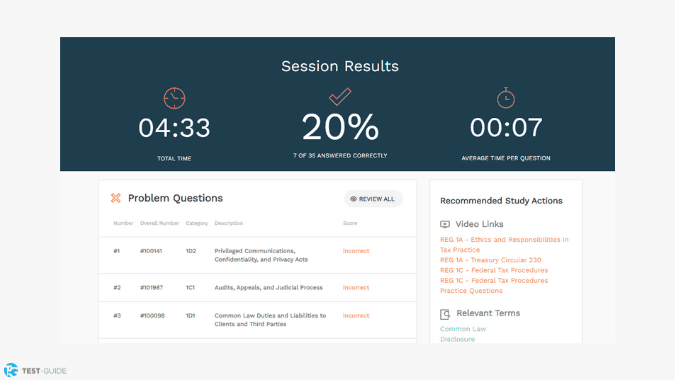 Video Lessons
Diving deeper into the features of Surgent CPA review, we come to the videos that are used as part of the overall course. Most of them seem to follow a similar format of having an on-screen instructor tucked away in the bottom corner of the screen. They basically read through the presentation as it appears on-screen. This ensures that both visual and text-based learners' needs are met.
Furthermore, text-based learners will be pleased to find transcripts below the video. Digital tools are also provided to students that allow them to take notes as the video rolls.
The only problem with these videos is that the instructors sound as if they are reading from a script rather than giving a lecture. They have no noticeable enthusiasm. It's not as much the content as it is the instructors themselves.
Imagine a company investing heavily in the production value of a video, only to drop the ball when choosing the actors to be shown on-screen. Everything in these videos is presented in exceptional quality, except the on-camera personality.
We're not saying that these videos are the worst, only that it's disappointing how bland the actors are given the production quality of everything else in the videos.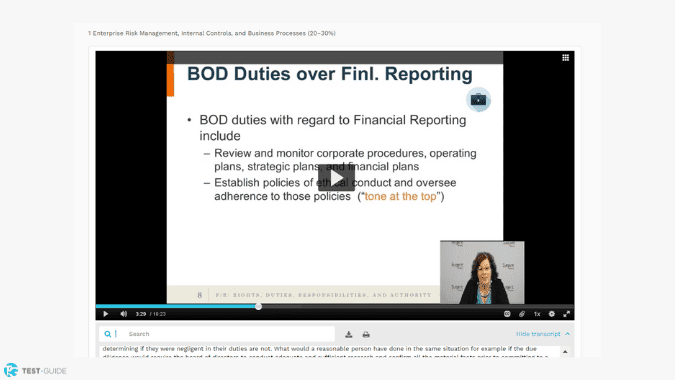 Practice Tests
Practice tests are another tool that Surgent uses to gauge your progress. You will have access to several practice tests that are spread out through the course. They are designed to evaluate your performance and let the ASAP technology determine if you need to rearrange your study plan.
These practice tests closely mimic the real CPA exam so they are the final stepping stone to passing. Even though Surgent uses your Ready Score to determine your readiness, we still feel that practicing the full exam is essential. Surgent's practice tests do just that.
You can use an AICPA sample test to get some practice before making a purchase on a prep course.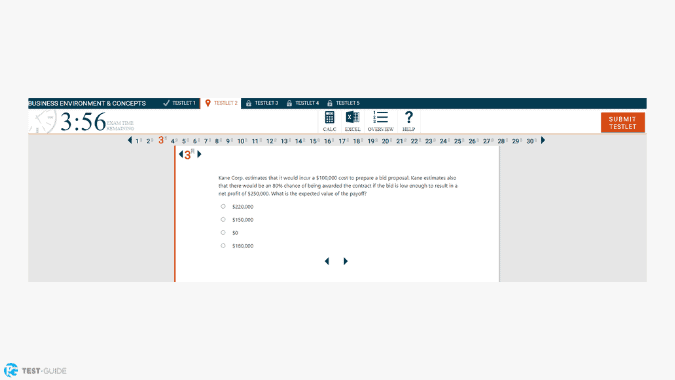 Practice Questions
Solving practice problems is a core learning tool that a study plan is built around and Surgent is no exception. Progressing through this study program will present you with practice questions. These questions are used to evaluate your progress using the ASAP technology. So if you are still struggling with a specific section, the automated system will circle back to those topics.
Surgent pulls from a bank of nearly 8,000 questions and judging from the questions we've seen, it flawlessly mimics the CPA exam. Questions are then followed by a detailed explanation that is written clearly and even goes as far as to cite its sources.
But as we all know, the CPA exam contains much more than just multiple-choice questions. In fact, multiple-choice questions are only accounted for around half of a student's overall score.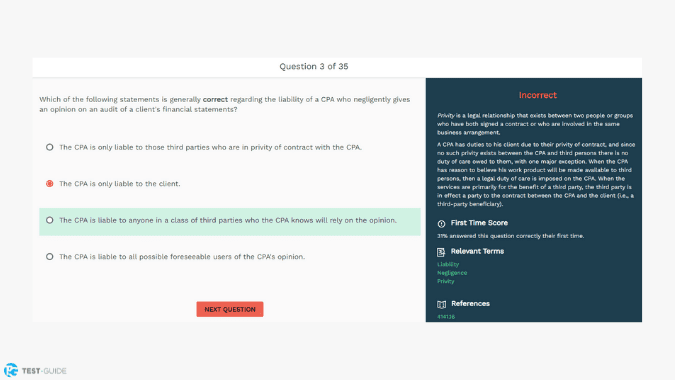 Task-Based Simulations
Surgent mixes in task-based simulations with its practice questions, giving students the well-rounded experience they need to ace the CPA exam. This is an essential part of the Surgent exam review process. Surgent includes 400 task-based simulations as part of its learning structure. Each one mimics those found on the real CPA environment.
This whole process is merged with Surgent's ASAP technology, ensuring students are getting practice in areas where they need it.
Physical Textbooks
Physical textbooks are the second feature of CPA Surgent Review that we found to stand head and shoulders above the rest of its competition. However, books only come in digital format for students who invest in the Essentials pack. You'll have to choose a higher tier to gain access to their physical format.
The adaptive study plan will show you what pages to read. From what we've seen, these books are highly detailed and cover every topic on the CPA exam. Thankfully, the program will tell you exactly what to read and when to read it based on information gathered from the ASAP technology.
Furthermore, flashcards are mailed along with the books, giving students yet another study advantage.

Save $900 Off Premier Pass With Code: TGUIDE900
Is Surgent CPA review good?
CPA Surgent Review is a comprehensive course that utilizes the latest adaptive technology to ensure that students are studying topics that will improve their score.

If you have trouble figuring out exactly what topics you need to study, then we highly recommend Surgent CPA Review.
Is Becker better than Surgent?
Yes. It's slightly better but both are extremely good options. Each one targets a specific type of learner. We recommend you check them both out.

Review all of the best CPA review courses with our ultimate guide.