Compare TestMasters and Blueprint with our review of the two courses below.
You will learn everything you need to know with our TestMasters vs. Blueprint LSAT review. Find the course that fits your specific needs.
Summary: Compare TestMasters vs. Blueprint LSAT. If either of these options does not work for you, you can read about LSAT courses online.
TestMasters vs. Blueprint LSAT Options
 
TestMasters Online LSAT
Blueprint Self-Paced LSAT Course
TestMasters Live Online LSAT
Blueprint Live Online Course
Price
$1250
$799
$1550
$1,199
Subscription Length
4 Months
3 Months
4 Months
5 Months
Videos
160 Hours
90+ Lessons
160 Hours
90+ Lessons
Live Online Hours
None
No – But Live Office Hours Offered
45 Hours
37+ Hours Live Instruction
100+ Hours Live Review Sessions
Practice Questions
9500
8500+
9500
8500+
Practice Tests
20
85+
20
85+
Books Included
No
No
No
No
Study Plan
No
Yes
No
Yes
Guarantee
No
Yes
No
Yes
Learn More
GO!
GO!
GO!
GO!
Both providers offer a plethora of options. We picked some of the more popular options they offered in an effort to compare apples to apples for you.
We outlined some of the similarities and differences between the two providers above. We will be taking this a step further by comparing the common features of the two providers below.
If you are looking for an individual review of each provider, click the following links:
Some students may want to get some practice in before making a purchase. You can use our LSAT practice online.


TestMasters vs. Blueprint LSAT Features
Here's how the key features of each prep course compared in our TestMasters LSAT vs. Blueprint LSAT review. Our team dove deep into both programs to evaluate each unique feature.
Coursework
Blueprint has a ton of LSAT content but their focus is on its core lessons and guided study approach. We immediately notice this when entering the platform. All of their materials circle back to one of those features. With that said, all of the content is highly engaging and they bend over backward to make learning as fun as possible.
Blueprint lessons are short, engaging, and to the point. Following these lessons is practice material to ensure you've retained the information.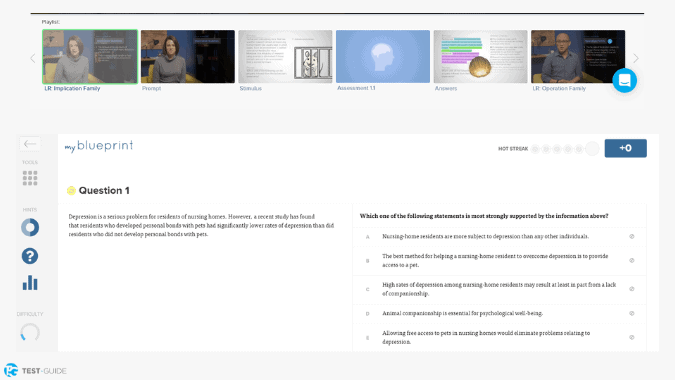 An example of the playlist and practice questions you may find in a Blueprint lesson
In comparison to Blueprint, Testmaster's coursework seems simple but there's a certain charm to a simplistic approach.
Testmaster's teaching method was developed by Robin Singh, who is famous for his perfect LSAT scores. You get to learn how to ace the LSAT from the master himself. This prep course focuses on teaching you powerful tips for taking the test. In fact, the course seamlessly merges learning the subject matter and then incorporating that into the test itself.
Although Blueprint gets a significant edge here, Testmaster's study approach will be appealing for minimalists who prefer a direct study platform without all the bells and whistles.
Practice Materials
Continuing our review of TestMasters vs. Blueprint LSAT, both platforms make good use of practice LSAT exams. Both providers utilize the LSAC and their PrepPlus subscription to provide these practice exams. This is the industry standard and as a result, both platforms have superb practice materials at their disposal.
Both prep courses also deliver their overall content in roughly the same way. They include a practice section after the main content so students can test what they've learned.
With that said, Blueprint really goes above and beyond with its practice interface and it gives them a clear advantage over TestMaster (and many other prep courses). Their digital testing interface is intuitive and highly engaging. You can do things like use lifelines (yes just like the game show), cross through answer choices, and see how you perform against other students studying for the LSAT.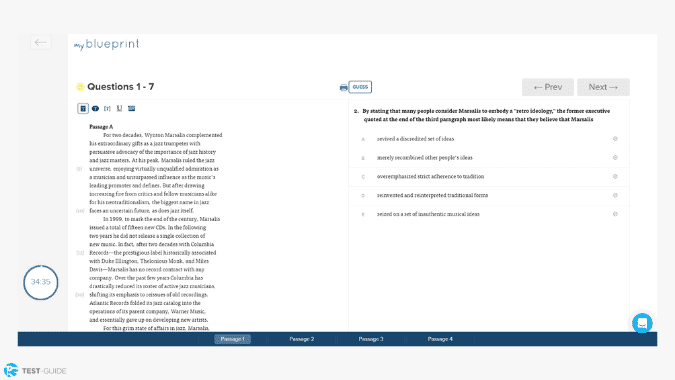 An example of a practice test in the Blueprint course
Answer Explanations
TestMaster and Blueprint LSAT use different methods for explaining problems. Blueprint focuses on the correct answer, showing you why each choice is correct or incorrect. This is the traditional approach we'd expect from a prep course.
TestMasters explanations go far beyond simply explaining answers. They break down the questions using diagrams and other visuals to show you how to approach these types of questions on test day. In summary, TestMaster doesn't just explain the answers, they break down the question too.
Furthermore, these full breakdowns are updated regularly to reflect new versions of the LSAT. Honestly, we've got to give the slight nod to TestMasters here.
User Interface & Dashboard
This really isn't even fair when comparing Blueprint LSAT vs. TestMasters. Blueprint doesn't just have arguably the best user interface and dashboard of these two courses. Its entire digital platform is arguably the best on the market. So Blueprint gets the big advantage here.
With that said, TestMaster's interface and dashboard do their job but they are basic in design and don't have a lot of interactive elements. It's not bad or anything but there's just no comparison to the interactivity of Blueprint's entire digital interface.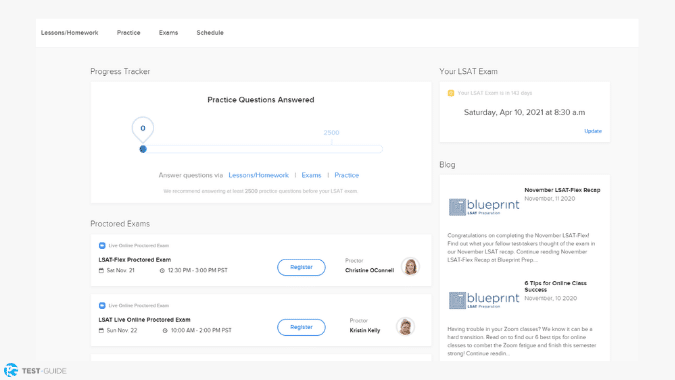 An example of some of the features you can expect to find on the Blueprint dashboard
Video Lessons
Blueprint's video lessons are the core of their learning platform and they are also why so many lists place this prep course at the top. These videos are short and highly engaging. They are loaded with animations, diagrams, and other visuals that are guaranteed to grab your attention and keep you interested.
Of course, all of this visual clutter might overwhelm some learners so keep that in mind when choosing a course. In our opinion, having enthusiastic instructors accompanied by cool visuals breaks up the tediousness of studies.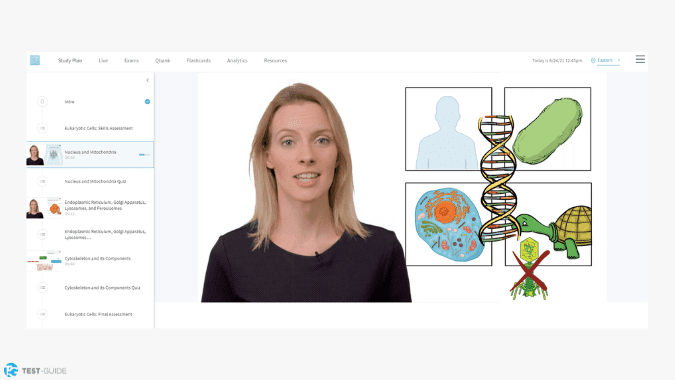 An example of a Blueprint video lesson
In fact, Blueprint blows TestMasters away in the videos category. There really is no comparison of TestMasters vs. Blueprint LSAT when it comes to video lessons.
TestMaster records live lectures that are then edited into videos covering specific topics. It's like sitting in a classroom without the benefit of being able to ask questions, although other students in the video ask questions. This leads to videos that are longer than necessary.
The benefit is that Robin Singh is in every video and he is a wonderful teacher. It's just the presentation is not on the same level as Blueprint.
Score Reports
Both Blueprint and TestMasters provide detailed reports that follow a practice test. These reports show your performance in each category and break it down in a way that helps direct future studies.
However, Blueprint's system interacts with these reports and automatically adjusts your study schedule to reflect your performance. In other words, it sets up studies so you are working on topics that need to be improved. TestMasters doesn't have any interactive elements like this on their platform.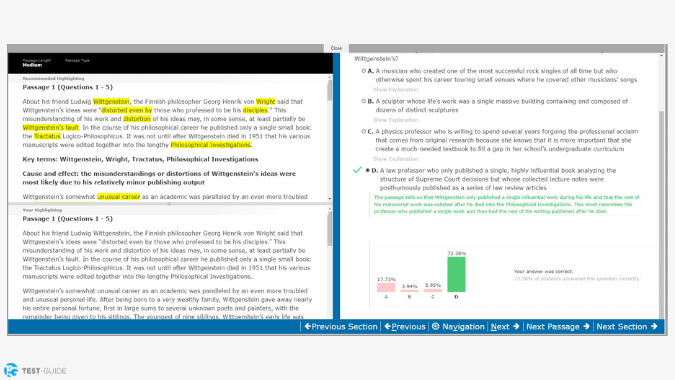 An example of the score report you will find on Blueprint
Live Classes
So far, Blueprint has beaten the brakes off of TestMasters with its features so you might wonder why the two are even being compared. Well we have reached that pinnacle. TestMaster's live classes are simply brilliant. It's by far the best feature on TestMasters and gets rave reviews from students.
First and foremost, these are in-person classes offered all over the country. They consist of 16 separate sessions, each one lasting 4 hours. Usually it's once a week with a few bi-weekly sessions sprinkled in. So what makes TestMaster's live classes so great?
All instructors are top-percentile scorers who have been trained in Robin Singh's groundbreaking methodologies. Furthermore, these instructors are engaging, fun, and understand how to deliver a memorable learning experience.
The classes themselves are fast-paced, engaging, and loaded with vital information that will help you ace the LSAT. Unlike with the online platform, these live classes spoon-feed you all of Robin Singh's strategies.
We can't overemphasize the energy and passion of the instructors. They are what ultimately make TestMaster's live classes so popular. Combine them with the amazing proven strategies created by Robin Singh and you have a memorable experience.
I know we've raved about TestMasters here but this really is the bread and butter of their entire brand. Blueprint live classes are great in their own but TestMasters gets the edge here.
TestMasters LSAT vs. Blueprint LSAT: Which is Better?
In the battle of Blueprint LSAT vs. TestMasters, Blueprint gets the edge here because its entire platform is interactive and makes it easy to study. You don't have to think about what step to take next or where to go since the course guides you in the right direction. Plus Blueprint's videos break the mundaneness of studies with their engaging production and killer visuals.
The only area where TestMasters excels is its live classes but they don't make up enough ground here to justify recommending this prep course over Blueprint.


Why Choose Blueprint LSAT
If you are interested in checking out some other helpful resources, check out the following:
TestMasters vs. Blueprint LSAT FAQs
What is the biggest difference between TestMasters and Blueprint LSAT?
Blueprint's focus in on creating an overall engaging learning experience by having its many elements interact with each other. This creates a more guided study approach.

Testmasters pushed its chips all in on its live in-person classrooms.
Which option is more affordable, TestMasters or Blueprint LSAT?
Believe it or not, Blueprint is the more affordable of the two. Testmaster's online study course is more expensive and provides far less value. Live classes are an entirely different story.

If you are looking for our best value pick, visit our LSAT best prep courses page.
Should I use TestMasters or Blueprint LSAT?
If you want an engaging online study course, then you're probably better off going with Blueprint. But if you are looking for in-person classes, you might consider the more expensive option in Testmasters.