Universal CPA review is one of the top CPA prep courses on the market, set apart by stunning visuals, captivating learning experience, and video explanations for practice questions.
Our team has reviewed all three packages that you can purchase so that you can make the best choice.
There are many factors we used in this review including price, features, and learning style. Find the best tier by using our review of Universal CPA. Don't forget to take advantage of our exclusive offer to save a ton of money!
Summary: Learn more about Universal with this Universal CPA review. If you want to check out other options, consider the other CPA courses we reviewed.
Universal CPA Options
 
Monthly Subscription
Individual Section
Complete Package
Price
$99/Month
$299
$649
Subscription Length
Monthly
Lifetime Access
Lifetime Access
Practice Questions
3,000+
700-1,000
3,000+
Task-Based Simulations
115
30-45
115
Practice Exams
Unlimited
Unlimited (One-Section)
Unlimited
Delivery Options
Self-Paced
Self-Paced
Self-Paced
Video Hours
125+
Depends on Section
125+
Learn More
GO!
As you can see in the comparison table above, Universal offers some great options. We really like how Universal offers a monthly subscription and a specific section option for students who may not need the full course.
We will be diving deeper into these specific options below. After doing so, we will review some specific Universal features and include screenshots for you to see what the course looks like.


Save 30% With Code: TGUIDE30%OFF
Universal CPA Complete Package
Our CPA Universal Review starts with its complete, unlimited package which includes everything that the course has to offer.
Access to all Study Materials for All Four Sections of the CPA Exam.
Comprehensive Library of engaging video lectures.
One-on-One strategic session with an expert to help lay out a customized study plan.
Practice questions that are accompanied by a video explanation
Task-based simulations that are accompanied by a video explanation
Self-created practice tests.
Bottom Line: Perfect choice if you plan to study for 6 months or longer.
Universal CPA Monthly Subscription
CPA Universal also offers a monthly plan that includes everything listed in their complete package at a low monthly cost. This is perfect for students who only need a couple of months to prepare.
You can cancel this subscription at any time.
Bottom Line: Perfect choice if you only need access to study materials for less than 6 months.
Universal CPA Individual Sections
The Universal CPA course dares to be different in its approach and its pricing definitely delivers a curveball in comparison to other brands. This Individual Sections tier provides all study materials for one of these sections:
Auditing and Attestation
Financial Accounting and Reporting
Business Environmental Concepts
Regulation
So you get everything listed in the other tiers but you only get it for one section of the CPA exam. At first, that sounds inefficient but when you look closely at the prices of each tier, this could actually save students a lot of money.
Let's say that you're struggling with the Business Environmental Concepts section of the CPA exam but you have a firm understanding of all three other sections. By purchasing just that section, you would save a lot of money.
Bottom Line: Perfect choice if you only need study resources for one or two sections of the CPA exam.
Universal CPA Review
Since the options listed above share similar features, we will be going over those specific features below. We have included some Universal CPA screenshots to help you get a better idea of what the course looks like.
User Interface
Universal CPA Review emphasizes visualization above all else so it's no surprise that its user interface is designed with aesthetics in mind. It enforces a highly personalized experience and puts all of the tools you need right at your fingertips.
However, this isn't much different than other CPA review courses on the market. So we would rate this at the same level as others on the market. It's clean and centralizes everything into a neat dashboard, but it's not anything we haven't seen before.
Coursework
Universal CPA Review provides a comprehensive study guide that gives students a thorough learning experience. The biggest difference from other CPA study courses is that these guides are designed with visual learners in mind. This makes them extremely easy to navigate. Universal also gets straight to the point so you won't find yourself wading through fluff.
We found that after reviewing other CPA prep courses, Universal is a breath of fresh air. It doesn't rely on ancient text and the traditional approach of filling its lessons with dry language and boring study material. It's down to Earth and even adds in humor to lighten the study mood.
What really sets it apart is that it accomplishes this without sacrificing quality content. In short, the entire curriculum is fun, engaging, and drives its point home!
If that's not enough, this course provides a digital notepad that can be used to take notes as you study. However, if you want a physical study guide, you'd have to print out the digital books.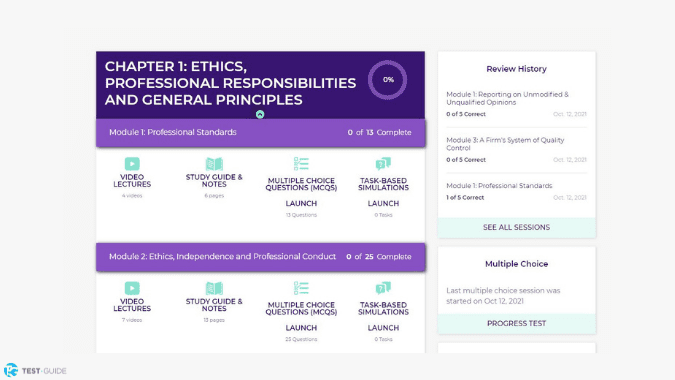 Practice Questions
Universal CPA Review places a high priority on practice questions. Each practice questions closely replicates those found on the CPA exam. But Universal takes it a step further. They not only provide text explanations, they also have video explanations for each question. We'll go over that in the next feature.
The only downside is that Universal's approach doesn't utilize authoritative research but it does include simulations with written communications.
In order to understand practice questions more, let's move on to the next feature.
Video Answer Explanations
This is where CPA Universal shocked us with its thorough approach. Just like with its course materials, their approach is catered to visual learners. Practice questions are matched with incredible video explanations that walk students through the answers. This adds up to well over 75 hours of video content. It's a unique and highly effective approach.
Unlike a lot of other study courses that throw a ton of information at students, these videos get straight to the point so we found it easy to retain the information.
Additionally, each video explanation is accompanied by an audio explanation so there are even more options.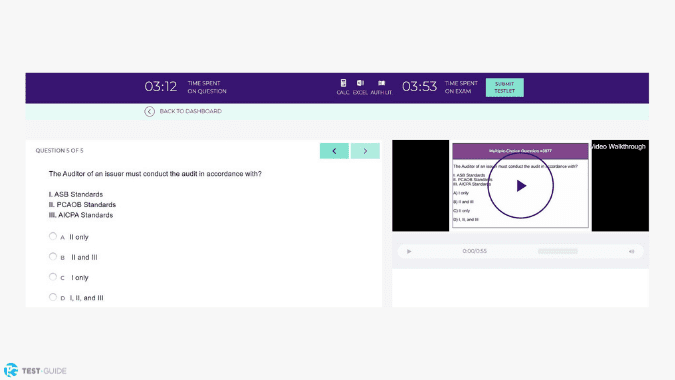 Video Lectures
The Universal CPA course also provides video lectures as part of its study program. Modules are all organized by section and focus on a visual learning approach. These videos are quite engaging too. They don't simply focus on an instructor who reads a boring PowerPoint presentation. On-screen instructors are enthusiastic and make each lesson highly engaging.
These videos are all presented with images and text on-screen to support the instructor, but they are not simply being read. It feels like being in a classroom with an engaging professor. Charts, graphs, and blackboards are the tools used to guide students through each lesson.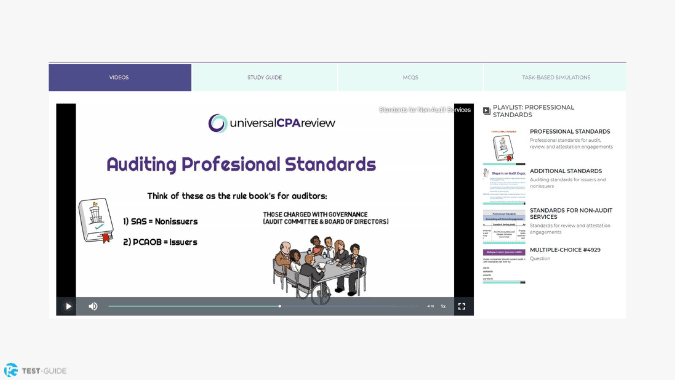 With over 3,000 multiple-choice questions in its database, Universal provides students with a way to test their readiness for the CPA exam. They also utilize a unique approach in delivery of the content, as seen in the tiers section of this review.
These practice tests are all amazing simulations that mimic questions found on the CPA exam, making them valuable tools for determining whether or not you are in the right position to pass.
One downside is that we couldn't find any timed tests in the Universal CPA Review. Taking practice tests under the stress of a time limit is crucial for preparation so we hope they change this in the future.
Ask Joey
There's nothing worse than getting frustrated with a problem and not being able to find the solution. Fortunately, Universal's approach includes a neat feature known as "Ask Joey." This button is placed neatly on the dashboard.
You can use this convenient button to submit a question to the forum and a Universal expert will answer it. Sometimes, co-founder Joey Reeves himself will answer the question.
This information is then left in the public forum for anyone to find. This will grow over time and become a valuable resource.
Task-Based Simulations
In addition to practice tests, Universal's course has 115 task-based simulations that help students prepare for the CPA exam. These simulations give you a way to apply your knowledge to real-life scenarios. Universal CPA Review's approach to task-based simulations follows the same approach as its competition so nothing really stands out. That's not necessarily a bad thing though.
Unlimited Access Until Passing the CPA
Why is this being listed as a feature? The reason is that Universal approaches this differently than its competition. Students gain unlimited access to the system until they pass the CPA exam. This is certainly a bold approach to differentiate itself.
Other programs give limited access so if your schedule happens to change, then your CPA review course might not be valid for long enough. That would force you to pay more for continued access. Universal adapts to your life.


Save 30% With Code: TGUIDE30%OFF
Universal CPA Review FAQs
Is Universal a good CPA prep course?
Yes. It is designed specifically with visual learners in mind so if you're a visual learner, then this is an amazing course.

Video lectures are all designed by professional CPAs with an emphasis on creating an engaging learning experience.
Will I pass the CPA if I use Universal CPA?
Universal CPA is highlighted by multi-media videos, study aids boosted by graphics, and videos fully detailed test question solutions. Strip all of those visuals away and you're left with a barebones library of study resources.

So if you're a visual learner, then you'll find these tools invaluable to passing the CPA. If you're a textual learner, then you may want to consider another CPA course for passing the CPA.
Does Universal CPA have discounts?
Yes! We have an exclusive offer that gives 30% discount! Simply use the code TGUIDE30%OFF.