ASE is the well-known acronym for the National Institute for Automotive Service Excellence. ASE operates independently as a professional organization with its ultimate mission to improve the service and repair of motor vehicles. This is accomplished by ensuring that automotive repair specialists are appropriately trained before, and throughout their careers.
ASE meets its objectives by offering numerous automotive specialty certifications. The ASE certification highlights an automotive mechanic and their exception skills and training. This translates to –
Happy, satisfied car and truck owners, and
A great career with tremendous earning potential
The reality is, most car and truck owners depend upon an automotive mechanic to keep their motor vehicle running smoothly through routine maintenance and troubleshooting unexpected repairs. As a car or truck is a significant investment, the vehicle owner demands that the car be repaired by a trusted and experienced professional.
Years ago, many vehicle owners understood what to look for under the hood if their car malfunctioned. The technology over the past three decades has changed this scenario and created a population of an automotive professional- dependent generation.
The National Institute for Automotive Service Excellence (ASE)
For nearly fifty years, the automotive industry has benefited greatly from the hard work of the members and volunteers who participate in supporting the National Institute for Automotive Service Excellence (ASE).
As a nonprofit organization, the National Institute for Automotive Service Excellence has successfully set the professional bar for members of the automotive repair industry. ASE standards are established (and proven) benchmarks for automotive professionals worldwide.
ASE meets the industry's objectives by managing a certification process that assesses the knowledge and capabilities of automotive mechanics against a set of standards delineated by a panel of national experts. Members of this panel include auto manufacturers, educators, technicians, and other industry-related professionals. The National Institute for Automotive Service Excellence offers a variety of subspecialty automotive certifications, which are discussed in detail further on.
An ASE certification reveals to future employers that the certification holder's abilities and skills have met the stringent standards set forth by ASE experts. Both employers and customers understand that the certification is a symbol of distinction and excellence.
An ASE certified automotive professional is deemed trustworthy and skillful. Hundreds of thousands of automotive professionals hold an ASE certification in one of the several certifications offered. Are you ready?
What is ASE Certification?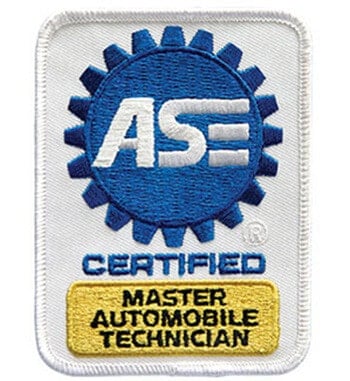 The ASE certifies automotive service professionals who complete their certification testing standards successfully.
An ASE certification is awarded exclusively to automotive professionals based strictly on merit and ability. An ASE certification is never awarded to a specific body shop or auto repair company. Therefore, an automotive repair company can legitimately advertise that they employ ASE certified mechanics, but the business is prohibited from claiming that it is ASE certified.
This is important because the certification is a recognized credential that speaks to automotive repair excellence. As a result, an ad or promotional material that notes an ASE certification will have a positive influence when attempting to attract new customers.
As such, automotive professionals who earn an ASE credential are generally preferred to auto mechanics who work without certification. As such, automotive professionals with ASE certification have the ability to demand higher wages than their non-certified counterparts.
Additionally, employers in the process of hiring automotive mechanics have the option to review the ASE's database of certified professionals to locate automotive services professionals locally to fill the positions.
Summary of the Benefits of ASE Certification
An ASE automotive professional represents the gold standard for automotive professionals.
ASE certification benefits the following individuals –
The Automotive Technician – it provides written proof of the mechanic's exceptional skills. Certified technicians are preferred candidates who have the ability to demand a higher wage.
The Employer – the certification offers employers assurance of their technician's expertise.
The Consumer – consumers are protected as certified experts are repairing their vehicles.
Many ASE certified automotive professionals have successfully applied the certification's education credits-earned towards an associates and bachelor's degree program. The school/university offering the post-secondary degree has full discretion as to acceptance of transfer credits.
ASE Certification Types
Each ASE certification is awarded to automotive professionals who –
Successfully complete the ASE examination, and
Have a minimum of two years of professional experience
However, any individual can register and take the ASE certification exam before the professional experience is fully attained. Should this happen, the automotive professional will be required to wait until they can submit documentation that demonstrates the minimum required experience.
ASE applicants should note that 'approved experience' in one area does not automatically translate to experience across all ASE testing areas. Those who pass exams A1 through A8 are awarded the ultimate credential of a Master Automobile Technician. This is discussed in detail below.
Please note that ASE certification is available in areas other than automobiles. These include six testing series –
| | |
| --- | --- |
| ASE Test Series | ASE Tests |
| Automobile | A1 – A9 |
| Collision Repair | B2 – B5 |
| Medium-Heavy Trucks | T2 – T8 |
| School Bus | S1 – S6 |
| Transit Bus | H2, H2, plus H3 – H8 |
| Truck Equipment | E1 – E3 |
Under the broad categories listed above, there are more than forty certification test segments. You can prepare for the exam by using our ASE practice test.
ASE Certification Specifics
An ASE certification is awarded to those automotive professionals who successfully complete an ASE exam. However, unlike many other certifications that only require continuing education to maintain active certification, the ASE certification is issued in five-year increments.
This means that an automotive professional who is awarded the designation must be re-tested every five years to ensure ASE certified automotive mechanics operate with the latest technologies and techniques.
ASE certifications examinations are designed to be challenging. About one-third of ASE test-takers fail on their first attempt. Preparation is key to putting forth your best effort. ASE Certification testing is demanding and requires a commitment and dedication to successfully pass the ASE exams.
Those automotive professionals who successfully complete the ASE tests demonstrate the skills and talent to repair motor vehicles professionally. As a reminder, the ASE certifies automotive personnel, not the companies who employ them.
| | | |
| --- | --- | --- |
| Test # | ASE Series | Number of Questions |
| A1 | Engine Repair | 50 Questions |
| A2 | Transmission & Transaxle | 50 Questions |
| A3 | Drivetrain & Axles | 40 Questions |
| A4 | Steering & Suspension | 40 Questions |
| A5 | Braking Systems | 45 Questions |
| A6 | Electronic & Electrical | 50 Questions |
| A7 | AC & Heating | 50 Questions |
| A8 | Engine Performance | 50 Questions |
| A9* | Light Weight Diesel Engines | 50 Questions |
*NOT required for Master Status
An ASE certificate can be awarded in eight automotive-related capacities. An automotive professional can decide to take just one or all of the ASE automotive certifications.
The ASE Master Technician Certification
An ASE Master Technician earns the elite Master Technician designation by successfully completing each of the automotive categories shown above as A1 through A8. Remember, each certification has its own definition of 'required experience.'
While ASE certification test A9 (Light-Diesel Engines) falls within the series of automotive certifications, it is not required to earn the ASE Master Technician Credential. Please note that many ASE Master Certificate holders proactively choose to include this ASE certificate to round out their Master Technician certification.
How to Get ASE Certified: Step by Step Guide
This step-by-step summary summarizes the path to obtaining one's ASE certification –
Gaining the Required Professional Experience
Work as an apprentice or as an automotive assistant to learn the automotive repair industry and to meet ASE certification requirements.
Decide Upon an Automotive Specialty, or many
Select the ASE Certification test(s) you wish to take in the future
Obtaining ASE Certification
Select the ASE Test you are ready to take and Register to take the test on the National Institute for Automotive Service Excellence's website. There is a one-time $36 fee for registration and a set fee for each test taken. Test fees are non-refundable.
Prepare for the test with ASE study materials and free ASE practice tests. Each test offers a specific time requirement for completion.
Arrive at the test center on time and prepared to ace the ASE examination. ASE certification test-takers should bring:

A Valid Government-Issued Identification
Noncitizens must bring a passport

The ASE test-taker will receive their test results by email shortly after the test has been completed.
Getting the Most From Your ASE Certification
Display the ASE credential noticeably to ensure customers are aware of the designation earned.
Consider Becoming an ASE Master Mechanic
Keep ASE certification current with all certification requirements. This includes the requirement that the ASE certificate holder re-take a certification test every five years. These regulations ensure automotive professionals remain current with cutting-edge automotive repair technologies.
The Takeaway
The esteemed ASE certification speaks to one's aptitudes, talents, and skills that have met (or surpassed) established testing requirements.
Most industry experts agree that there are benefits from earning the certification and that the effort required to complete an ASE exam is well worth it.