Free Practice Tests, Prep Course Reviews, and Study Materials
We are the leading provider of free practice tests, prep course reviews, and study materials.
Who Are We?
Test-Guide exists to help students learn, study, and pass their upcoming exams. We do this by offering free test prep materials for our users. We specialize in offering free practice tests. We offer prep materials for 100+ different tests.
As well as offering free practice tests, we also offer prep course reviews, and premium prep solutions for those looking for some added prep.
Our prep course reviews are completed by our dedicated team of experts. Our experts find the best courses, compare them, break down their features, and let our users know what they found.
Our premium prep solutions are also crafted by our dedicated team of experts. Our premium prep solutions are cost effective and offer a streamlined approach to studying.
Test-Guide was founded in 2009 by a group of educators with a passion for helping students succeed on their exams. We take pride in knowing we have helped millions of students prepare for and pass their exams.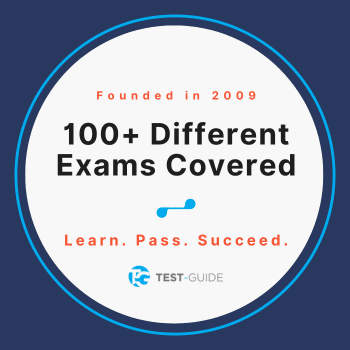 You're on a Journey to Better Yourself. And We're Right There With You.
Whether you are studying to get into college or trying to pass a nursing exam, we are here to help. No matter your journey, we are here to support, guide, and inspire you. 
Our team has put countless hours into creating the most straightforward, expert-reviewed, and most beneficial content – all designed to help you achieve your goals. 
Test-Guide covers all facets of test prep. Whether it is our free practice tests, objective prep course reviews, or premium prep products, we have our users best interests in mind. 
We hope that you utilize all of the test prep resources that we offer.
Thanks For Being Here,
The Test-Guide Team
Our Mission
We founded Test-Guide due to our frustration with the lack of affordable, quality study resources for students to access online.
Our mission over the last decade has been to develop the best study resources available.
Meet Our Team
Get to know the team behind Test-Guide. We are a group of passionate individuals who all share a common goal of educating others – all for free!
Our Users Have Made Us the Biggest Provider of Free Practice Tests and Prep Course Reviews
Whether you are here to take a free practice test, use one of our free study guides, or learn more about a specific prep course, you're in the right place.
You'll find content that is informative, easy to understand, and engaging. You will also find a compassionate team of professionals whose main goal is to help you succeed. 
Why should I use Test-Guide over other sites?
We have test prep materials for more than 100 different exams. All of our materials are up-to-date and produced by experts within their fields.
We have thousands of practice questions that all include detailed answer explanations to help you better understand the material.
Where does Test-Guide get its tests and materials?
All of our content and practice questions are developed and reviewed by experts within their fields.

As tests and formats change, we take pride in ensuring all of our content is up-to-date. We are always updating old content as things evolve and change.
Do you have more free practice questions?
Guiding Principles
1. Practice Tests Should Be Affordable
Students should not have not pay crazy amounts of money to prepare for their exams. We offer a ton of free practice tests as well as affordable premium prep products for those students looking for some additional help. 
2. Students Should Have Access to Unbiased Reviews
Our dedicated team of experts takes pride in providing unbiased reviews. Students should be able to easily compare various prep courses to find the best option for themselves. We separate the "marketing" aspect of these prep courses from the actual features they offer.
3. People-First
We want to ensure we are an organization that puts people first. Our team tries to outline the ins and outs of every test for our users. If we can help someone better understand their exam, what they need to study, and provide those resources to them (for free), then we have done our job. 
Keep in Touch
We are always working on improving the site. We are continuously adding new practice tests, updating old practice tests, adding new prep course reviews, and creating affordable prep products.
If you see something you like (or don't like), let us know! We love hearing feedback from our users. If you would like to see us add a practice test for a specific test that we do not already have, please let us know.
You can contact us on social media or by sending us a message. 
We are located in Dublin, Ohio (a suburb of Columbus)
Test-Guide.com
6605 Longshore Street
Suite 240 #234
Dublin, OH 43017-2774