Use our GRE practice test to prepare for your exam. We have broken down our GRE practice questions into the types of questions you will see on the actual exam.
Each question includes a detailed answer explanation. Use the answer explanations to help you learn complex concepts and improve your score on the exam.
Summary: Take one of our GRE practice tests below to begin your studies. For more help, consider using one of the best GRE prep courses.
Free GRE Practice Test
Take a GRE sample test below. You will find 1 exam for each section that is tested on the GRE general test.
Take the exams and review the answer explanations at the end to help better understand important concepts.
Section Specific GRE Practice Exams
If you want to dive into a specific section for the GRE general test, you can find more free GRE practice tests below.
If you want some additional help with prepping for the GRE, consider using GRE prep courses.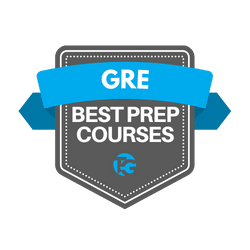 Other Free GRE Practice Resources
In addition to the GRE practice resources above, you can use the resources from other providers below.
| | | |
| --- | --- | --- |
| Resource | Notes | Provider |
| GRE Sample Test | Take a GRE mock test to prepare for your exam. | Magoosh |
| GRE Vocab eBook | Review GRE vocab terms in this eBook. | Magoosh |
| GRE Math Review | Review this PDF from ETS on reviewing for the quantitative reasoning section. | ETS |
| GRE Math Conversions | Additional review materials for the quantitative reasoning section. | ETS |
GRE Practice Flashcards
Overview of the Exam
The GRE is used by graduate schools during the application process. It is very common for business schools to use the GRE. Some law schools even use the GRE as well.
Review the infographic below for a breakdown of the GRE. If you want more information about the exam, read our guide on what is the GRE.
Registering for the Exam
The GRE is very easy to register for and can be done online. You will need to create an ETS account to register. Here is a link to create an ETS account.
You will need to pay a fee to take the exam. The fee varies depending on your country, but you can expect to pay around $205.
How to Use a GRE Practice Test
When using a GRE sample questions, we recommend the following steps:
Take a practice exam for each section of the GRE.
Review your answer explanations and see which section you struggled with the most
Focus your studies on that specific section. You can use study guides, flashcards, more GRE practice tests, or a GRE prep course in this step.
After spending time focusing your studies on that section, take another practice exam and see if your score improved.
Re-evaluate where you stand after getting your test score back in step #4.
Repeat steps 3 through 5 until you are completely comfortable with all sections of the exam.
Benefits of Taking a GRE Sample Test
You will find that using GRE practice questions has many benefits. Some of the major benefits include:
Familiarity of the Exam
You will be exposed to the format and types of questions that are asked on the actual GRE exam. This will help you eliminate any surprises when taking the real exam.
Timing
One of the things that makes the GRE challenging is the timing aspect of the exam. You will be able to practice your timing when using GRE practice tests.
Don't worry if you run out of time when practicing. This will allow you to be realistic with yourself and help you figure it out before taking the real exam.
Find Weak Areas
Practicing for the GRE will help you find which areas you struggle with. You may find that you struggle with the verbal reasoning section the most – you can then focus your studies on that section.
You may find that you struggle with a specific topic within verbal reasoning. If this is the case, you can focus on that specific topic.
Better Problem Solving
Taking practice exams will help you learn new ways to solve problems. You may review one of our answer explanations and discover a more efficient way to solve a problem.
This will help you save time when taking the exam and get a better GRE score.
Frequently Asked Questions
How many sections are on the GRE?
There are 3 different sections on the GRE – verbal reasoning, quantitative reasoning, and analytical writing.

For more in-depth information on the exam, review our guide on what is the GRE.
Is the GRE timed?
Yes, the exam is timed. You will have 30 minutes per section on verbal reasoning (2 sections). You will have 35 minutes per section on quantitative reasoning (2 sections). You will have 30 minutes per task on analytical writing (2 tasks).
What is a good GRE score?
In order to score in the 90th percentile or higher, students should aim to get a 162-170 on the verbal section and a 166-170 on the quantitative section.

For a breakdown on GRE scores by major and various schools check out our guide to GRE scores.
How much does the GRE cost?
The price varies depending on where you are located and what GRE test you are taking.

For most of the world, the GRE general test currently costs $205. In some countries, like China for example, the GRE general test costs $231.

GRE subject tests are standardized for the whole world and currently costs $150.
Do they provide formulas for the GRE test on test day?
The GRE does not provide formulas for students. Students will be expected to memorize various formulas to do well on the exam.

Some common formulas students should have memorized for the GRE test include:
Area of a circle
Circumference of a circle
Area of a square
Perimeter of a square
Area of a rectangle
Perimeter of a rectangle
Area of a triangle
Slope
Distance, rate and time
Interest rate
Compound interest
How long do GRE scores last?
GRE scores last for a total of 5 years. The five year timeline starts from the day you took your exam.