Studying with our free RMA practice tests is a great way to prepare for your upcoming American Medical Technologists (AMT) Registered Medical Assistant (RMA) certification exam.
The RMA medical assistant exam certifies that a candidate has the knowledge, skills, and abilities to be a medical assistant. The RMA exam consists of 210 questions on various medical assistant job functions (e.g., general, administrative, and clinical).
Reviewing actual RMA questions and answers is the best way to study for your Medical Assistant certification exam. Our free AMT-RMA sample tests provide you with an opportunity to assess how well you are prepared for the actual test.
Summary: Try one of our free RMA practice tests below to gauge how much you already know. For additional help, consider using our recommended medical assistant test questions.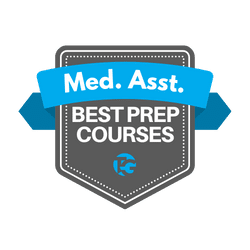 Our RMA sample questions are an excellent way to study for your upcoming certification exam. Our sample tests require no registration or payment.
The questions are categorized based on the RMA test outline (see below) and are immediately scored at the end of the quiz.
Once you are finished with the quiz, you will be presented with a score report which includes a complete rationale for every incorrectly answered question.
If you like these registered medical assistant practice questions please make sure to share this resource with your friends and colleagues.
Other RMA Resources
In preparing for your RMA/AMT certification exam, you may find these resources helpful:
For more information about the RMA medical assistant exam, check out the official website.
RMA Practice Test Benefits
Preparing for your RMA exam by taking practice tests has many benefits. Using sample questions to study for your test is the most effective study practice you can use. The advantages of using RMA sample tests include:
Increasing Your Speed– The RMA exam has a three hour time limit. Although most students who take the RMA feel that there is sufficient time, taking the practice tests with self-imposed timers helps you budget your time effectively. You should budget approximately 1 minute for each question.
Becoming comfortable with the Test Format– Every standardized test has its own unique format. As you take practice RMA tests you will become comfortable with the format of the actual test. Once the test day arrives you will have no surprises!
Concentrating Your Prep Time– As you take more and more sample quizzes you begin to get a feel for the topics that you know well and the areas that you are weak on. Many students waste a lot of valuable study time by reviewing material that they are good at (often because it is easier or makes them feel better). The most effective way to study is to concentrate on the areas that you need help on.
RMA Exam Overview
The RMA certification exam consists of 210 questions that count towards your score. All of the questions will be multiple choice questions with four answer options.
Candidates are given a total of three hours to complete the test. The detailed outline is below:
Anatomy and Physiology
Number of Questions: 44
Topics:
Body systems
Medical terminology
Administrative Medical Assisting
Number of Questions: 56
Topics:
Insurance
Financial bookkeeping
Clerical
Medical law and ethics
Human relations
Clinical Medical Assisting
Number of Questions: 39
Topics:
Asepsis
Sterilization
Instruments
Laboratory Procedures
Minor surgery
Clinical Patient Interaction
Number of Questions: 71
Topics:
Patient education
Vital signs and measurements
Physical examinations
Clinical pharmacology
Therapeutic modalities
Laboratory procedures
ECG
First aid, CPR, and emergency response
RMA Test Administration
There are currently four routes of eligibility for the Registered Medical Assistant Exam:
Category 1: Education – You are a graduate (or soon to be graduate) of an accredited medical assisting program that has a minimum of 720 hours of training, including 160 hours of clinical externship.
Category 2: Military – You are a graduate (or soon to be graduate) of a medical services training program of the United States Armed Forces.
Category 3: Work Experience – You have been employed as a medical assistant for a minimum of 5 out of the last 7 years.
Category 4: Instructor – You are currently instructing in an accredited medical assisting program and have five years or more of full-time teaching experience in medical assisting (both clinical and administrative)
For more specifics on who is eligible to take the RMA, visit here.
RMA Exam Scheduling and Cancellations
Candidates for the RMA exam will be issued an Authorization to Test letter after applying for certification. Once the letter is received, candidates can schedule their test location and date directly with Pearson Vue.
Candidates can reschedule their exam without any additional fees as long as their requests are made with Pearson VUE no later than one business day prior to the original appointment.
If a cancellation is made less than one business day before the appointment the registration fee is forfeited and there will be no refunds.
RMA Test Scores
If you take your exam on the computer, your examination results will be available immediately. Paper and pencil test takers will receive their score reports within 6 to 8 weeks.
The passing score for the exam is a 70. The passing score is a scaled score (based on a range of 0 to 100) and does not equate to a percentage of questions answered correctly.
If you pass your exam, your score report will show only your score.
If you fail the exam, your score report will show your score as well as information on the subsections of the exam that you did not do well on. This score report can help you focus your studies for your retest.
RMA FAQS
How many questions are on the RMA exam?
The RMA exam is made up of 210 questions. All questions will count towards your score and will be multiple choice with four answer options.
What kinds of questions are on the RMA exam?
The RMA test has 3 categories.

The general medical category consists of anatomy and physiology, medical terminology, medical law, and human relations.

The administrative category consists of insurance, finance and bookkeeping, and medical receptionist.

The clinical medical assisting category consists of asepsis, sterilization, instruments, and other various categories.
How do I pass RMA in first attempt?
If you want to pass the RMA in your first attempt, you will need to put a lot of time in and study. One of the best ways to study is by taking free practice tests.

Our practice exams will help you learn the material in an efficient way. Make sure to review the answer explanations to learn difficult concepts.