The National League for Nursing Pre-Admission Examination (NLN PAX) is a requirement for some registered nursing programs. Take one of our free NLN practice tests below.
The PAX exam consists of three tests – Verbal Ability, Mathematics, and Science at a high school level. One hour is allowed for each test. Knowing what to expect will help you prepare.
If you want in-depth study guides, check out the resources from our #1 ranked provider (BoostPrep).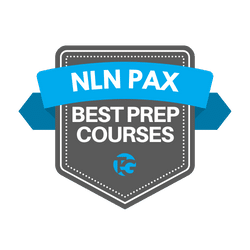 Other Free NLN PAX Resources
Utilize some of these other free resources to help you prepare for your exam.
NLN Pax Test Content Outline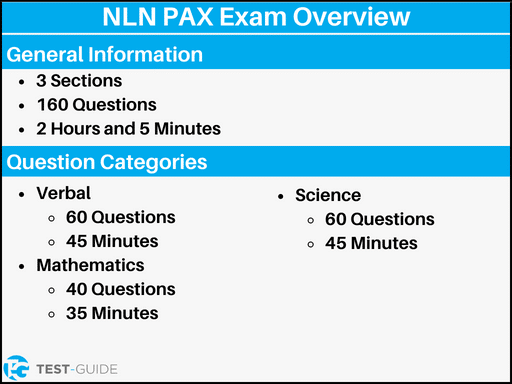 Quick Facts:
PAX Verbal Ability: 60 Questions, 45 Minutes
PAX Math: 45 Questions, 35 Minutes
PAX Science: 60 Questions, 45 Minutes
All questions are multiple choice. Make sure to provide an answer for every single question! An educated guess is better than no guess at all. If you find yourself stumped on a question, skip it for the time being and come back to it later.
Verbal (60 Questions, 45 Minutes)
The verbal skills section is divided into 2 subsections:
Reading Comprehension
Word Knowledge
The reading comprehension subsection will have 30 questions. You will read 5 passages (~400 words in length) and answer questions. Each passage has 6 questions.
The word knowledge subsection will have 30 questions as well. You will be asked to identify the meaning of words within sentences.
Math (45 Questions, 35 Minutes)
The math section is only 1 section. There will be 22 problem-solving questions and 18 computational questions. Some topics that will be tested are:
Basic Calculations
Word Problems
Algebra
Geometry
Conversions
Graphs
Applied Mathematics
Applied mathematics includes problems like, "How can a facility use smarter scheduling to reduce costs of overtime" or "How can an in-depth plan for a clinical trial be planned"?
No calculators can be used for this portion.
Science (60 Questions, 45 Minutes)
The science section is only 1 section as well. Some topics that you will be tested on include:
Biology
Chemistry
Physics
Human Anatomy and Physiology
Health and First Aid
PAX Exam Administration Information
Most NLN PAX exams are computer-based, but you may encounter the test in paper form as well. You should plan to arrive at the testing center at least 30 minutes before your appointment to check in.
Bring your valid government-issued photo ID. Do not bring a calculator or any personal items into the testing center.
If taking the exam online, you will need to set up "Examity" on the device you are taking the test on. Examity system requirements are as follows:
Windows Vista or higher. Examity does not support Linux or Chrome OS. The NLN also discourages the use of MAC as several MAC users have had technical issues.
A desktop computer or laptop. Tablets, Chromebooks and cell phones do not meet Examity requirements.
A working built-in or external webcam and microphone.
Internet speed must be at least 2 Mbps download and 2 Mbps upload. Hot spots are not recommended. 
Browser with pop-up blocker disabled.
To set up your system for the NLN exam through Examity, follow these steps:
Install Questionmark Secure (on Windows)

Double-click the installer
Click "Next"
Accept the license agreement and click "Next"
Change the destination folder in which you'd like to install Questionmark Secure or use the default location
Select "Only for me"
Click "Next"
Click "Install"
Once installation is complete, click "Finish"

Real-time Communication Components

Test real-time communication components and bandwidth
The real-time communication with the proctor is accomplished using a Zoom meeting. If you are unfamiliar with Zoom, it is a web conferencing application that you'll be prompted to install or run in the process of connecting with the proctor. You do not have to install Zoom ahead of time.
Check out the official NLN PDF document on setting up your NLN Exam through Examity for more details.
NLN PAX Exam Registration
The PAX exam itself will be the same no matter where you take it. With that being said, the exam will be administered by the school that you are applying to. So, you must register for your appointment to take the exam through your desired school.
When registering, you will have a range of dates to choose from. This exam is offered several times each month, so your options are typically pretty flexible for when you want to test. Additionally, many locations will also offer a range of start times on each date allowing you to choose a time that works best for you!
Session Lengths
You are allotted 2 hours and 5 minutes to take this exam. You are allowed 45 minutes for the verbal ability section, 35 minutes for math, and 45 minutes for science.
Location
You can test either on-campus through a proctored exam or take an online proctored exam. If applicable, your school of choice will tell you if you can take the exam in person when you register. To take the exam remote, visit the NLN dashboard examination portal here.
Fees
The cost to take the PAX test is anywhere from $60.00 to $100.00. The NLN does not give refunds. You can pay with a Visa, Mastercard, through PayPal or a wire transfer.
Application Periods for the NLN Pax Exam
When applying to the school of your choice, all application materials, including your results, must be submitted by the deadline for the quarter in which you are applying. Scores that are received after these dates will be considered for the next application period.
| | |
| --- | --- |
| Fall: Application Period | January 15 to April 3 |
| Winter: Application Period | August 15 to October 5 |
| Spring: Application Period | November 15 to January 10 |
PAX Exam Scores
The exam is given a cumulative score ranging from 1 to 199. To receive a score at all, you will need to complete all three sections. As a guideline while studying, you should aim to score above the 50th percentile. This equates to a score of 103 or better.
What Your Score Means
A test score of between 199 and 145 overall will land you in the 99th percentile and a score of 117 equates to the 70th percentile. Though the pass rate is standardized, some schools will require a higher pass rate. So, you will want to check what pass rate is required for the school you are applying to.
Getting Your PAX Exam Scores
Exam results are mailed directly from the NLN to the student and the college within 10 days following the exam date. If you fail the exam, you must wait a minimum of 6 months before you can re-test. Additionally, if you fail on your first try, you will only have two more chances to try and pass.
For more information about the PAX exam or scores, go to the official website.
Frequently Asked Questions
Are special testing accommodations granted for individuals with disabilities?
Yes! Visit the NLN website regarding information about special testing accommodations and contact your campus Disability Services.
How long are my test scores good for selected admissions?
There are currently no time limitations. But copies of the results are only available for 3 years.
If the exam is taken multiple times, which score is used?
If you take the NLN PAX exam multiple times, your highest score will be considered in the admissions process.
How early do I have to register for the PAX exam?
You must register at least 7 days in advance.
How can I contact NLN for more information?
Utilize the following contact information below:
Website: NLN Customer Service
Phone: (800) 732-8656 NLN Customer Service
Fax: 1 (618) 453-3333 NLN Customer Service
Email: 

[email protected]