Take our CompTIA Network+ practice test to get ready for your exam. All our exams are completely free, require no registration, and include detailed answer explanations.
CompTIA Network+ Prep Course
Needing more help? Our partner, PocketPrep, offers some great resources.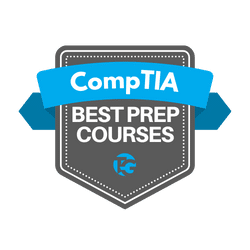 Additional CompTIA Network+ Practice Resources
CompTIA Network+ Test Overview
If you want to earn your Network+ certification, you will have to pass the CompTIA Network+ exam. The most current version of the exam is the N10-008.
The N10-008 will have the following format:
Max of 90 Questions
90 Minutes
Multiple-Choice and Performance-Based Questions
Make sure you do not have to retake the exam by using our Network+ practice exam above.
CompTIA Network+ N10-008 Outline
You can find a detailed outline of the CompTIA Network+ N10-008 exam in the table below:
| Domain | % of Examination |
| --- | --- |
| 1.0 Network Fundamentals | 24% |
| 2.0 Network Implementations | 19% |
| 3.0 Network Operations | 16% |
| 4.0 Network Security | 19% |
| 5.0 Network Troubleshooting | 22% |
| Total | 100% |
CompTIA Network+ Administration
Make sure you know the details that go into taking the exam. You can review all of those details below.
Registration
When registering, you can choose to take the exam online or in-person. You can read more about both of those options on the official website.
Fees
It will cost you $358 to take the Network+ exam. If you are located in a different country, you may end up paying a different price. Here are all the pricing details.
Requirements
There are no "hard" requirements for taking the Network+ exam. With that being said, it is recommended that you complete the following before taking the exam:
Complete the CompTIA A+ certification
Have 9-12 months of networking experience
Scoring
The grading scale of this test is straight-forward. It's scored on a scale ranging from 100 to 900.
720+ is required to receive certification.
You can learn more about this exam by visiting the
You can learn more about this exam by visiting the official site.
Advantages of Utilizing a CompTIA Network+ Practice Test
Utilizing a CompTIA Network+ practice test has many advantages. Those advantages include:
Finding Your Problem Areas – After taking a practice exam, make sure you read the answer explanations. This will help you narrow down which areas you struggle with. You can then focus on those areas when studying.
Learning Question Types – Some questions on the CompTIA Network+ exam will trip you up. If you can practice these types of questions beforehand you can better prepare for them on the actual exam.
Reviewing Answer Explanations – Reviewing the answer explanations at the end of each practice exam will help you understand why something was correct or incorrect. You may discover a new way to think or solve a problem.
Can I retake the CompTIA Network+ exam?
Yes. Anyone who fails their first attempt at the CompTIA Network+ test can retake it. There's no waiting period between the first and second attempt, which can be quite beneficial if you happen to fall just short of a passing grade.

All subsequent tests require a 14 day waiting period. Also, each test retake requires an additional fee so it's advised that you ace it the first time.
How can I take the CompTIA Network+ exam?
There are two testing methods available – online and in-person testing.

Online testing provides you with the opportunity to take the test in a quiet location free of distractions.

In-person testing will require you to visit a testing location.

Both are valid options so the choice depends on your personal preference.
What is the best way to do well on the CompTIA Network+ exam?
One of the best ways to prepare for this exam is to take practice exams beforehand. Our CompTIA Network+ practice tests will help you become more familiar with the exam.
How much does the CompTIA Network+ test cost?
What kind of questions are asked on the CompTIA Network+ exam?
There will be 2 types of questions (multiple-choice and performance-based questions). Those 2 types of questions will be split up into 5 different categories:
Networking Fundamentals (24%)
Network Implementations (19%)
Network Operations (16%)
Network Security (19%)
Network Troubleshooting (22%)