Use our NREMT practice test to prepare for your upcoming EMT test.
You can take a full-length EMT practice test below. The exam includes 100 total questions and a 2-hour time limit.
Full-Length Practice Exams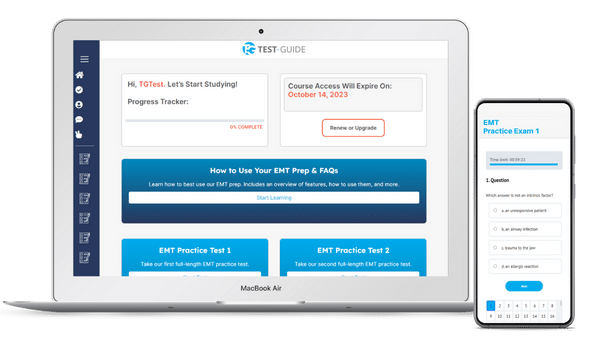 EMT/NREMT Overview
The National Registry of Emergency Medical Technicians (NREMT) is a non-profit organization that helps ensure the skills, knowledge, and expertise of Emergency Medical Technicians (EMTs) in the United States.
The NREMT administers a wide range of emergency medical professional tests, including:
Emergency Medical Responder (EMR)
Emergency Medical Technician (EMT)
Advanced Emergency Medical Technician (AEMT)
Paramedic
Though the exams vary based on the type of emergency responder, they all cover the general knowledge and skills required to provide emergency medical services.
You can read our NREMT test overview for more information on each exam.
EMT Exam Outline
Fast Facts:
There will be 2 portions on your EMT test:
Cognitive Exam (70-120 Questions)
Psychomotor Exam (Varies by State)
The cognitive portion consists of multiple-choice questions. You will have 2 hours to complete the exam.
The psychomotor portion will ask you to perform various emergency skills in a hands-on environment.
Cognitive Exam Outline
The cognitive exam consists of multiple-choice questions. The exam is a computer adaptive test, which means the questions get harder or easier depending on how you answered the previous question.
The questions will cover 5 different categories. Each of the categories (except EMS Operations) will be further split into Adult (85%) and Pediatric (15%) questions.
Airway, Respiration, & Ventilation (18-22%)
Cardiology & Resuscitation (20-24%)
Trauma (14-18%)
Medical; Obstetrics & Gynecology (27-31%)
EMS Operations (10-14%)
For more information, visit the official website.
Psychomotor Exam Outline
The psychomotor exam consists of you performing various emergency medical skills in front of an instructor.
At the EMT level, the psychomotor exam is administered by the state EMS office or by an educational institution approved by the state.
With this being the case, the psychomotor exam will vary from state to state. Some concepts you should be familiar with include:
Patient Assessment
Patient Management
BVM Ventilation
Oxygen Administration
Spinal Immobilization (Supine and Seated)
Bleeding Control
Shock Management
Cardiac Arrest/AED
Joint Immobilization
Long Bone Immobilization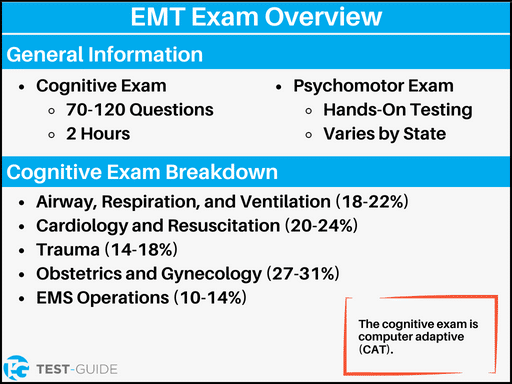 EMT Exam Eligibility
Before you can sit for the EMT exam, you will need to meet the following requirements:
Completion of a state-approved EMT program.
Have your CPR-BLS for Healthcare Provider certification.
EMT Exam Registration
You can follow these steps to register for your EMT test:
Complete the requirements listed above (state-approved program and CPR-BLS certified).
Create an account on the NREMT website.
Wait for your application to be reviewed.
Pay your application fee ($98).
Receive your Authorization to Test (ATT).
Schedule your exam. You will have 90 days to schedule once you receive your ATT.
For more information, you can review the official EMT candidate handbook. We recommend answering some of the NREMT practice questions above before registering for your exam.
Scoring of the EMT Exam
Since the exam is computer adaptive, the scoring of the exam is not as straight-forward as you would think.
Not all students receive the same number of questions. The questions are weighted, with the harder questions being worth more points.
There is not technically a passing score. The exam will continue feeding you questions (up to 120 total) until it is 95% certain that your abilities are above a passing level.
Some individuals may reach this 95% certainty at question 87, while other students may not reach this point until question 110.
How to Study for the EMT Exam
When it comes to EMT test prep, everyone has different needs, timelines, and study habits. We have listed some tips to help you succeed when studying.
Utilize an EMT Practice Test
We recommend using NREMT practice tests to start your studies. This will help you gauge where you stand.
If you do really well on your first exam, then you may be able to consider yourself ready for the actual exam. If you struggle, you can come up with a plan to study and can create an EMT study guide.
Take our free EMT practice test above to get started!
Analyze Your Practice Test Results
After taking your first exam, analyze your results. We break down all of our practice exams by the exact categories tested on the actual exam.
By analyzing your results, you can see which categories give you the most trouble and focus your studies on those specific categories.
For example, if you struggled the most with EMS operations, you could focus your studies on that subject.
Review Answer Explanations
Reviewing the answer explanations plays a huge role in your EMT test prep. We provide in-depth answer explanations to every single question.
Our answer explanations will help you understand complex concepts and learn why an answer is correct or incorrect. By reviewing answer explanations, you will learn key concepts that will be tested on the actual exam.
Practice with Flashcards
Flashcards are a great study tool to utilize when preparing for the EMT. We provide flashcards for the following:
EMT Abbreviations
EMT Prefixes
EMT Suffixes
By using our flashcards, you will become familiar with core concepts that will help you do better on the actual exam (and be helpful in your career as an EMT).
Frequently Asked Questions
How much does the EMT exam cost?
You will have to pay a fee of $98 to take the EMT exam.
How many questions are on the EMT exam?
There will be between 70 and 120 questions on the cognitive portion of the EMT exam.
The exam is computer adaptive, so the total number of questions you see will vary.
What is the time limit for the EMT exam?
You will have 2 hours to complete the cognitive portion of the exam.
Where can I register for a state-approved EMT course?
Every state has its own state-approved EMT courses. You will need to consult the State EMS Office in your state to find the best approved EMT courses in your area.
Can I retake the EMT exam?
Yes, EMT candidates are given three attempts to pass the EMT cognitive exam. You must wait at least 15 days after each failed attempt before taking the exam another time. If you cannot pass the exam for the third time, you must take a remedial training program and show evidence of successful completion before retaking the EMT exam.
Candidates are allowed two full attempts to pass the EMT psychomotor exam. If candidates do not pass on the second attempt, remedial training will be required.
How long is the authorization to test letter valid?
Once you receive your Authorization to Test letter, you will have 90 days to register and take the EMT exam. If you are unable to complete the test within 90 days, you will need to reapply for exam eligibility and pay the corresponding fee.