Studying for the Law School Admission Test (LSAT)? Use our free LSAT practice test to help prepare yourself for the exam.
One of the best ways to prepare is by becoming familiar with the exam by taking an LSAT practice test.
Summary: Answer our LSAT practice questions below to start your studies. For more help, consider using a LSAT prep course.
LSAT Practice Test
We have split our LSAT sample questions into the categories in which they will appear on the exam.
Take each LSAT practice test below. Make sure to review your answer explanations after each test to help understand why an answer was correct or incorrect.
LSAT Logical Reasoning (Arguments)
LSAT Analytical Reasoning (Logic Games)
LSAT Reading Comprehension
We ranked and reviewed prep courses to help you find your best match. See which course fits your need.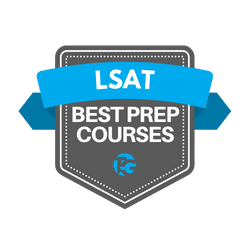 LSAT Study Resources
Exam Overview
The LSAT includes 3 separately scored multiple-choice sections, 1 unscored multiple-choice section, and 1 unscored writing sample. 
Each scored section is multiple-choice, and candidates are given 35 minutes to complete each section.
The sections are:
Logical Reasoning
Analytical Reasoning
Reading Comprehension
Variable Section (Unscored)
Writing Sample (Unscored)
How to Best Use a LSAT Practice Test
Using a practice test for the LSAT can be a helpful way to prepare for the actual exam. Taking a practice test online can help you focus your studies and identify any areas where you may need to spend more time.
Here are some recommendations for using our LSAT sample test:
Take a practice exam for each subject (logical reasoning, analytical reasoning, and reading comprehension).
Determine which subjects gave you the most trouble.
Focus your studies on those specific subjects.
Work your way through each subject until you feel comfortable with all the material.
Additionally, while taking our free LSAT practice test, it can be helpful to pay extra attention to the following:
Answer Explanations
After taking each practice exam, make sure to review the answer explanations. Our answer explanations will help you with the following:
Better understand key concepts and topics
Find more efficient ways to answer questions
Learn why an answer was correct or incorrect
Patterns
Do you recognize any patterns while answering the practice questions? Some students may find that they really struggle with a certain topic within a subject.
Pay special attention to any patterns you recognize while practicing. You can then focus your studies and study more efficiently, which will increase your LSAT scores.
Time
Timing is one of the more challenging aspects of the LSAT test. The more you practice, the more familiar you can become with the timing needed for the exam.
You will most likely run out of time while practicing the first couple of times. Do not get frustrated. This is part of the process.
LSAT Practice FAQs
Will a LSAT practice test help me for the actual exam?
Yes. Using LSAT practice questions will help you become more familiar with the actual exam and the way in which questions are asked.

The LSAT asks questions in a very unique way. Seeing these questions and practicing them is a great way to study.
Is the LSAT multiple-choice?
Yes, the exam will be multiple-choice. The only section that is not multiple-choice is the writing sample.
What is the variable section?
The variable section changes for every exam. The section can be reading comprehension, analytical reasoning, or logical reasoning. You will not know which section is the variable section.
How many questions are on the exam?
There will be around 100 multiple-choice questions on the exam.