Use our free TEAS practice test to prepare for your exam. Our TEAS practice questions are broken down by category, just like the actual exam.
You can begin practicing by selecting the links below. Make sure to review the detailed answer explanations at the end of each exam to help you better understand complex concepts.
Summary: Take a TEAS practice test below. For more help, read our reviews of the best TEAS prep courses.
If you want more help, consider purchasing a TEAS study guide from BoostPrep.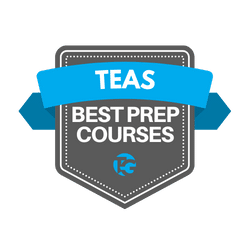 More TEAS Test Practice
If you want to focus your TEAS exam prep on a specific subject, you can find additional subject specific exams below.
Overview of the Exam
The TEAS exam (Test of Essential Academic Skills) is an exam given to students interested in enrolling in nursing school. The exam is administered by Assessment Technologies Institute (ATI).
The exam is used by nursing programs around the country to help schools find the best candidates for their programs.
The exam was recently updated from TEAS 6 to TEAS 7. This switch happened in June of 2022 and the ATI TEAS 7 is now the exam given to students. There are 4 test sections given:
About TEAS Questions
The TEAS exam used to be all multiple-choice questions. However, the TEAS 7 now has some different types of questions.
Some question types you can expect to find on your TEAS 7 practice tests include:
Multiple-Choice – Questions that include 4 answer choices. Only 1 answer choice will be correct.
Multiple-Select – Questions that provide 4 or more answer choices. There may be more than 1 correct answer choice.
Supply Answer – Questions that do not provide answer choices. You will have to fill in the blank for these questions.
Hot Spot – Questions that provide you with an image with different "hot spots" on it. You will be asked to click the area of the image that answers the question. There are usually 2-5 "hot spots" on the image.
Ordered Response – Questions that ask you to order a set of responses. If 1 response is out of order, the whole question is incorrect.
Practicing for the TEAS
Using a free ATI TEAS practice test is a great way to prepare for your upcoming exam. Using practice questions will help you narrow down your studies and determine which areas you need to spend more time studying.
When practicing for the TEAS, we recommend the following:
Take 1 free TEAS practice test for the different subject areas
Review your answer explanations after each exam
Determine which subjects you struggled with the most and focus on those subjects when studying
Some other things you should pay attention to when using TEAS practice are:
Answer Explanations
Reviewing answer explanations at the end of your TEAS test practice will help you learn difficult concepts. 
You may also learn a more efficient way to solve a problem, which will help you save time on the actual exam.
Timing
Pay special attention to the timing aspect when practicing for the TEAS. The timing aspect is one of the more challenging aspects of this exam.
If you find yourself running out of time, try to find some ways to shave off some time. You can review the answer explanations to find a quick way to solve the problem.
Difficult Concepts or Subjects
You may find yourself consistently struggling with 1 specific subject. If this is the case, you should focus on that subject until you are comfortable.
You may also find that you struggle with 1 specific topic within a subject. If this is the case, you should focus on that specific topic until you are comfortable.
Benefits of Using a TEAS Practice Test
Preparing for your exam with a free TEAS practice test is one of the best methods available. Using practice exams has many benefits, including:
Focused Study Time – Students can get a sense of their strengths and weaknesses when they take practice exams. Many students mistakenly spend time practicing on areas that they are already strong on and ignore their weaker areas.
Improved Timing – The TEAS 7 exam is a timed test. To achieve a high score, students must keep a steady pace. Taking a TEAS practice exam in a timed format can improve decision making and time management for test day.
Enhanced Problem Solving – Tests like the TEAS assess your ability to solve problems, not just memorize information. It is critical to have strong problem-solving abilities to do well on the exam. Our free TEAS practice tests include rationales in the score reports which explain the correct answer to help you improve.
Familiarity with Test Format – All standardized tests, including the TEAS, have their own unique way of presenting questions and answer choices. You will gain more familiarity and comfort with the question style as you take more practice quizzes.
Frequently Asked Questions
What is the difference between the ATI TEAS 6 and the ATI TEAS 7 exam?
The biggest difference is the number of questions asked in each section.
ATI TEAS 6 Exam:
Reading – 53 questions
Math – 36 questions
Science – 53 questions
English – 28 Questions
ATI TEAS 7 Exam:
Reading – 45 questions
Math – 38 questions
Science – 50 questions
English – 37 questions
Will schools still accept my ATI TEAS 6 exam scores?
Scores on the TEAS 6 and TEAS 7 are equated. This means that they can be compared.

While it is up to the individual school, if you have already taken the TEAS 6 exam, the school should be able to use that score.

It is important to confirm with your school as each school has their own rules.
Are you allowed to use a calculator on the TEAS?
Yes, you are allowed to use a calculator on the TEAS exam, but you must use the calculator that the test center provides. The calculator provided will be a simple four-function calculator.

You are not allowed to bring your own calculator, nor are you allowed to use your phone, smartwatch, etc.
What is the composite score on the TEAS test?
Your score will be reported as a composite score, which is the average of your reading, math, science, and English and language usage scores. You may take the exam multiple times. If you do, your composite score will be based on your highest score in each area.

You can read more about TEAS scores for additional information.
How can I prepare for the TEAS exam?
One great way to prepare is by taking a practice test. This will help you learn more about the exam and what to expect.

After taking some practice exams, you can reevaluate where you stand. You may feel comfortable with the material, or you may feel like you need more prep. See our reviews of the best TEAS prep courses if you want something more in-depth.
How long is the TEAS test?
The TEAS test is a total of 209 minutes. Students are given the following time limits on each section of the TEAS:
TEAS Reading: 55 minutes
TEAS Math: 57 minutes
TEAS Science: 60 minutes
TEAS English and Language Usage: 37 minutes