Prepare for your exam by taking our ASVAB assembling objects practice test below.
Make sure to review your answer explanations at the end of each exam, as these will help you better understand the content and how to solve the problems efficiently.
Start Your Practice
Prepare for the other sections of the ASVAB by using our free ASVAB prep.
ASVAB Assembling Objects Overview
One thing that many people find unique about the ASVAB is the fact that they offer a computer and a paper and pencil version. You need to figure out which version you are taking so that you can better prepare.
You can expect the following on the computer version of the exam:
15 questions
18-minute time limit
You can expect the following on the pencil-and-paper version of the exam:
25 questions
15-minute time limit
What is actually meant by "assembling objects?" This exam is unique when compared to the other sections and involves skills like:
Spatial ability
Relationships among objects
Mentally attaching lines and shapes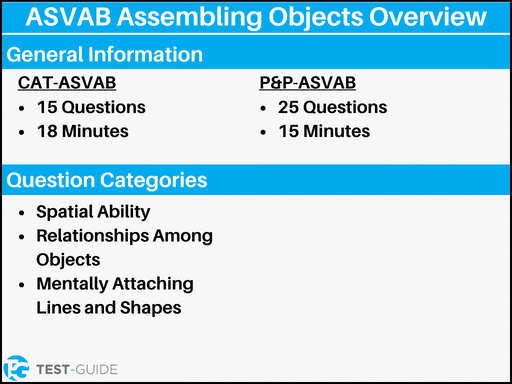 Feeling confident after practicing this section? Visit our ASVAB practice home to find more great free exams.
Frequently Asked Questions
How many questions are on the assembling objects portion of the exam?
On the computerized exam, there are 15 questions in total, and 25 questions on the pencil-and-paper exam.
Is there a time limit on the assembling objects exam?
You will have 18 minutes to complete the computer-adaptive version of the exam, and 15 minutes for the pencil-and-paper version.
What topics are tested on the ASVAB assembling objects section?
The ASVAB assembling objects section is designed to test your spatial ability, and whether you can mentally arrange images correctly. You will encounter questions asking you to currently attach lines and shapes, put images together, and mentally solve jigsaw puzzles.