Use one of our ACT-style practice tests to prepare for your ACT® exam. You will find multiple free practice tests to choose from.
One of the best ways to prepare for your exam is by using free ACT prep. All of our practice exams include answer explanations, detailed scoring, and more.
Using the ACT practice questions below will help you better understand what you know, and what you do not know. This will help you create an efficient study plan.
Summary: Use one of the following sample act practice tests below to improve your score. For more help, check out one of the best ACT prep courses.
Free Practice Test for the ACT
You can find an exam for each subject below. These exams include ACT questions that will challenge your knowledge of topics tested on the actual exam. These exams are designed to help you become more familiar with style of the ACT.
Note: The above practice questions were written by Test-Guide.com to help you prepare for the exam and give you the essential ACT practice you need – they are not official ACT questions.
More Practice Tests for the ACT
If you know where you want to focus your ACT practice, choose the subject below. You will find more subject specific ACT practice questions (just like the actual exam).
If you want some additional help with prepping for the ACT, consider using ACT prep courses.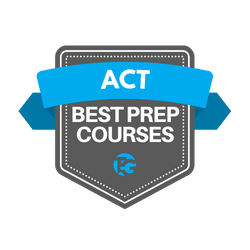 Full-Length ACT Practice Tests
At the links below you will find free full-length ACT practice tests. These tests are from previous years, but are still great study resources.
Overview of the Exam
You will find 4 sections on the ACT. There is also an optional writing section at the end. You will have 175 minutes to complete all 4 sections. The exam consists of 215 multiple-choice questions.
If you are also curious about the SAT, review our guide on the ACT vs SAT.

Save $300 With Code: TESTGUIDE300
ACT Practice Guide
We recommend the following when using ACT test practice to get the most out of your time:
Take the general ACT practice tests listed above. These will help you get a better understanding of what to expect for all subjects on the exam.
Discover which subjects you struggled with the most.
Pick 1 of those subjects and focus on that subject moving forward. We recommend you take one of the subject specific tests listed above.
Rinse and repeat.
Many students are unsure on how to practice for the ACT. The above steps are a great way to start your studying journey.
Benefits of Using ACT Practice Tests
Preparing for your ACT with practice tests is a great approach. The benefits of using ACT practice tests includes the following:
Familiarity
The ACT, like most standardized tests, has its own unique format. As you take more and more sample ACT tests, you will begin to see a pattern in the way the questions are written.
When it comes to the actual test, you will know exactly what to expect.
Improving Pace
Each section of the ACT is timed. To do well on the exam, will need to keep a steady pace. Our ACT test practice above will help you learn the pace you need to work at to succeed on the real exam.
Improved Problem Solving
Standardized tests measure your ability to solve problems, not just memorize information. To do well on the ACT (especially the math section) you will need to have strong problem-solving capabilities.
When using a free act practice test, pay special attention to the answer rationales presented in your score report. These will help you discover new (and faster) ways to solve different problem types.
Study More Efficiently
One of the biggest advantages of using an ACT practice test online is that you will be able to narrow down which subject you need to focus your time on.
If you know that you struggle with math, you can spend more time studying math versus a subject that you are more comfortable with.
Frequently Asked Questions
How much time will I have to take the ACT?
You will have 175 minutes to complete the 4 mandatory sections. If you take the optional writing section, you will have 215 minutes.
Are all the sections given at once on the ACT?
Yes, all the sections are given in the same testing window. However, each section is given individually. You will not see questions mixed between categories.
How many total questions are on the ACT?
There will be 215 questions on the ACT. They will consist of multiple-choice questions.
How should I be practicing for the ACT?
We recommend using general ACT practice to begin with. You can use our general ACT questions listed above to get an idea of questions from all 4 subjects on the ACT.

Once you take the general exam, you need to isolate the subject that gave you the most trouble. You should then focus on that specific subject and allocate more time to it.

You can use our free act prep to focus on subject specific needs above.