Magoosh is an online prep course that has an unbelievably low price point. But is it a good option? We provide an in-depth Magoosh SAT review below.
We took a look at Magoosh and their SAT offerings. We went into the course ourselves and played around with the content and the features.
Summary: Learn more about Magoosh SAT prep. If you are interested in other options, consider other SAT prep courses.
Magoosh SAT Prep Options
 
Premium
Premium + Live Classes
Price
$116
View Discount
$359
View Discount
Subscription Length
12 Months
12 Months
Practice Questions
1,750+
1,750+
Practice Exams
3
3
Video Lessons
200+
200+
Live Instruction Hours
No
16 Hours
Guarantee
100 Point Increase
100 Point Increase
Study Schedules
Yes
Yes
99th Percentile SAT Instructors
No
Yes
Learn More
Visit Magoosh SAT
Magoosh SAT offers 2 main options for students looking to prepare for the SAT. We take a deeper look into those 2 options below.
After looking at those 2 options in depth, we will review the common features found in the Magoosh SAT prep courses. We have also included detailed screenshots from inside the course to help you get a better understanding of what to expect.
If you want more help before making a purchase, use our SAT practice test.

Save 10% With Code: TESTGUIDE1
Magoosh Premium SAT Course
Magoosh SAT Prep keeps things pretty simple by offering two tiers, their first being the "Premium Prep" package. This tier is purchased at the extremely affordable price that starts at just $90. This package includes access to everything found on their digital platform.
Access to video lessons
Over 1,700 Practice Questions
Practice Tests (although questions are pulled from the bank of practice questions)
Detailed Video and Text Explanations for ALL 1,700+ practice questions
Magoosh's Score Predictor
Access to Magoosh's Mobile App
Price variation is based on the length of subscription. Magoosh offers three subscription lengths:
1 Month Access: $90
3 Month Access: $107
12 Month Access: $116
Bottom Line: Magoosh is one of the most affordable SAT prep courses on the market.
Magoosh Premium Live SAT Course
Magoosh also has the option for live classes for students who prefer this learning approach. This tier comes at a highly affordable price of just $359 and includes 16 hours of live instruction along with access to everything listed in the premium course.
Bottom Line: Magoosh is a steal when compared to other SAT prep courses at just $400 for both online studies and live classes.
Magoosh SAT Features
Given the low price point of Magoosh SAT prep, students might be concerned that they are missing out on essential features. So our team went through this study course with that same skepticism, paying close attention to the quality of its contents. Here's a detailed look at the features found in this SAT prep course.
Coursework
Students follow the proven steps that so many other SAT study courses follow – watching a video and then putting that knowledge to practice by answering a few problems. The only downside is the way study progresses. Magoosh's system doesn't specifically tell you what to study next but they do provide recommendations so students are not left guessing.
However, the study approach is not guided like it is with other top study courses like Kaplan and Princeton Review.
Many students will prefer this sort of flexibility so we don't write off this program because of that one factor. Magoosh provides all of the materials a student needs to score high on the SAT.
We'll go into detail about the videos in just a moment but there's one more important thing to note. Magoosh doesn't provide textbooks to complement its course. So students have access to videos and practice materials with nothing to compliment those tools.
The real question we had to ask ourselves after digging through the course materials was whether videos and practice sessions were enough to prepare for the SAT. The rest of our review digs deeper into that.
Practice Questions (Custom Practice Sessions)
In between studying the videos offered on Magoosh SAT Review, students are able to work on practice questions.
These practice sessions are customizable, which is one of the best features of Magoosh. Students can set the difficulty, category, and timing of questions in order to focus on weak areas.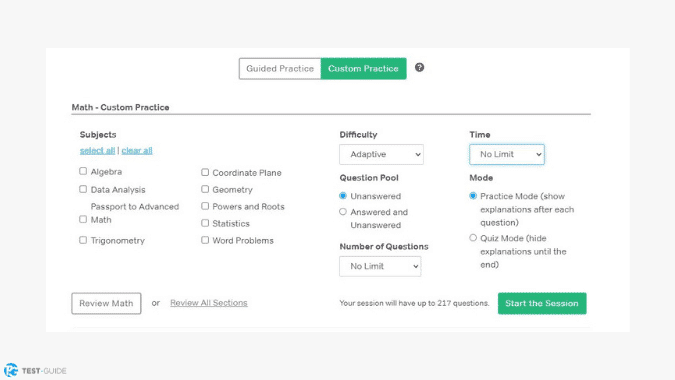 All practice questions in Magoosh's bank are high quality and come with amazing explanations that we'll discuss in a moment. Every question we encountered felt like they belonged on the SAT. They were clearly written by SAT experts. Even though the quantity of practice questions is limited, their quality is not lacking in the least.
SAT Prep Magoosh also throws short quizzes at students between some of the video lessons in order to reinforce knowledge that they just learned. This is usually around 5 questions in total. We found that this is a great way to allow students to put their newly found knowledge to the test.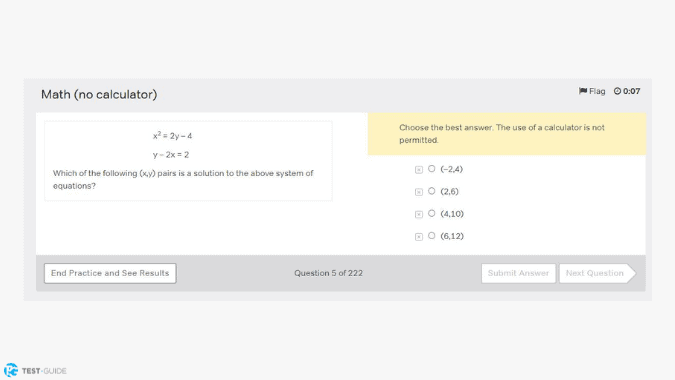 Practice Exams
Magoosh recommends that students only take three practice exams. The reason is because rather than having dedicated practice tests, Magoosh generates tests by pulling test questions from its bank of practice questions. In other words, every time a student takes a practice test, they are using up their pool of practice questions.
This is definitely a unique approach and not one we would expect, especially when other top SAT study brands excel at providing high quality practice tests. It's a result of Magoosh's lower price. Still, a lack of practice tests is a limiting factor.
Dashboard
Magoosh has a built-in intuitive dashboard that changes as you progress through the course. It tracks a student's progress and provides study suggestions based on data collected as practice questions are answered. This dashboard even provides a detailed look at your score prediction, broken down into categories.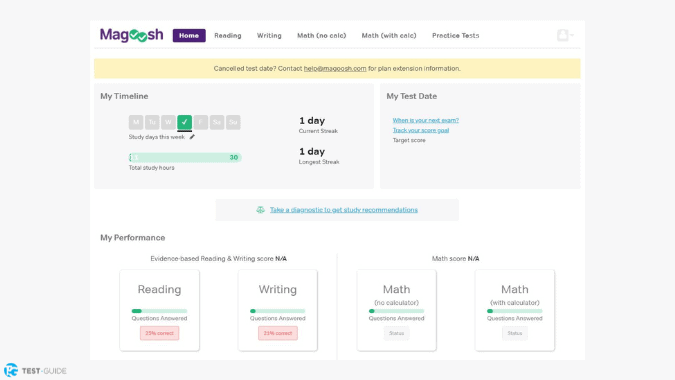 User Interface
Magoosh Online SAT Prep presents a streamlined interface that's one of its greatest strengths. There are no distracting elements to confuse students. The interface is built on functionality, not flashy design. It works wonders too! Rather than having a cluttered menu full of options most students will never use, Magoosh developers included only essential elements.
The result is a clean and user-friendly way to navigate this course. This allows students to focus on the materials rather than wasting time wading through a ton of extra features.
A simply navigation bar leads students to the four sections of the test with the click of a button. There are also options to either return to the dashboard or take a practice exam. It's really that easy to find your way through this study program.
Video Lessons
Like we mentioned earlier, Magoosh uses a two-step study method – watch videos and do some practice work. As a result, we expect these two steps to be extraordinary in order to make up for a lack of other features. Since videos are the foundation for all studying done with the Magoosh Online SAT Prep approach, we went into them with high expectations.
These video lectures are quite good, although they could probably be better. Don't take this the wrong way. They contain all of the right information that students need to take the SAT. Their presentation just seems a bit dated. Videos are built around PowerPoint presentations.
An instructor speaks as the video goes through a presentation but they never appear on-screen. Everything is shown through these slides. The instructor does highlight important concepts for emphasis but we didn't feel like they engaged the audience as well as other platforms.
Does that mean they are bad? Not at all. In fact, the information presented is flawless and the red marks really do make the important points stand out. Another benefit is that these videos are quite short, giving students time to process each lesson before moving on.
Studies have shown that people learn better with short, digestible videos so this is definitely a strength of the program.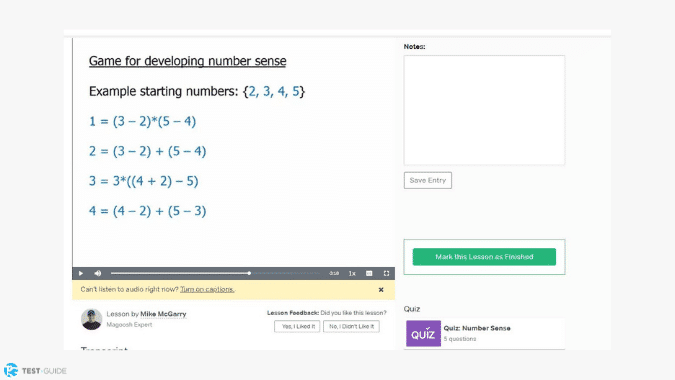 Answer Explanations
This is where SAT Prep Magoosh establishes itself as a top SAT study program. All practice questions come with a detailed video to go alongside of its text explanation. Designers make the most of every questions and give students a tremendous amount of value with this feature.
While the text explanations are quite thorough, the videos really soar above the rest. Each video explanation describes the steps to solving the problem. It's really surprising that Magoosh was able to include detailed explanations for over 1,700 practice questions and still offer the program for such a low price. This is definitely where they invested most of their production budget.
Score Predictor and Reports
Magoosh includes a detailed review section that shows a lot of detailed data around a student's studies. The goal is to show how a student's current progress measures against their peers. But the score predictor seems to be the most prominent feature here.
While there's really no way for us to gauge the accuracy of this metric, student reviews claim that it's highly accurate. We recommend that you use it as a tool to gauge your readiness to take the SAT and find areas you should reinforce your studies. But it's probably not a good idea to treat this score prediction as gospel.

Save 10% With Code: TESTGUIDE1
Is Magoosh good to use for the SAT?
Magoosh was our choice for best value. The price cannot be beat. If you are someone looking to study on a budget, this is a great course for you.

However, there are more comprehensive options out there. Review our best SAT prep courses for more information.
Is Magoosh SAT worth the money?
Definitely. The video explanations alone make this prep course worth the money. It is one of the most budget-friendly options.
Can I take full-length practice exams with Magoosh SAT?
Yes. There are full-length practice exams included in the Magoosh SAT prep course.