Magoosh offers 2 main options for students looking to prepare for the LSAT. Our team reviews those 2 options in our Magoosh LSAT review below.
We take an in-depth look at Magoosh's LSAT prep course and the different features they offer students.
Summary: Review our findings with our complete Magoosh LSAT review below. If Magoosh is not the right fit for you, consider another best LSAT course.
Magoosh LSAT Options
Magoosh Courses
Self-Paced Course
Guided Study Course
Price

$299

$279


View Discount

$999

$599


View Discount
Subscription Length
12 Months
12 Months
Videos
90+ lessons
90+ lessons
Live Video Sessions
0
16 Hours
Practice Questions
7000+
7000+
Practice Tests
75
75
Books Included
No
No
Guarantee
+5 Total Score
+5 Total Score
Learn More
GO!
Magoosh keeps it really simple with their LSAT offerings. They offer a self-paced course and a guided study course. We will take a deeper look at both of those courses below in our Magoosh LSAT prep review.
After looking at each option closer, we will review some of the actual features within the courses. You can find actual Magoosh LSAT screenshots below.
If you want to get some practice in before making a purchase, consider taking our LSAT practice exam.

Save 10% With Code: TESTGUIDE1
Magoosh Self-Paced Course
The self-paced course offered by Magoosh is their base package. The course is very affordable and was our choice for best value in our rankings of LSAT prep online.
With the course being so "cheap" some individuals may think they will not have everything they need to succeed on their exam – we will be honest, our team was not convinced at first either.
However, after digging into the actual course, we were pleasantly surprised with all of the features and content.
Individuals who register for the self-paced course will receive the following:
90+ video strategy lessons
7000+ questions
75 full-length practice tests
+5 score increase guarantee
LSAC Prep Plus access
Email assistance from LSAT tutors
Study plan
The only thing that we found in our Magoosh LSAT review was that they do not include physical textbooks, which is not unheard of. There are a couple of other providers who also do not include physical textbooks.
This is not the end of the world, but if you are someone who is looking for physical textbooks, you may want to consider another LSAT online prep course.
Bottom Line – Magoosh's self-paced course is very solid and offers great value. You will have everything you need to get a top score on the actual exam.
Magoosh Guided Study Course
The guided study course offered by Magoosh is a step-up from the self-paced course. This course includes some additional features that make for a more interactive and personalized experience.
Students who enroll in this course will receive all of the features in the self-paced course, as well as the following:
16 hours of live instruction
99th percentile LSAT instructors teaching
Customized homework
Targeted assignments
The biggest difference between this course and the self-paced course is the 16 hours of live instruction. If you are not able to make one of the classes, you can watch the class on-demand.
You will also have customized homework and more targeted assignments based on what you need to work on. This is a nice touch and makes for a more personalized experience.
Bottom Line – If you are looking for a balance of self-paced learning and a classroom feel, this is a good option for you.
Magoosh LSAT Features
After conducting our Magoosh LSAT review, our team wanted to give our users an in-depth look inside the course. You can review actual screenshots and get a better idea of how the course is set up below.
If you are on the fence about attending law school, you may want to consider the lawyer salary – it may persuade you.
Dashboard and User Interface
The first thing students will see when they login to their account is their student dashboard. The dashboard is an easy way for students to access all of their lecture materials, practice questions, and quickly view some of their results from their practice questions.
The dashboard is a great place to start for new students. Students can become familiar with the course by using their dashboard. Included in the dashboard are the upcoming online classes. Students can register right from their dashboard.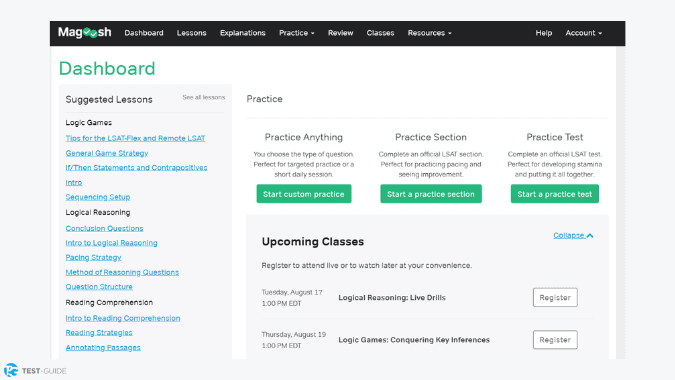 Overall, the course has a great feel and awesome user interface. Everything is very easy to find and users can easily navigate throughout the whole course. The course is organized in a way that makes sense which is a nice touch.
The navigation bar at the top allows students to navigate to different parts of the course. Once in a different part of the course, users can focus on their studies. The easy-to-use navigation and overall course design will help save time and energy while you study.
Lecture Videos
The Magoosh LSAT course includes 90+ lecture videos. This is the primary method students will use to learn concepts and the material. Most lecture videos are shorter in length (5-10 minutes long), but there are some lessons that are longer (25 minutes+).
The videos are good and have helpful material, but they can get a little boring at times – but this is the case with almost any course or lecture.
The lectures are designed so the teacher is voicing over their materials. You will never actually see the teacher but rather their notes and lecture slides. Students will be able to take notes within the course. They have a note taking space to the right of the lecture video.
You can view the layout of the lectures in the screenshot below.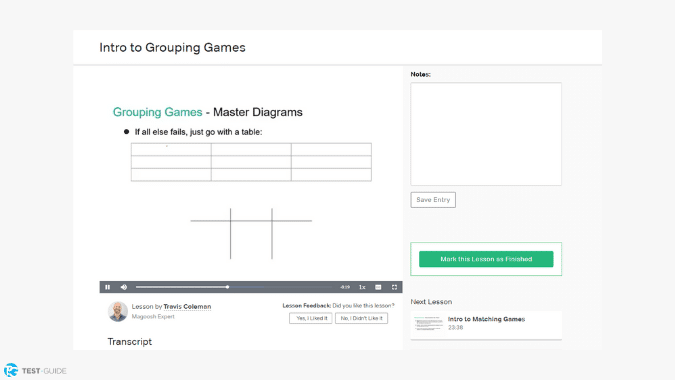 Practice Questions and Exams
Practice questions are one of the best ways to learn the material and prepare for the actual exam. Magoosh offers 7,000+ practice questions in their course.
7,000+ practice questions can seem somewhat overwhelming – Magoosh does a great job of organizing the questions and allowing students to filter questions based on what they want to work on.
Students can choose which section of practice questions they want to work on (logic games, logical reasoning, or reading comprehension). They can then filter down specific subjects they want to work on within that section. Students can even set a time limit and chose which mode they want to practice in.
There are two modes – practice mode and quiz mode. Practice mode will show answer explanations after each question while quiz mode will hide explanations until the end. Quiz mode is great for students look to practice their pace when answering questions.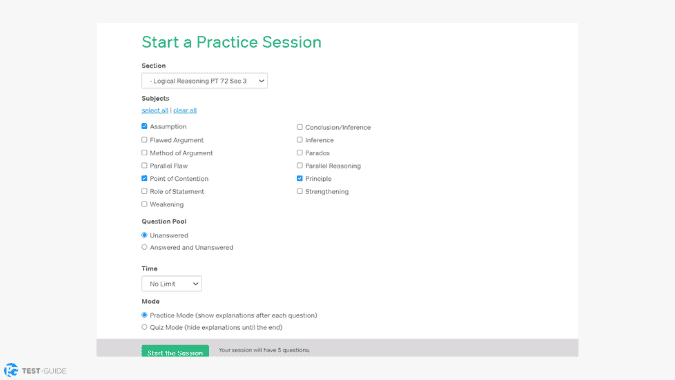 As far as the actual LSAT exam questions, they have a nice feel to them and are laid out nicely. The questions will appear on the left-hand side and the answer choices are on the right. Students can cross out answer choices they know are wrong to help narrow down the correct choice.
The timer (if you choose to have one on) is located in the top right corner. There is a review section button in the bottom left that will take you to the lecture where they talk about the topic.
The full-length practice exams have the same look and feel and do a pretty good job of simulating the actual LSAT exam. We were pleasantly surprised with the exams during our Magoosh LSAT prep review.
At the end of your practice session or exam, you will see everything you got right or wrong. Your statistics will be broken down and you can view things like average pace, other students average pace, and percent of total questions you have gotten right.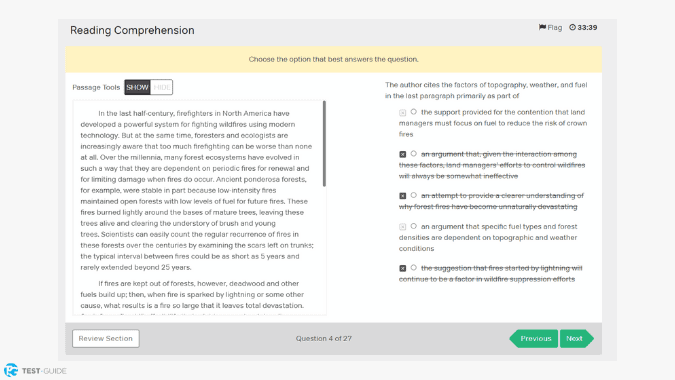 Video Explanations
Magoosh LSAT is unique in that they offer detailed video explanations for their practice questions and exams. These video explanations will explain how to answer a question in video format.
While this may not sound like a unique feature, it really helps save a ton of time. Sometimes when you are reading a written answer explanation, it can be hard to understand what is trying to be explained.
These video explanations make it really easy to understand what is trying to be explained and will save you a ton of time when reviewing questions.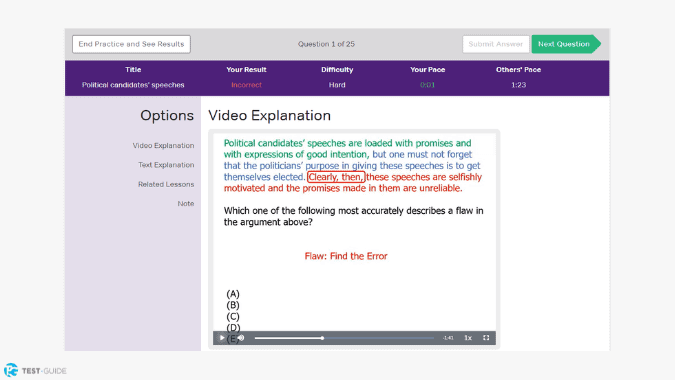 Save 10% With Code: TESTGUIDE1
How much does Magoosh LSAT cost?
Magoosh is one of the value providers when it comes to LSAT prep. Prices for their course range from $279 to $300. Our users get an exclusive 10% by using the coupon code TESTGUIDE1.
How are Magoosh's LSAT courses set up?
Magoosh structures their LSAT courses to be completely online. The courses are self-paced with students learning through video lectures and practice questions and exams.

There are custom study plans available to students to help them stay on track and stay focused.
Will this prep course help my LSAT score?
There are a ton of resources within this course. If you put in the time and energy, you will most definitely improve your LSAT score. The full-length practice exams are a great way to benchmark your scores and view your progress as you go through the course.

Magoosh also offers a +5 total score guarantee on their LSAT prep courses.
Is Magoosh good for the LSAT?
Yes, Magoosh is good for the LSAT. Magoosh was one of our picks for best LSAT preparation. We chose Magoosh as our best value choice.

Magoosh is significantly more affordable than other providers and offers a ton of great resources and features in their courses.
Which is better Magoosh or Kaplan?
Magoosh is a better choice for individuals who will be studying for the LSAT. Magoosh is affordable, offers great learning content for students, and includes a ton of practice questions and exams.